'We get along like a house on fire, hopefully that house doesn't burn down' - It's good news for First Dates Ireland's Paddy and Lauren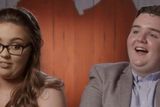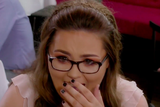 Things are looking well for the standout stars of First Dates Ireland.
The second series of First Dates Ireland kicked off on Thursday night and the nation fell in love with Lauren and Paddy, two 19-year-olds who were on their first ever, first date.
Paddy broke the ice by showing off his impressive psychic skills, correctly guessing Lauren's favourite TV show (Breaking Bad), singer (Ed Sheeran) and crisps (Monster Munch). From there, the cheerful pair joked a lot, laughed a lot, said "Oh, God" a lot and relaxed enough to be really open with each other.
Lauren informed Paddy that she has cystic fibrosis and made the tragic revelation that she lost her sister to the condition nine years ago. Paddy then shared his own story of family heartbreak by revealing that his brother died 21 years ago, just two years before he was born.
But their family tragedies have given the pair a real zest for life, both sharing an extremely positive and cheerful attitudes, and viewers were hoping for a love match between them.
Fortunately Paddy revealed that "there's a spark" there.
Speaking to Independent.ie, the drama student from Ashbourne said the pair have planned to meet up for a third time.
"We actually had our second date three weeks ago. We'd hoped to meet up sooner but Lauren had been poorly so we pushed it out. We've been in touch the whole time though.
"We met up went to Dublin Zoo and the Guinness Storehouse. It might turn into something, there's definitely a spark there. We have our third date lined up today," he said.
"We're meeting up in town and we'll go for a coffee... or hopefully something stronger, you know yourself."
Cheeky chappy Paddy, who's already found internet fame though his collaborations with Fact Channel and comedy act Rory's Stories, said he's delighted he took a chance on signing up to the show.
"I applied on a whim. I'd seen the show last year and thought it would be a bit of craic with hopefully the chance to meet someone nice. Sure when in your life are you ever going to get the chance to have someone match you up perfectly with another person?
"And with us, it just worked so well. We were both just being ourselves. It was genuine.
"We get along like a house on fire. Hopefully that house doesn't burn down."