#WeAreAllBarb: A tribute to the best character on Netflix's Stranger Things
**Warning: This post contains spoilers for the first season of Stranger Things**
Earlier this month, Netflix released its latest original series, Stranger Things. The eight-part sci-fi horror spins a compelling mystery, driven by 80s nostalgia and buoyed by its terrific young cast.
Winona Ryder delivers a powerhouse performance in her comeback role as a single mom desperately searching for her lost son, Will, while the child actors playing Will's friends are one of the TV year's highlights, scrambling to get him back with the help of Eleven, an inscrutable young girl with mysterious superpowers.
However, no character has captured the hearts of viewers so much as Barb, the unsung hero of the show.
Played by newcomer Shannon Purser, Barb is the bespectacled, responsible best friend of Nancy Wheeler and a veritable style icon.
We are only treated to a handful of scenes with Barb before she is mercifully snatched from that diving board and dragged into the Upside Down, and she certainly makes her mark.
While the show seems to think of her as disposable, Barb has become an internet sensation, inspiring a flood of fan art, memes and GIFs.
Creators the Duffer brothers recently confirmed that Barb is definitely dead and will not return in a likely second season, but she will live on in our hearts forever.
Her look is effortlessly new Gucci
Nancy and Barb in Stranger Things. Photo: Netflix

 
Forget the bodycon polyester and hairspray look that defined the 80s – Barb offers a true style tribute to the era, and her unknowingly trendy mom jeans and ski jacket are top of our wishlist for autumn.
Our first glimpse of Barb sees her sidling down the school corridor next to Nancy, wearing a buttoned-up neck-frill shirt and a pair of high-waisted jeans that wouldn't look out of place on Alexa Chung.
Between that flash of red hair and those bottetop glasses, her whole aesthetic conjures the retro eclectic charm Alessandro Michele brought to the Italian fashion house.
She's unfalteringly loyal
Barb puts up with Steve and his ghastly friends for Nancy's sake. Photo: Netflix

 
Ignoring Barb's repeated protests that she doesn't want to lie to her parents about a boring Tuesday night party or go watch her best friend flirt with a bemulleted jerk, Nancy drags her along anyway – despite knowing she's bound to have a miserable time as a fifth wheel amongst Steve's ghastly friends.
Even after Nancy instructs her to "just go home" and ditches her for some heavy petting, our forgotten heroine will not abandon her, and goes to wait for her outside by the gloomy pool. Nancy is not worthy.
She's wise beyond her years
When she catches Nancy sneaking up to Steve's room to "change" after falling in the pool, she provides a voice of reason as she tells her friend: "This isn't you, Nancy." Evidently, it is, as Nancy dismisses her and scampers off up to his bedroom all the same.
She has no time for Steve's adolescent braggadocio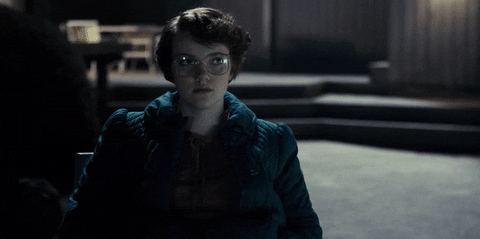 Barb can see right through Steve's pathetic attempts to impress Nancy by shotgunning beers at the pool, and delivers a flawless eye roll in response.
After watching Nancy join in the so-called fun, Barb gives it a go herself to avoid being left out, and sadly cuts her hand in the process. Blood spurts from her palm, but Nancy is too busy giggling with her beau to help her. The cheek!
We see ourselves in her
Barb and Nancy. Photo: Netflix

 
While Nancy fits the 80s teen archetype we're familiar with thanks to the likes of Molly Ringwald and John Hughes, Barb is real. Barb is the third wheel.
It's no surprise that #WeAreAllBarb was trending this week – we can all relate to that awkward teenager, afraid our friends will stop hanging out with us once they attract the attentions of popular boys like dirtbag Steve.
Poor Barb is even willing to let Nancy shamelessly use her as an excuse for her parents so she can sneak out for dates with boys or for a lift to a party.
You deserved better, Barb.
Online Editors
Follow @IndoEnts
Promoted Links