The legacy of Waco is that we still fail to see real tragedies
Elsewhere on the box, RTÉ's crime drama Kin has fallen a bit flat, while Greg Davies in The Cleaner could do with getting his hands dirty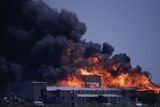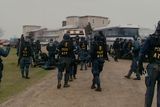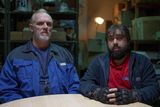 When I first heard about the new documentary series Waco: American Apocalypse (Netflix), I was a bit ho-hum. I thought why now? (It's the 30th anniversary of the siege at Waco — duh). But I also wondered what relevance this terrible story could have today. Eighty two people, including 25 children and four federal agents, died in the carnage, which ended when the Davidian cult's compound was engulfed in a hellish inferno.
Then, lo and behold, I heard Donald Trump was due to hold the first rally of his 2024 presidential campaign in the Texan city today. It seems strange that anyone would wish to associate themselves with Waco. Nobody comes out of it well.
The forces of law and order were almost comically incompetent. The followers of David Koresh, a conman who sold himself to his devoted followers as the new messiah, are almost criminally gullible. For example, when asked if Koresh had had sexually abused girls as young as 12, one female follower — a mother herself — replied that that would not have been outrageous because, under the rules of Davidians, followers were adults when they reached the age of 12. Of course they were.
Koresh annulled all the marriages of his followers so that he could have sex with the wives. It was at this point that Heather Jones's mother left. Heather wasn't allowed to speak to her father, who remained at Waco and seems to have remained as devoted to Koresh as ever.
On the other hand, the local Bureau of Alcohol, Tobacco and Firearms (ATF) believed that the Davidians had been stockpiling weapons at their huge compound. They were right about that. Three hundred firearms and two million rounds of ammunition were found at the site at the end of the siege. But the ATF were wrong about everything else. What was supposed to be a surprise raid became a bloodbath when a press photographer, who was lost, stopped a local postman to ask him where the compound was.
Unfortunately for the ATF, that postman was David Jones, Heather's father. He alerted the cult, who started firing. Shortly after that debacle, the FBI arrived. Tanks arrived. Communications between the FBI and the ATF were poor. Negotiations were botched. It was a disaster. The only person who seemed to do well out of it was Koresh, who traded the release of some children for airtime on the media. He talked about how, as an American, he had every right to both religious freedom and to carry arms.
Unbelievable though it may seem, in the years since, Waco has become a rallying point for America's far right. Because Waco is now synonymous, as one commentator put it, with the worst failings of the federal government. No one seems to worry about what Koresh and his followers did to 12-year-old girls, or about the human weakness for cheap and narcissistic conmen. Some things are eternal.
How to describe the second series of Kin (RTÉ One)? Well, there is a lot of whispering, a lot of squealing tyres and there is scary music playing even when a couple who love each other are just standing in the kitchen, whispering. People in Kin don't smile. It's all a bit monotonous, even though the body count is bracingly high and the Kinsellas have to find €70m, for reasons that are too unlikely to explain. So much about the first series seemed refreshing — a gay male gang boss, a female gang boss on the make, and a multiracial modern Dublin.
But now it seems a bit flat. The churches are almost empty, which is accurate. There are an awful lot of cars, so that's about right. Everyone drives everywhere; they're always getting in and out of cars and there's all that tyre squealing. Also, we see that cars are good for hiding bodies, particularly if you set them alight. But it's early days and maybe Kin will surprise us. It would want to get a move on, though.
I tell you what won't surprise anyone is The Cleaner (BBC One). It stars comedian Greg Davies as Paul Wickstead (Wicky), a crime scene cleaner. Most episodes have a famous guest star. This week it was the fantastic Harriet Walter (seen most recently as the Roy siblings' mother in Succession) as a pub landlady. She was a blizzard of orange foundation and fag smoke, Walter being the only person on television who can smoke a cigarette properly. Next week it's Simon Callow as the manager of a small theatre, and so on.
The problem with The Cleaner is that it is too clean. Crime scenes are usually filthy places, awash with blood and a whole lot else, but most of the time Wicky is just soaking up just a pint of blood before going on to dab at a few shelves, while wearing a protective suit that never has a stain on it. A lot of the time he's not even wearing his protective gloves. And the plots are similarly half-hearted. It's a shame.
The Dry (RTÉ One) was never half-hearted. Its script and its cast were all in, all the time. It built itself up very nicely over the past few weeks and it felt funny and true. So, at the end of the series, I'm still at a loss as to why it received negative reviews.