Sisters: Blood, vomit, violence and half the cast of Fair City
Sophie Thompson shines as a Dublin mother in Sisters, Bear Grylls is out of his element in Ukraine and DIY SOS lifts the national mood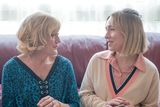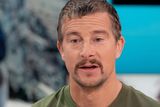 Sisters (RTÉ One, Thursdays) is unfortunate in that it comes so hard on the heels of The Dry: mid-thirties women plus alcohol. I mean a lot of alcohol. Almost everyone in Sisters is either an alcoholic or in basic training to become one. I mean drinking during the day — never have so many women on television drunk so much whiskey — and drinking at any given opportunity. Also, stealing alcohol. But, unlike The Dry, Sisters isn't actually about alcohol and alcoholism. It's about sisters Sare and Suze, who reunite as adults in Dublin.
The star of the first episode was undoubtedly Sheryl (Sophie Thompson) the Dublin mother of Suze. Sheryl is not quite the glowing centre of hospitality that Irish mammies usually are on television. Sheryl says she hasn't slept since Princess Diana died. She says that Suze once had a partner — " Isn't that what you call them when they won't marry you?"
Sophie Thompson is actually an actor of genius, as anyone who has seen her in Detectorists well knows. Here she was a British person playing a Dublin person and her accent was pretty flawless, except for the word "sure". It is hard to get the intonation, and she abandons the word altogether in the later episodes.
Half the cast of Fair City is here, by the way: never a good sign. And strangely, as the series progresses, there is strong biological thread running through it: blood, vomit and violence.
Despite the sure hand of director Declan Lowney, there are some stretches of credibility: not one but two female mechanics to be stumbled across in rural Ireland? A musician with sexual scruples? However, and beyond the nit-picking, Sisters stays ruthless to the end, which is something even The Dry didn't quite manage.
Picture the scene: you are the heroic leader of a besieged country. Seven million of your citizens have fled as refugees. One of the most powerful leaders in the world wants you dead. Your people are being raped and murdered. Your children are being abducted and taken to Russia. At what point do you pick up the phone and say: "I really want to be interviewed by Bear Grylls?"
This was the question hanging over Bear Grylls Meets President Zelensky (Channel 4). I mean, why? Bear Grylls, who seems a nice enough bloke, is usually seen making celebrities eat raw rat and chatting happily about his experiences in the British army. Would he really be ready to interview a leader of a current war?
The answer to the last question is firmly in the negative. You could see what the producers were trying to do: have Bear be an everyman figure. "Just be your ordinary self," you could hear them saying. The result wasn't great.
Of course, President Zelensky was charming and it was sweet to hear him talk about his nine-year-old son. What could Bear do? He bought the president a cup of coffee. He gave a little Ukrainian scout an international scout badge. The child didn't seem impressed. Who could blame him?
Even a country that has not been invaded by maniacs (recently) needs its comfort television and DIY SOS: The Big Build Ireland (RTÉ One, Sundays) is ours. It's all about banishing the Sunday blues. (The Sunday blues: a feeling of impending dread during which the victim feels the jaws of the coming week snapping at their ankles.) The BBC has Antiques Roadshow for its Sunday nights, but that is a far more decorous affair. DIY SOS is a format taken from its British big brother: volunteer builders come to a house, demolish it and then rebuild it for the owners. The Irish producers, in fairness, have managed to make it their own.
DIY SOS is feelgood TV. By the end, the volunteer builders, the residents of the renovated house and, usually, Baz are in tears.
Last Sunday's episode was particularly strong. The story of Adam Drummond, a basketball player paralysed in a fall, and of his parents Brian and Mar, was powerful. It was so powerful that Baz didn't cry. Instead, he conducted unsentimental interviews with Adam, Brian and Mar. How many empathetic male interviewers can one broadcaster contain? RTÉ is rich in them.
DIY SOS is tricky territory for a presenter. You can't be tough, you can't be patronising and you can't be maudlin. Baz mixed cocktails and talked to the builders. "Your mother must be very proud," he said to Dan, the site foreman. "My mother told me to watch my language," Dan replied. Brandon Duarte, the gaffer on site, was a good friend of Brian Drummond. It was a community project.
Baz made cracks about Cork — the Drummonds live in north Cork city, and that's where they wanted to return. Their family home on Redemption Road (seriously) was wheelchair-inaccessible, and indeed inaccessible to anyone who was heavily pregnant, carrying a baby buggy, had a dodgy hip… in fact, to whole sections of the population. What is it with the designers of our ordinary family homes?
Anyway all the builder volunteers — and Diarmuid Gavin — rallied round in what looked like the searing heat of last summer. "Cork people are brilliant but they're loud," said Baz. When Mar saw the final result, she said: "It's like a five-star hotel." Which indeed it was, and that would be my criticism of it.
Mar loved it, though. When she and Brian saw their new bedroom she sobbed: "But we didn't need anything." Round the country there wasn't a dry eye in any of our decidedly unrenovated houses. At the end, all three of the Drummonds gave excellent speeches, and Adam had a man cave at the bottom of the garden. Brandon and Brian embraced. You felt good.