MerPeople review: a deep dive with modern mermaids in Netflix's strangest documentary series
Are these humans crazy or inspired? Maybe they are both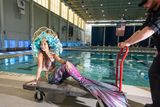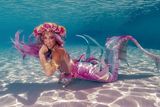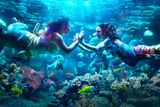 Just as a surprising number of people start to go sea swimming, along comes MerPeople (Netflix).
One of the worst things that can happen to an American mermaid is hypothermia. "Everytime I get in cold water I clam up," says Sparkle, who is from Arkansas, where they don't have any coastline.
In the US, mermaids are rushed from the pool if they start to shiver, and told to stay under a warm shower until their teeth stop chattering. How little they know. Our teeth are still chattering as we drive home.
However, MerPeople is not about swimming. There is no information here about how to make the moves, there is nothing at all about training. Instead it's all about schlepping your tail to children's parties, to Las Vegas, to a cruise liner.
Mermaids arrived in America not with Hans Christian Andersen but with the natural spring water at Weeki Wachee in Florida. Starting in the 1960s, beautiful athletic young women dressed as mermaids swam 16ft down a submerged tunnel, then along another 60ft of submerged tunnel, to emerge in the pool for the spectators. They were stars in Florida. But quite a few of them left precisely because of this dangerous journey and when Florida state authorities took over Weeki Wachee they closed the entry tunnel on health and safety grounds. Still, the old mermaids of Weeki Wachee are nostalgic for pure, natural water there and long to swim in it again.
Contemporary MerPeople are an extraordinary combination of the ostracised, the poor and circus hucksters. It is maybe not surprising that so many of them emerge from broken homes, childhood bullying because of their gender nonconformity and adult bullying because they are fat — "fat mermaids make waves," as the slogan goes.
Instagram and TikTok were made for mermaids: you can edit out your breaths. But mermaiding is still a desperate business, with less than 50 professional mermaids in the game. Sexual harassment is routine. The MerPeople call the harassing men Merverts. MerPeople have a whole vocabulary which we won't go into here.
Yet becoming a MerPerson is, for a lot of the humans featured in this documentary, absolutely a life goal. There is a lot of stress. To see Sparkles when the zip on her tail breaks at a children's party is heartbreaking. To see her counting the tips from her waitressing job so she can go to a MerConvention, equally so.
Tristan the Red River Merman has a history of drug abuse. He has a relapse. But still Eric at Mertailor allows him to come back to his job. Eric became obsessed with mermaids as a child. The mermaids at Weeki Wachee were kind to him. Now he makes mermaid tails and has sunk everything he has into creating his own mermaid extravaganza in a warehouse in Florida.
So are these humans crazy or inspired? Maybe they are both. They're driven, certainly. And MerPeople is one of the strangest documentary series to have been screened on Netflix. But it's beautiful to look at — all those merpeople under water — and respectful of all the effort, the late night travelling and, above all, the hope.