Today's must-watch TV and streaming: Re-live Ireland's Grand Slam glory and a Saoirse Ronan classic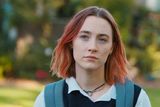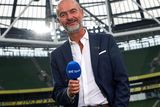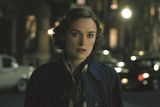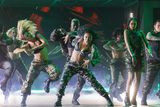 Sheena McGinley and Paul Whitington
We've got you covered for all the best action on TV today.
Sebastian Barry: Family Stories
RTÉ One, 9.35pm
A look at the work of poet, playwright, novelist and laureate for Irish fiction Sebastian Barry, and the effect his upbringing and family life have had on his acclaimed 40-year output.
Against the Head
RTÉ2, 8pm
Donal Lenihan, Murray Kinsella and Bernard Jackman join Daire O'Brien to reflect on Ireland's remarkable Six Nations campaign and what it might mean for their chances at the Rugby World Cup in France this autumn.
The Gold: The Inside Story
BBC1, 9pm
In a follow-up to the recent dramatisation, this documentary tells the story of the 1983 Brink's-Mat bullion heist, and hears from police officers involved in the subsequent investigation about the challenges they faced while trying to find the robbers.
Lady Bird
Monday, TG4, 9.30pm
High school student Christine 'Lady Bird' McPherson is determined to leave her home town of Sacramento and live in a city "with culture", but her formidable mother may have something to say about it. With Saoirse Ronan, Laurie Metcalf and Tracy Letts.
In His Shadow
Netflix, streaming now
There is a wealth of foreign-language dramas being released of late. The third of our highlighted subtitled offerings revolves around a French family who must stand up to a menacing patriarchal force (that being a seemingly charismatic half-brother) after the death of their dad.
Dance 100
Netflix, streaming now
It's almost as if an American production company saw South Korea's Physical: 100 and said, "Hey, let's do that, but for choreography!" Showcasing 100 of the world's best dancers, the contestants must choreograph, teach, and perform next-level group performances that will wow the judges, who, in a twist, are their own dancers…
Sky High: The Series
Netflix, streaming now
To stay independent from her father (one of Madrid's largest stolen goods traffickers), a newly widowed single mum joins her recently killed husband's gang of smash-and-grab thieves. What could go wrong?
Monster Factory
Apple TV+, streaming now
When they say 'Monster Factory', they don't mean polygon.com's fiercely popular web series. In this instance, the term refers to 'wannabe WWE fodder'. Join Danny Cage (the man responsible for Sheamus) as he puts the next generation of sports entertainment — namely Bobby Buffet, Goldy, Twitch, and Gabby Ortiz — through their paces.
Monster Factory
Noise
Netflix, streaming now
It's tricky enough moving back into the family home, especially after having a newborn, so spare a thought for this young Dutch couple who enter a world of abstract and existential pain beyond the usual realm of new parenting. Starring Jesse Mensah.
Boston Strangler
Disney+, streaming now
Kiera Knightly proffers her 'Bahstahn cheowderr' accent to channel Loretta McLaughlin, the first journalist to connect the Boston Strangler murders — despite her editor dismissing her interest in the case (it was the early 1960s and she was a woman).
Extrapolations
Apple TV+, streaming now
From the writers of Contagion (so it's bound to be an upbeat number), we have an all-star cast depicting just how horrifying and facile our future might be thanks to the acting prowess of Meryl Streep, Tobey Maguire, Edward Norton, Kit Harrington, Sienna Miller and Keri Russell.