Irish X Factor brothers Sean and Conor praise mentor Simon Cowell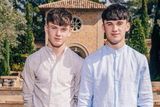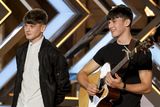 X Factor hopefuls Sean and Conor Price say they have been inundated with messages from girls since they found fame on the ITV talent show.
While they battle it out every week to stay in the programme, winning over judges like Simon Cowell and Cheryl Cole, they are also winning big when it come to their dating lives.
The Wicklow brothers, who are both single and started out busking on Grafton Street, admitted that appearing on the show has led to a surge in messages from female fans. Asked if they were getting attention from girls, Sean (18) said: "Yeah we've gotten a few messages. We just take them with a pinch of salt."
Unlike some of the other youngsters appearing on the show, the singing siblings said their nerves were not an issue when it comes to performing.
"It's never nerve-wracking going out on stage," said Sean. "I feel like we're doing everything we're supposed to. We're rehearsing every day, we're in the moment and doing our thing."
He said that competing on The X Factor has been "such a different experience" to what they did before.
"We have never done anything like it before so we're learning every day and we're each putting our minds to that moment and we smashed it on stage," said Sean. "The weeks are flying by. It feels like yesterday that we just came off the stage on week one. We're working really hard, but it's all go."
He said that he and 15-year-old Conor would love to be in it for the final stages but are just taking each week as it comes. Irish viewers have sent them hundreds of positive messages which the brothers say has boosted their spirits while they've been competing in London.
"The support has been brilliant. We feel like the whole country is supporting us. It's such a good feeling," said Sean.
"There's been barely any negative comments. It's mainly been positive comments."
Tonight will see them performing Cheap Thrills by Sia for the Latina-themed show.
They will be joined in the studio by proud parents John and Karen who will be cheering them on in their second live show.
"Obviously it's Latino week so every one of the contestants is trying to bring something new," said Sean. "We're going back to the roots and we'll be bringing out the acoustic guitar again."
He also revealed that their mentor, Simon Cowell, is back on his feet and fighting fit after having to miss out on the first live show when he had to be rushed to hospital after collapsing. He will be back in his usual spot on the judging panel this evening as he presides over the groups battling it out to stay in the show.
"We were in the studio with him yesterday and he's doing great," said Sean. "Simon's really good when you're with him. He's so hands-on and gives you genuinely constructive criticism when you're with him.
"It's such a relief to hear his comments and hear what he has to say."