'Fair City was like being part of a family and I do so miss that'
Lunch with Aoibhin Garrihy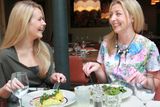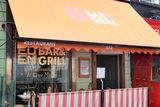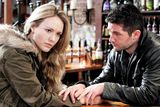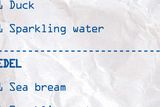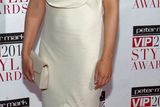 Aoibhin Garrihy arrives in Eden Bar and Grill on Dublin's trendy South William Street looking like she's just stepped out of a shampoo ad. Her long blonde hair is very swishy - it's the only word for it - and she looks fit and toned in an olive green wrap dress. She makes some protests about how she looks - she's been rushing around all day but it really hasn't put a dent in how beautiful she is.
She tells me she's starving and I'm instantly sceptical. Is this going to be one of those interviews where I talk about how amazing it is that this very slim actor eats just like a normal girl? Thankfully no. She just hasn't had time to eat anything, which seems much more plausible and she actually does put her money where her mouth is by clearing her plate.
Garrihy is very pleasant company. She laughs a lot. I forgot just how much until I listened back to our interview. She laughs almost all the time in her big, round laugh that tapers off but continues to burble along under the conversation like a little engine idling, before reving back into action at a second's notice.
And Garrihy has plenty to smile about. She's back by popular demand for another run in the Gate Theatre's Pride and Prejudice. She plays Jane Bennet, the eldest and most beautiful of the Bennett sisters and she is Jane-like in reality too with her good looks and warm temperament.
She has enjoyed being back working with a close group who she knows well (she first played Jane in Pride and Prejudice at the Gate last year). That's something she misses since leaving Fair City and her character Neasa behind. "It's lovely to have a chance to revisit it with a cast that are so tightly knit. It's a lovely experience. Fair City is very much like a family and you get to know people really well. I definitely missed that."
After three years on Fair City, she decided to move on, which was a bit of a risk in such an uncertain industry. "There was no major plan," she says, tucking into her lunch. "You take a leap of faith and hope that things start happening. Every show has a closing night and every film has a warp date but Fair City was ongoing so it was the nearest thing to a 9-to-5 and I thought, this is lovely and my mum thought, this is lovely. . . but you have to take a leap of faith. You can get quite comfortable. I left and just hoped things would kick off."
It took a while. "You always want them to happen faster than they do so it was daunting in that sense."
She got the part in Pride and Prejudice which helped. It must have felt a million miles away from Carrigstown but she is a fan of the form and is not oblivious to a certain iconic TV scene. "Of course there's the famous Colin Firth coming-out-of-the-lake scene," she says and the large laugh is back. "I love the language of period drama. I did actor training in Trinity and just really felt my groove when I was doing period pieces. The last show I did in the Gate was A Woman of No Importance. I love the elegance and the pretty frocks. The way Austen wrote and spoke, we can understand it but we just don't use it, which is an awful pity."
The key to getting through the fallow periods as an actor she says is keeping busy. "You have to do that or you'll be driven demented waiting for the phone to ring. I had nothing lined up. You have to let everyone know you're available again. All those letters you have to write after drama school, I found myself writing them again.
"Working on a soap you're just not available. It's the equivalent of a film a week, around-the-clock stuff. Luckily, I got the part of Jane and that was extended and I founded a drama school in Co Clare with my sister which is something I always wanted to do."
Going for auditions must be tough. The rejection is probably what gives actors their reputation for being a little highly strung and she admits you have to be vigilant to make sure it doesn't knock your confidence.
"You're always going for auditions. I had one yesterday, I had one today. It's embarrassing if you don't get these things. You're constantly looking for work, auditioning, reading scripts, flexing those muscles. The average person goes for four interviews in their life, you're doing that in a week. It chips away at you and you really have to work at your mental health, you really do.
"Look at Robin Williams, and so many actors I know are battling every day. If I don't get up and go for a run you find yourself just lounging around. I'll always be an actor, I can't shake it off. If I could do something else I would but the idea is to have a really rich and balanced life - climbing a mountain with John, helping my dad with the business, setting up the drama school. . . so I just augment it. Having a reason to get out of bed is important. It's all about self-worth."
She certainly seems to be more practically minded than some of the actors I've met over the years. She seems an unusual combination of good fun, optimism and steely realism. She loves being an actor but she also seems aware that staying put in Ireland means her opportunities may be limited.
"It's important to have a Plan B. When you come out of drama school you're full of ideas. I was going to move but then real life gets in the way. I've so many friends who have gone to New York and LA and they're fine but it's very tough. You kind of think, are they ever going to come back and say, enough is enough. They're working in pubs as well. It's tough enough."
Why did she not end up going abroad in the end? "It's all about timing. I had just met my boyfriend so that kept me here." Her boyfriend, John Burke, works in the family hotel business in Clare.
"Then my parents were closing down their company and looking for help starting up their new business. My sister is in Sydney and loving it and trying to get us over for New Year's, but I'm a homebird. I love Ireland. I never felt that urge to emigrate."
Did she find it difficult to get seen for certain roles having played a part in a soap for so long? "There is always a snobbery about soaps. Not from the viewers, you'd never get comments, even when people are drunk or rowdy and you meet them out. I never had a bad episode with anyone. You do get a sense of it within the industry that you might find it hard to get seen for things because you're on TV every night."
"The fame that comes with starring in a soap is a different sort of fame. You're instantly recognisable by sheer force of exposure, you're associated with your character and with a broader character base who have been Irish people's lives for 25 years now.
"I spend a lot of time in Clare and you're doing your shopping in Dunnes and it's hard to get around. They really watch it. It's the flagship show. If you're just nipping to the shop, barely dressed in not-far-off a pyjamas, running down for milk, it's the last thing you want but it is lovely to see that people are watching it.
"Fair City is like the neighbours we gossip about. People, they invest in and start talking about it when they're getting their hair done. They feel like they should give you advice. They would say things like, 'you were very rude to your mother the other night' or, 'that bold sister of yours', they're fit to kill her."
She got an early break in the first season of Love/Hate. "No one knew what a phenomenon Love/Hate was going to be. I auditioned for Nidge's wife and I remember reading the script and thinking, this is brilliant." Her next project could be a crucial one for where she goes next. Garrihy scored a role in the next series of the BBC drama The Fall, starring Gillian Anderson and Jamie Dornan, he of 50 Shades Of Grey fame. I'm a huge fan of it. As soon as I heard they were casting for this second series I got on to my agent. I was in the Gate and had a show that night and you're not supposed to go more than 50km from the theatre but I nipped up to Belfast and didn't tell anyone. I did the audition and got word that I got it so I was thrilled.
"It's still top secret so I can say very little," she says. Can she testify to the quality of Jamie Dornan's abs? The laugh burbles back into action. "I worked with Jamie. As soon as it got out that I was in it everyone asks about him. His star is on the rise, very much."
How did her boyfriend feel about that? "Even if your boyfriend's an actor I think it's still difficult, it's never nice. I'm in a very happy relationship. He's cool." Theirs is a long-distance relationship between Dublin and Clare and they've been making it work.
"We're nowhere near solving the predicament. I finished the show on Saturday night and I'm Clare then. . . I shouldn't be doing that because of the whole 50k rule. I hate leaving Sunday nights. I hate the idea. I would rather get up first thing Monday morning. I've got up at 5.30 to be in RTE for 9am. It's just easier. I prefer that."
There are some benefits, however, to not having distractions during the week. "I'm much more productive this way because you get your work done then totally switch off and enjoy your weekend much more than you would. It's strange, I've tried. We've done experiments where I've moved down there for a month to see how it works out but I have to be working so I have to be here and he has to be there. . . we'll probably end up in Athlone."
'Pride and Prejudice' finishes tonight at The Gate Theatre, Dublin. For more information, see gatetheatre.ie.
A life in brief
Name: Aoibhin Garrihy.
AGE: 27.
BORN: Castleknock, Dublin.
EDUCATION: Bachelor of Acting Studies from Trinity College Dublin.
FAMILY: Her parents are from Co. Clare where she returns regularly to visit her boyfriend. She has to two younger sisters, Doireann, also an actor, and Alma.
BEST KNOWN AS: Fair City's Neasa.
LIKES: Jogging, hikes in the mountains.
DISLIKES: Rejection - the endless round of auditions are tough on the spirit.