'Everyone was a little pie-faced' - Ant and Dec reveal how Holly Willoughby's dress got wrecked after telly awards win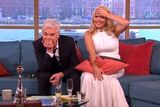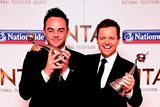 Ant and Dec have revealed how Holly Willoughby's dress got quite so stained before she presented This Morning on Thursday - playing Pie Face, badly.
Willoughby and Phillip Schofield did not go home after attending the National Television Awards the night before, and instead appeared on screen on Thursday morning wearing the same outfits.
They spent the night at Ant McPartlin's house to celebrate their award wins, getting "pie-faced" - in many senses of the word.
Speaking on the red carpet at London's Dominion Theatre ahead of Britain's Got Talent auditions, Declan Donnelly blamed co-host Ant: "They were in quite a state on yesterday's TV, mostly down to this guy... He's a very bad influence, I can tell you that first-hand."
Their antics included a game which left Willoughby's white dress stained.
McPartlin said: "It's a game called Pie Face. It's a plastic hand, you put some food on, and then you roll a dice and turn a dial and, randomly, the hand will slap you in the face and you're Pie-Faced.
"I was very good at it. I only got Pie-Faced once. Holly wasn't very good, she got hit three or four times."
Donnelly joked: "I think everyone was a little bit pie-faced before they even started."
Willoughby and Schofield spent the next morning trying to recover on the This Morning sofa, looking the worse for wear.
Meanwhile, Britain's Got Talent judge Amanda Holden has claimed the show will never win a National Television Award.
The show was nominated this year but lost out to Strictly Come Dancing.
Holden said: "We will never win the National Television Award because they are always in January and Strictly is an amazing show but it's always fresh in everyone's heads.
"So unless they change when they put it out, we won't win. It's so annoying."