Crash and burn? Top Gear disaster as television ratings slump for second episode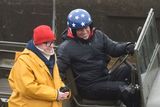 Top Gear, presented by Chris Evans, has fallen below three million viewers for its second episode of the new series.
It attracted just 2.8 million viewers in Britain on Sunday night, a 14pc share of the audience, losing more than a third, though it peaked at 3.3 million (a 15.8pc share). Actor Damian Lewis and F1 driver Jenson Button guest starred in the episode.
Last week's first episode drew an overnight audience of 4.3 million viewers, but had many more on catch-up services and on the BBC's iPlayer.
Evans, who took over hosting duties from Jeremy Clarkson, had previously said that he would be "disappointed" if the show drew fewer than five million viewers.
Desire Antiques Roadshow, which airs on BBC One at the same time, had almost double the Top Gear audience, with a peak of 4.7 million.
Some fans have called for the presenters of the Extra Gear spin-off programme to join the main show, while others joked that the show should be known as Flop Gear.
However, the average figures for the 8pm Sunday- night time slot are 2.6 million, with an average share of 9.9pc - showing that the programme continues to perform better than the average show in the same slot on BBC Two.
The first episode of the 2013 series, which also featured Lewis as a guest star, attracted an audience of 5.4 million, but later episodes in that run, and one that included appearances from F1 driver Lewis Hamilton and Evan's co-host Matt LeBlanc, dropped to 3.9 million.
The first and second episodes of Clarkson's debut series in 2002 gained 2.43 million and 3.54 million viewers respectively.
The last episode of Clarkson's show in 2015 brought in 5.8 million viewers.