Amy Huberman, Aisling Bea, Jason Byrne and more: the stellar line up for a new all-Irish comedy show 'LOL: Last One Laughing' is announced
An incredible line-up of Ireland's best comedians will feature on Prime Video's new show and it's hosted by none other than Graham Norton.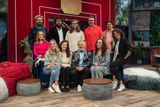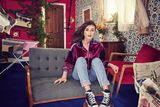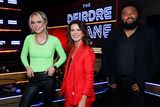 Are you ready for a laugh? The line-up for Prime Video's new Irish comedy show has been revealed, and it includes 10 comedians that have been splitting sides in Ireland and beyond. What's more, it's fronted by Graham Norton, who is no stranger to hosting great TV and eliciting a giggle from viewers.
LOL: Last One Laughing brings 10 comedic stars together to make each other laugh by using every tool in the box – but the kicker is that they can't crack a smile themselves. Whoever can outlast their competitors as the last one not laughing will not only be crowned the winner, but will take home a €50,000 prize for a charity of their choice.
The 10 competitors are Aisling Bea, Amy Huberman, Catherine Bohart, David McSavage, Deirdre O'Kane, Emma Doran, Jason Byrne, Martin Angolo, Paul Tylak, and Tony Cantwell.
Where have I seen them before?
Bea is a comedian, actor and writer who created, wrote and starred in the comedy series This Way Up on Channel 4. Huberman is an actress and writer who starred in Finding Joy, Striking Out and made a surprise cameo in the final season of Derry Girls.
Stand-up comedian Bohart has appeared on 8 Out of 10 Cats and The Mash Report. Comedian McSavage is best known for The Savage Eye. O'Kane is a comedian and actress who fronts The Deirdre O'Kane Show, appeared on Chris O'Dowd's hit show, Moone Boy and voices the Irish version of Gogglebox.
Comedian Emma Doran performs stand up and is currently bringing her MAD, isn't it? tour around the country. Byrne is best known for his stand up comedy, as well as appearances on TV and radio for everything from Ireland's Got Talent to his own The Jason Byrne Show on BBC Radio 2.
Angolo is a stand-up comic, currently touring with his show, Live Comedian. He previously appeared on The Deirdre O'Kane Show and has supported the likes of Eric Andre, Marc Maron, Aziz Ansari and David O'Doherty on their respective tours.
Tylak is a writer, comedian and actor who first appeared on RTÉ's Nighthawks. He has since had a turn in Fair City, as well as a slew of Irish children's programmes. And social media star Cantwell is a comedian and voice actor known for sketches featuring an array of alter-egos.
The show's host, Cork man Graham Norton, is a veteran of the screen, comedy scene, and hosting couch, having fronted The Graham Norton show since 2007.
It may be the format's first time on Irish soil, but LOL: Last One Laughing has already become the most-watched title of all time on the streaming platform in Italy, France, and Germany.
The show is produced by the people responsible for Gogglebox Ireland and Ireland's Fittest Family, and marks the latest offering in the growing UK and Ireland originals slate at Prime Video.
LOL: Last One Laughing launches in 2024 on Prime Video