The best TV to watch this weekend: Sly negotiates the rocky terrain of reality telly in The Family Stallone and Later...with Jools Holland is back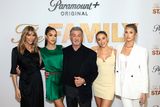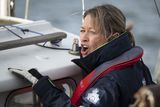 THE FAMILY STALLONE Paramount+ Don't expect any revelations from this tongue-in-cheek new reality show featuring Sylvester Stallone and his clan, which appears to be a bid to turn his three daughters — Sophia, Scarlet and Sistine (really?) — into the new Kardashians, as if one lot wasn't already enough. According to various media reports, it was filmed while Stallone and his wife Jennifer were going through a, well, rocky patch, yet makes no mention at all of their difficulties.
Friday
UNREPORTED WORLD Channel 4, 7.30pm The last in the current run of the excellent current affairs strand looks at an especially disgusting aspect of the so-called culture wars in America: the attempt by southern Republican-led states to ban drag performances in a public place where children might see them. A particular target is Drag Queen Story Hours, where performers, many of whom have received death threats, read stories to children in libraries and coffee shops — an innocent entertainment that's been twisted into something it's not.
THE LATE LATE SHOW RTÉ One, 9.35pm There's an eclectic line-up for Ryan Tubridy's penultimate show: Tánaiste Micheál Martin, Noel Gallagher, podcast duo Joanne McNally and Vogue Williams, boxing promoter Eddie Hearn and Mario Rosenstock. Music comes from Mick Flannery and Susan O'Neill, and Frankie Gavin & De Dannan.
BLACK OPS BBC1, 9.30pm A little rough around the edges it may be, but this comedy about two accidental undercover cops is still several cuts above most British sitcoms these days. That fine actor Lucian Msamati guests this week as a self-obsessed pastor.
THE CHRIS AND ROSIE RAMSAY SHOW BBC1, 10.45pm The married comedy chat show hosts have different kind of couples on the show this week: Jack Whitehall and his father Michael.
BUMP BBC1, 11.30pm and 12 midnight Season three of the Australian comedy-drama takes a time jump. Five years after Oly (Nathalie Morris) became a teenage mother, having been unaware she was pregnant, it's time for her daughter Jacinda (Ava Cannon) to start school. She finds she's the youngest mother at the school gate in the mornings.
Saturday
ANNIKA BBC1, 9.15pm​ It's rare to see the BBC showcasing a drama that's already appeared on another channel in a prime-time Saturday slot. This new series, which finds former Unforgotten star Nicola Walker stepping into another detective persona, was first aired on dedicated crime drama channel Alibi. She plays Norwegian cop and single mother DI Annika Strandhed, who transfers to Scotland to lead the Marine Homicide Unit. It comes with the gimmick of the character breaking the fourth wall to share her thoughts on the case and her private life.
HISTORY'S GREATEST MYTHS Sky History, 9pm If only all conspiracy theories were as relatively harmless as the "faked" Moon landing (which, of course, Stanley Kubrick shot in a studio). The programme also looks at how Orson Welles's radio play The War of the Worlds supposedly sparked mass panic (it didn't, actually) and why some people cling to the delusion that Elvis Presley is still alive.
REEL STORIES BBC2, 9.05pm Dermot O'Leary is joined by Pet Shop Boys Neil Tennant and Chris Lowe for a spin through their career, which includes two resurgences. The interviews are punctuated with great clips, naturally.
AFTERGLOW BBC4, 9pm and 9.45pm New Norwegian drama, showing in double bills, about a nurse on the cusp of turning 40 whose natural optimism is dented when she receives a cancer diagnosis.
LATER . . . WITH JOOLS HOLLAND BBC2, 9.50pm Two Irish artists, Hosier and Lisa O'Neill, lead the line-up in a first of a new series. Also appearing are Arlo Parks and San Diego soul trio Thee Sacred Souls. Great name.
Sunday
CLEAN SWEEP RTÉ One, 9.30pm Episode one of this new thriller was a bit of a bland pudding: tasty enough initially, but less flavoursome the deeper you dug into it. Shelly fears she may have left evidence in the dead man's hotel room. All episodes available on the RTÉ Player.
DEPP V HEARD Channel 4, 9pm Well, that didn't take long. This three-part documentary, continuing tomorrow and Tuesday, splices the pair's courtroom testimony with clips and opinions from those who avidly followed the case.
TEN POUND POMS BBC1, 9pm Somehow I managed to let this new drama series slip through my net last week. It focuses on various characters who take up the offer of a one-way trip to Australia for just £10 in the 1950s, only to discover it's not the idyll they'd been promised. Typical Sunday night BBC fare.
MOBILE 101 Channel 4, 10.55pm Available in full on the Channel 4 streamer (formerly called All 4), this absorbing Finnish drama follows the rise of Nokia and its domination of the mobile phone market in the 1980s.
ITHAKA: THE FIGHT TO FREE ASSANGE ITV1, 10.20pm Heartfelt, if patently one-sided, documentary about John Shipton's fight to prevent his son, Wikileaks founder Julian Assange, being extradited from the UK to the US.