'Masterpiece isn't a word to be bandied around lightly, but that's what this penultimate episode of Succession was'
Succession: Church and State — Five out of Five stars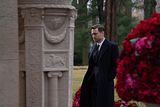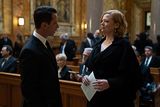 *Contains spoilers for Succession Season 4
Always save the best till last, isn't that what they say? Well, if the penultimate episode of Succession (Sky Atlantic, Monday) isn't already the best thing Jesse Armstrong has ever written, the mouth waters at the thought of what he might have in store for us in next week's huge finale.
All the key elements — the script, the direction (by Mark Mylod), the acting — were perfectly weighted. Masterpiece isn't a word to be bandied around lightly in relation to TV, but that's what this was.
This final season has been so packed with incident that it's easy to forget the whole thing has unfolded over the course of just a few days. Now the biggest day of all had arrived: the funeral of Logan Roy (Brian Cox). It was an event encapsulated in four eulogies.
The first, the biggest, was supposed to be delivered by self-proclaimed "King Dong", youngest sibling Roman (Kieran Culkin). He practised his tribute to "a great man, in the true sense of the word", whatever that means, in front of the mirror, preening and interjecting with paeans to himself ("I am the man!").
Out in the streets, meanwhile, the little people were revolting over quasi-fascist president-elect Jeryd Mencken (a chilling Justin Kirk, currently pulling a HBO double-shift as DA Hamilton Burger in Perry Mason), who was pushed over the winning line by the Roys' Fox News-style network ATN despite the qualms of Kendall (Jeremy Strong) and especially Shiv (Sarah Snook).
But Roman's big moment to shine was hijacked when Logan's brother Ewan (the fantastic James Cromwell) strode up to the altar to give his own damning assessment.
His opening words were almost tender. He told of how he and Logan, as small boys sailing from Scotland to the US in wartime, had to keep silent for three days as a U-boat circled nearby, and of how Logan believed he'd killed their baby sister by bringing the polio that infected her into the house.
Their aunt and uncle never disabused him of this notion. For the first time, we got a glimpse of the forces that shaped Logan, that hardened him. But Ewan was there to bury his brother, not to praise him.
"He was mean," he said, "and he made but a mean estimation of the world, and he fed a certain kind of meagreness in men. I don't know when, but sometime he decided not to try any more, and it was a terrible shame."
The stunned silence in the church was deafening. Cue Roman, to give what Kendall called "the other side" of Logan. But he couldn't do it. He wilted, crumbled. The old man was dead and stiff in a coffin, yet Roman was still the scared, insecure little boy, cowering under his father's unforgiving gaze.
He whimpered and wailed, then collapsed into sobs. He gestured at the coffin. "Is he in there?" he asked his siblings, now huddled around him in support (and embarrassment). "Somebody get him out."
It was an astonishing piece of acting. If Culkin isn't clutching an Emmy come September, I'll buy a hat for the sole purpose of eating it.
It was left to Kendall to pick up the pieces. Dispensing with Roman's little pink cue cards, he spoke off the top of his head, spinning a yarn of golden bullshit about the "magnificent, awful force" of the man, "the great geysers of life he willed", all the things he built and all the money he made. Ironically, a eulogy that was supposed to counteract all the negative things Ewan had said about Logan ended up confirming them.
When the time came for Shiv to remember her father, Logan's only daughter dug deep to find warmth in a man who was "hard on women", and who "couldn't fit a whole woman in his head".
It was tough being his daughter, yet she bathed in his warmth — when it was given. The image was of a little girl grabbing whatever crumbs of love fell from the table she was hiding under.
This wouldn't be Succession without black humour. There was a huge chunk of it in the shape of Logan's final resting place, a ghastly mausoleum he bought online from a pet food magnate. As Shiv observed, technically it's a residence and therefore a tax write-off.
Funeral over, it's game on again on now that Mencken has sided with Matsson (Alexander Skarsgard) and Shiv, who's to be Gojo's new CEO, against Kendall and Roman. A dazzling episode, so good you need to watch it twice to absorb it all. Can the finale possibly top it?
Succession continues on Sky Atlantic, Mondays