Katie Hannon to take over Claire Byrne TV slot despite not being on rotating panel of Monday Night Live hosts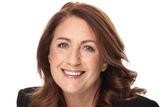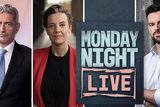 Katie Hannon is to take over from Claire Byrne on Monday nights, despite speculation one of the panel hosting the Monday Night Live show might be chosen for the flagship RTÉ One role.
In September, RTÉ replaced Claire Byrne Live with a new format eight-part show called Monday Night Live. The rotating panel of presenters – Sharon Tobin, David McCullagh, Mark Coughlan and Louise Byrne – led to speculation the broadcaster was 'live auditioning' them for Byrne's replacement.
However, her shoes have now been filled by Hannon, who will host a brand new show called Upfront with Katie Hannon, on Monday nights.
It will begin in January 2023 when journalist Colm Ó Mongáin will take over Ms Hannon's current duties on RTÉ Radio 1's Saturday with Katie Hannon and the Late Debate.
The new show will be an hour-long live programme with an audience that will broadcast every Monday on RTÉ One at 10.35pm.
A spokesperson for RTÉ said not only will the audience engage with the programme, but the public will be able to give their say on the topics that matter to them through social platforms.
Speaking about the news, Ms Hannon said: "I've had the privilege of telling people's stories in print, on television and on radio over many years now.
"But I have long believed that the most powerful journalism is where people are allowed to tell their own stories.
"This is about creating a platform where this can happen and where those whose decisions impact on all of our lives are asked to listen; to account for themselves and persuade us that they deserve our trust and support.
"It will be a place everyone will be given the space to have their say. I can't wait."
Deputy foreign editor of RTÉ News, Colm Ó Mongáin, said he was delighted to be taking over as presenter for Late Debate and Saturday with Colm Ó Mongáin
"I'm delighted to be getting the opportunity to get behind the mic again and work with the Late Debate and Saturday teams," he said.
"It's a great time to be covering politics in Ireland and further afield and I can't wait to bring listeners analysis and debate on the issues that affect them."