'I've had a wonderful life' - Michael Parkinson
Michael Parkinson tells Barry Egan about the love of his life, his humble beginnings, a past drinking problem and his recollections of George Best, Ali, John Lennon - and Emu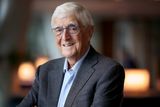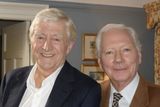 Michael Parkinson says that he wouldn't have been a good miner. His late father Jack, a good miner perhaps, once took him down the mine - where he worked all his life hewing coal at Grimethorpe Colliery in South Yorkshire - when he was younger.
It was all quite deliberate.
He gave him a tour of the colliery - "not the Hollywood job they gave to visitors."
On the real tour, young Michael saw men of all ages were working in dirty clothes, virtual rags, in the heat and the dust and the noise (this "awful, creaking noise") and the soot and the stink of sulphur.
It "frightened the shit out" of the young boy who would go on to be the doyenne of the chat show and the toast of the TV world (bar America).
His dad used to walk the three miles to Grimethorpe Colliery for an eight-hour shift beneath the ground. For this, he earned seven shillings per day.
He would tell his son, his only child: "'If you don't have money, you never miss it.' He didn't care."
Michael says he remembers his father's dignity in "dealing with this filthy job" in the heavy soot amid all the other poor workers waiting for various pulmonary diseases to lay claim to their health.
He remembers the colliery, and the unmistakeable, horrible smell of the sulphur in the air - as unmistakable as the fact that his dad above all else didn't want his young son to follow him down the mine.
Parkinson, who has a vivid almost poetic sense of memory, remembers his father's hands, too.
He says emotively that in 1975 when Jack was dying from the miners' lung disease, pneumoconiosis, he would sit with his dad and hold his hands in his and notice that "he had these extraordinary hands - calloused. I always remember when I was a kid and had my hand in his that it was very reassuring."
Less reassuring was the headmaster who told him that he would "never amount to much." Michael was awarded the CBE (Commander of the Order of The British Empire) for his services to broadcasting in 2000.
(I get the distinct impression that Parkinson would have given the medals back, along with the kudos that came with his TV career, if he could have represented his beloved Yorkshire cricket in the batting crease.)
"For some reason," Michael wrote in his 2008 autobiography, Parky, of his dad's work-hardened hands, "this memory made me feel ashamed and filled my mind with the unbearable thought that his hands represented all he had done to enable me to enjoy a view of the river and an easy life."
In the best-selling book, he added that his father was a man "who had a talent for ignoring misery" and was "full of life and laughter."
For 90 minutes with me, Michael, born March 28, 1935, is just that: full of life and laughter - with tales of Peter Sellers (in a full Gestapo uniform); Robert Mitchum (drunk); Oliver Reed (drunk); George Best (guess); Meg Ryan (rude and sulking), Woody Allen (miffed and sulking because Parky had the impertinence to ask him about his marriage to his step-daughter Soon-Yi); Richard Burton; John Wayne and Orson Welles (in 1971, Welles agreed to appear on the show "if we knocked the first two rows out of a jet so he could sleep on a mattress. We did it. He walked on the plane, looked at the mattress on the floor, smiled and went and sat in the seat.")
Hang on. We are only warming up here.
Then there was John Lennon (refusing to discuss the Beatles); Bob Hope; James Cagney; Billy Connolly; Peter Ustinov ("You can't do television interviews when you've had a drink. I've only once broken the rule with Peter Ustinov. We filled the BBC water carafe with vodka and tonic. By the end of the show, we were both very, very happy"); Bette Davis; and the two Freds, Trueman and Astaire, the respective twin gods of cricket and dancing.
Actual God - who was never on the show in person but Muhammad Ali was on four times - gets a mention too.
"I don't believe in God, but I pray like everybody else. Silly, isn't it? I used to pray that I would do a good interview, that the children would be looked after. It's a way of reaffirming the subconscious desire that things are going to be all right. I don't see the incompatibility."
With his son, Michael junior, sitting by his side, Parky is a raconteur extraordinaire. He doesn't tell anecdotes. He makes them sing.
It is an unalloyed joy, even a privilege, to spend this time in his company over a pot of tea in Dublin of an early evening.
Not least because, although the 81-year-old Yorkshire demi-god is promoting his gig at the Bord Gais Energy Theatre on October 2 - An Audience with Sir Michael Parkinson - he is not remotely PR-y or anodyne when he talks to you about it. I feel he is putting on a bit of one-man-show for an audience of one: me.
Most big names of his vintage tend to tell stories that make them look even more legendary but Michael Parkinson is ever so self-deprecating. I had met him before in 2008 for lunch in the Merrion Hotel in London. Then, as now, he was a scream to be around.
He laughs about his days - once upon a time, long before he became the king of chat - as a foreign correspondent reporting on the conflict in the Congo.
"I slept in the bath of my hotel to protect me because bullets would from time to time be shot randomly up through the floorboards."
To protect your crown jewels? I say to Michael junior that he would never have come into the world if his dad hadn't slept in the bath in the Congo.
"It wasn't my crown jewels I was protecting," Michael senior laughs. "It was my life!"
"Eggs, over easy - and coffee," he says was what Bob Dylan said to him when Parkinson approached him in an hotel at the breakfast table and told him that he loved his music. "He thought I was a waiter."
Then there was his first appearance on television in a current affairs programme from Didsbury called ABC of the North. He took his wife, Mary, to a pub in Manchester after the show to see what the locals thought of his debut on the box.
The barman piped up, addressing a very young Michael Parkinson: "There's been a bloke on telly just now who's the spitting image of you."
Michael blushed but didn't quite nod, perhaps anxious not to pre-empt any flattery or adulation. The barman wasn't finished, eyeing the young man: "It wasn't you, was it?"
Michael said nothing but was possibly half-expecting, half-hoping, for a tsunami of praise to overpower him and Mary at the bar at any second. But, alas, the barman of this Manchester ale-house had other ideas. . .
"I hope it wasn't, because the bloke on the telly was bloody terrible."
For once in his life, Michael Parkinson - one of the great talkers of the 20th and 21st centuries - kept his mouth firmly shut.
He had no such compulsions, thankfully, the evening I met him in Dublin. The waiter comes over to refresh Michael's tea before he remembers another story from his long and very illustrious career.
In 1976, when Rod Hull's Emu mugged him on the by now world- famous eponymous BBC talk-show then attempted to do the same with Billy Connolly, the Big Yin told the bird he would literally break its "fucking neck" if it came near him and tried any funny business.
Not so funny was, as Parkinson recalls it, the minor problem with alcohol he went through for a few short years after his father died.
He drank heavily for a time.
"My wife told me it made me ugly," he remembers with a real gritty honesty that reflects his northern roots, adding: "That hit home."
Mary also suggested that he might like to try going to see a psychiatrist about it.
Apropos of his own visit to the shrink and what he learned from it - nothing - Parkinson tells a story about his late friend George Best's experience on a visit to his then boss at Manchester United, Sir Matt Busby, for a dressing down.
"Bestie told me once that when Matt Busby used to call him in to give him a bollocking, he used to count the birds on the wallpaper behind Busby," Parkinson says.
"So I went to the psychiatrist once, stared over his left shoulder, counted patterns on the wallpaper and nodded."
In November 2005, when Bestie went to that great football stadium in the sky, his old mucker Parky wrote an obituary of sorts.
"I last saw him a couple of months ago when I persuaded him to attend a reunion of the players who were at Old Trafford with him," he wrote in the Daily Telegraph.
"He sat all evening without a drink and reminisced. He said to me later it was one of the most enjoyable occasions he could remember. I said, 'That's because you were sober.' He said. "Whatever, I was certainly very happy.'
"And I thought, not for the first time, maybe, just maybe, we'd got him back. A week later, he was drinking again and the final spiral of his life had begun."
Parkinson added that when Manchester United beat Benfica in the final of the European Cup, in 1968, when Matt Busby fulfilled his final ambition, "George Best remembered the game but little else. There was a reception, a banquet and a trip to a nightclub, but he had no recollection of the celebrations. His friends told him he had the meal but afterwards nipped off to spend the night with a girlfriend.
"Looking back, he thought it might have been the moment when his life went into free-fall, when Bacchus replaced Busby."
For many of us, Parkinson replaced nearly everything on the TV on Saturday nights with his eponymous chat-show from 1971 until 1982, and then from 1998 until June 2007, when he retired the epochal show forever.
Indeed many of us probably feel that we have been looking at Michael Parkinson's face for a large percentage of our adult lives.
Parky had a similar connection - much more profound - with another face in his own life.
"I fell in love the first time I saw my wife, Mary, on a bus. I remember thinking. 'I could look at that face for a long, long time,' and I have," he says referring to his cherished soul-mate Mary Heneghan, whom he married in 1959 and with whom he has three grown-up children, Andrew, Nick and Mike, as well as eight grandchildren.
"I believe in love at first sight."
In marriage, he also believes, there is nothing you can't sort out if you still fundamentally love each other.
He lives with the love of his life in the hamlet of Bray in Berkshire. He eats in his local restaurant, The Fat Duck, Heston Blumenthal's renowned cathedral to ultramodern cuisine.
As food critic Xanthe Clay exclaimed of one of Heston's more mad creations: "Who could forget the seven-foot boiled egg on his TV show Fantastical Food?"
The kind of stuff Parkinson's mother used to serve up to him as a child in Cudworth, the Yorkshire mining village he grew up in, I joke?
"Hardly!" he laughs.
"He makes Yorkshire pud but his was certainly nothing like my mother's."
He adds that his precious mother Freda "visited all her ambition on me" - she fed him with books and movies and plays and culture and made him the man he was.
He talks fondly of Sydney Bernstein, the Granada Television founder who gave him a job in the early 1960s and Bernstein's idea- revolutionary at the time - "that you could have people on television who spoke like I did," Parkinson says, never having lost his Yorkshire accent.
After this interview, Parky is off to the pub with Michael junior to watch his other team - after Barnsley Football Club - Jose's Manchester United play on the telly.
The last time we met eight years ago, an article appeared in that day's paper proclaiming that Parkinson has reached that stage of silvery eminence where "to be old - or even old-fashioned - is a matter of pride mixed with amusement." He was certainly amused.
"It is a wonderfully fascinating subject," he said over lunch that day.
"Billy Connolly, who has the bus pass now, observes that the first indication you are getting on is when your pubic hairs go grey."
I don't feel up to asking the one-time king of chat whether his gruaige down there is of a colour intermediate between black and white.
So instead I ask him at his age in life, does he have any regrets. He shakes his head.
"No. No regrets. I've been blessed, basically," Parky says, getting up to leave.
I watch him as he goes, then he stops and turns around before Michael Parkinson says what I know already to be true. . .
"I've had a wonderful life."
An Audience with Sir Michael Parkinson at the Bord Gais Energy Theatre, Charlotte Quay Dock, Ringsend, October 2, Tickets priced €20, €25, €32.50, €37.50. For further information, go to bordgaisenergytheatre.ie or ring (01) 677 7999.