'It was guys who were getting a shot, really. More than the girls were'— actor Simone Kirby
When Simone Kirby, star of the latest RTÉ crime drama Hidden Assets, started out in her career, she discovered how few good roles there were for women in Ireland. She responded by setting up a theatre company. Now she's writing a screenplay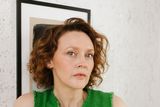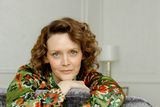 Simone Kirby is busy. It's the good kind of busy, though, the kind that reminds you that you're good at what you do. A familiar face from the small and big screen — Peaky Blinders, Rebellion, Ken Loach's Jimmy's Hall and Tim Burton's Alice Through The Looking Glass — the Irish actor knows when to take risks.
A resident of south-east London for the last 12 years with her husband and eight-year-old son, Kirby is on a short stopover in Oxford as she returns to Cardiff to reprise her role of astrophysicist Mary Malone, for the third season of the BBC's His Dark Materials.
Just as she sinks into the fantastical world based on Phillip Pullman's novel series and readjusts to post-lockdown life, Irish viewers will be able to see her in RTÉ's new crime drama, Hidden Assets, as Bibi Melnick, a businesswoman in Belgium who gets caught up in the diamond trade.
Set in Antwerp and Clare, Hidden Assets explores the insidious effects of family, wealth and greed. Kirby, who is from Ennis, is quick to point out the injustice that her character is in Belgium and not Ballyvaughan. "You know, nothing ever really gets filmed in Ennis and then the one TV show that I'm cast in that does, my character isn't there!"
Despite Bibi's continental location, the show's connection to the west means Kirby was able to spend some quality time at home after a year of barely seeing her family. "I did have to go over to do some art department photos for the character, and they scheduled that so I got to go home and hang out with everybody," she says, still visibly thrilled by the short but sweet trip back. "Everybody was staying at Bunratty and we had a pint in Durty Nelly's. And it was lovely."
Kirby is relaxed but engaging throughout our Zoom call. A shock of red curls frames her face (there is a resemblance to a young Susan Sarandon), and she has an air of sophistication regularly pierced by an inclination towards divilment. This flyaway nature and infectious charm, paired with her serious talent, helped her gain success in theatre initially and eventually in film and television.
The youngest of three, she was the joker in her family, she says — always singing on tabletops and entertaining the masses. "I think it was only when I realised I wasn't the best singer that I moved towards acting. You know, kids all want to be singers until they realise, oh, I'm not that good at it," laughs the 45-year-old.
"I was some kind of anomaly. My siblings would have hated to get up on stage, that wasn't their thing at all. I was the only one doing it. It gave everybody a bit of a kick so I was allowed to do it and go off, and everybody was sort of like, 'Oh, she's off again'."
And off she went again. As soon as she finished secondary school, Kirby left home to study — and then drop out of — an arts degree in NUI Galway. Tending to that entertainer's streak, she enrolled in a part-time acting course with Galway Youth Theatre, where one of her teachers encouraged her to train full-time in Dublin.
"I was like: 'No! I don't want to. I just want to go straight in'," she says, displaying the giddy determination of her younger self. "And he was like, 'Simone, you need discipline'."
Taking his advice, she moved to Dublin in 1998 and immersed herself in the close-knit theatre community. Through the Gaiety School of Acting, she picked up some of that discipline and through the acting social scene, she met her husband, the actor and playwright Fergal McElherron, with whom she has worked regularly over the years.
When she graduated, Irish television was in the early stages of an overhaul. Comedy shows featuring young Irish actors had begun to creep into evening schedules, helping RTÉ embrace a newfound edge that, previously, people had flicked over to Channel 4 to find. However, Kirby recalls auditioning for a role in Bachelors Walk, for a girlfriend part, "which I didn't get," she says with a wonderfully comedic sniff.
"The three leads were three young guys, so there wasn't a whole lot for me in it anyway," she says, highlighting the very evident gender divide in prime-time entertainment. "It was guys who were getting a shot, really. More than the girls were."
That was until Pure Mule came along in 2004. It followed a group of 20-somethings in the midlands; drinking, having sex and taking drugs featured heavily and — refreshingly — the women behaved just as badly as the men. Kirby's character Geraldine was famous for having a threesome — surely a first for home-made telly? — but when the series wrapped in 2005, the roles for young women here were few and far between.
"I was kind of frustrated," she explains, "I was doing lots of theatre but I wanted to do more film and television."
Mucking in and creating opportunities that she wasn't getting elsewhere, she set up her own theatre company, the aptly named Giddy Productions, with her friend Oonagh McLaughlin.
They went on to win the Jayne Snow Award for "innovation, bravery and risk-taking" at 2005's Dublin Fringe Festival for their show Mind Your Fingers, proving that Kirby can recognise a boundary and knows how to push it. Looking back on her 20s touring with theatre productions and working with "really great directors", she swears that she "wouldn't change a bit of it".
Flexing her comedic muscles even more, she collaborated with PJ Gallagher on RTÉ's sketch show Meet Your Neighbours but London's thrills and larger career pool were calling. Relocating with McElherron, there was something about the anonymity in London that clicked with her and she booked gigs in The Old Vic and Shakespeare's Globe almost as soon as she arrived in the city.
"What was nice about it was being in a room with nobody that I knew. Because Dublin... what's wonderful about it is that it has a real sense of community, the theatre community is really strong," she says, "but actually being in a room with people where no one knows who you are or what you've got to offer is really lovely as well."
However, as an Irish actor in London, a new and abrupt lesson in typecasting soon presented itself. Auditioning for John Webster's The Duchess Of Malfi, she was asked to read the part of an 'old hag'. In her early 30s at the time, she was taken aback. Then, she saw the women who were reading for the role she actually wanted. "They had lovely posh English accents, and the only other girl in the room who was reading for the part that I was reading for was a Northern lass," she says.
With over 20 years of experience reading scripts that lazily reduce women to stereotypes — "There's being a woman, there's being a woman in her 40s and there's being an Irish woman in her 40s… The 'lovely Irish mammy' thing comes up a bit" — she was relieved to see that Hidden Assets avoids those tired tropes completely.
As part of RTÉ's autumn schedule, the series follows the success of crime dramas such as Love/Hate and Kin, which put Irish talent at the forefront. Starring Angeline Ball, who returns as Detective Sergeant Emer Berry (previously Byrne) from 2017's Acceptable Risk, Love/Hate's Peter Coonan and Red Rock's Cathy Belton, the drama sees a wealthy Irish family being raided by the Criminal Assets Bureau, exposing a hidden stash of diamonds that links them to a series of bombings in Belgium.
When Kirby received the script in the depths of lockdown last Christmas, she knew she was on to a winner. "If the writing isn't good, there's nothing you can really do to save it. But the writing was really, really good in Hidden Assets."
Written by Peter McKenna (Kin, Red Rock, The Clinic) and Morna Regan (The Case Of Majella McGinty), Kirby praises the depth that every female character has in the show. "It wasn't just my and Angeline's characters, the kind of leading females," she says, "all of the supporting female characters went to great places as well. And their characters were made bigger and more three-dimensional as well by just having a female voice in the room."
The conversation around gender equality on screen and on stage is a recurring one for Kirby and her husband. "We've talked about it a lot over the years and he sees it himself. A lot of his friends are actresses and the great thing about Fergal is, when he writes, he writes just characters," she says, diffusing the idea seemingly held by so many writers that women are extra-terrestrial beings.
After the birth of their son, Kirby stepped away from theatre but a script written by her husband pulled her back in 2019. Programmed in the Galway International Arts Festival and Kilkenny Arts Festival that summer, McElherron's Cleft focuses on the dark past of two sisters as they raise a boy together on an isolated island. Praising her husband's openness as a writer, she says: "Fergal is the kind of person who's collaborative and likes to listen and likes to learn and grow and some people just aren't... into that."
He listened and then rewrote whenever Kirby, co-star Penny Layden and the show's director Lynn Parker made dialogue suggestions that would make the characters feel more authentic. Kirby explains that this forward-thinking approach to creativity is usually associated with younger people but that's not always the case.
"Yeah, forward-thinking people... I wouldn't necessarily say that it's a generational thing either because someone like Ken [Loach] would really listen to your opinion," she says, remembering her time with the director as they shot Jimmy's Hall in 2013, "while I've worked with younger writers and directors who don't."
Thrown in at the deep end after a seven-year theatre gap on her CV, Cleft reignited Kirby's love for live performing, and proved that she could be a touring actor again. "I sort of realised that I do remember this! It isn't going away.
"I loved it and we as a family — my son and my husband — travelled together when we were doing this and that was lovely; to get that feeling again and go, 'Oh, it's possible. We can do this'."
Her first acting gig since March 2020, she admits to feeling initially rusty on the Hidden Assets set. Shot at the start of the summer, her lockdown hangover didn't disappear overnight. "I went from being locked down for a year — almost a year, exactly — and then suddenly I was on the Eurostar," she marvels, the memories of being confined to a built-up London borough still quite fresh.
"It was odd because obviously the first few days on set, some of the rooms that you're in are small, packed with a crew, who were leaning over you to fix lights and that was quite a head melt."
"I don't think I was quite ready for it and I had to very quickly try to relax and find my feet in that kind of environment again."
She is also delighted to see Irish television move away from Dublin. Pointing out that Normal People put Sligo in the spotlight and that the television adaptation of Graham Norton's novel Holding is being filmed in West Cork; this not only changes the lens of Irish storytelling but also makes life easier for the crew.
"It means the crews don't have to live in Dublin," she says. "It's so expensive in this massive housing crisis and people can't afford it so they're travelling in and out. It's lovely if people can afford to move west, and for people who are already living west, they can get a chance to do some film and television, you know? Yeah, more of that, please."
After roles in so many period shows like Rebellion and Peaky Blinders, Bibi is a far cry from any character Kirby has played before, which made the return to work easier. "She's a very modern woman. And I don't think I play wealthy very often. So that was nice," she says with a cackle.
Criminal activity remains a constant in Irish news, and Kin came under fire on Joe Duffy's Liveline some time ago for glamorising the lavish lifestyles of gang members. Does Kirby think this will be an issue with Hidden Assets?
"I think it's a very different show," she says. "No. Hidden Assets certainly wouldn't glamorise," she reaffirms, hinting at gritty undertones in the show's storyline.
Apart from the occasional diamond Bibi wears? "Yeah, it would be glamorising diamonds... which I mean, in fairness," she laughs, before deadpanning, "I don't think it even glamorises the diamonds, if I'm honest."
For many people, this year feels like a fresh start. Knowing you can reset the pace is a privileged position to be in, and while Kirby hopes to move back to Ireland, it's proving difficult.
"It's been tricky actually to get the banks to respond positively to two actors," she jokes, knowing how unsteady the self-employed lifestyle can look on a mortgage application.
She wants her son, who was raised in London but has a full Irish accent, to "have that sense of place". The last year-and-a-half has strengthened her attachment to home even more.
"I know most people couldn't see family but even standing outside, talking through a window to our parents would have been really nice," she says. "Feeling like we couldn't be there was... Yeah, it was really, really hard. So, I think it sort of solidified it for us, that we'd like to move home."
With a sharper focus on where she'd like to live, she's also shifting the direction of her career. "Collaborating with writers and going, 'I think this needs to be fixed'," helped her realise that she should take her writing skills more seriously. Happily, she has secured funding from Screen Ireland for a feature film. It's easy to assume she would go the funny route but she confirms that this script isn't a comedy at all.
Now that her workload is returning to pre-pandemic levels, it's a good thing that she has mastered the art of organising her brain. "I'm the kind of person who needs to write lists and stuff so that I can prioritise," she says. "I wake up in the morning and I sort of take on the whole world of thoughts."
With Hidden Assets and His Dark Materials already ticked off, a possible move home and writing her own movie are next on her list. Just like every other risk Kirby has taken, the personal and professional pay-offs are bound to be worth it.
'Hidden Assets' starts tonight on RTÉ One at 9.30pm
Photography by: Ollie Ali; styling by: Hannah Coogan; hair and make-up by: Jade Farmiloe. Location: The Kensington Hotel, 109-113 Queen's Gate, South Kensington, London, United Kingdom, tel: (+44) 20 7589-6300. The Kensington is a part of The Doyle Collection, an Irish family-owned international hotel group. See doylecollection.com