FUBAR review: Arnie makes his TV debut in an action-comedy that feels like a True Lies rip-off
Fubar — 3/5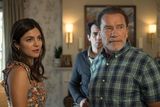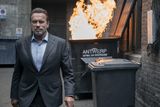 After True Lies became the third highest-grossing film of 1994, behind The Lion King and Forrest Gump, a sequel was inevitable.
Arnold Schwarzenegger and Jamie Lee Curtis were eager to do it, as was writer-director James Cameron. Following a long delay, due mainly to the time it took Cameron to complete Titanic and the ongoing process of finding a satisfactory script, the sequel was finally confirmed in March 2011, with filming to start the following year.
But then the September 11 attacks happened and films involving terrorists were immediately off the table. Despite intermittent talk of a sequel over the next few years, it gradually became obvious it would never be made.
Instead, what we eventually got was this year's unwanted True Lies TV series, an awful, bloodless reboot made by CBS and shown over here on Disney+. It was axed last week, having failed to find an audience.
Arnold Schwarzenegger clearly hasn't got True Lies completely out of his system yet, though, because he's chosen to make his television series debut in the action-comedy FUBAR (Netflix, all eight episodes currently available). Depending on which version of US Army slang you prefer, the title stands for either "F****d Up Beyond All Repair" or "Fouled Up Beyond All Recognition".
So close are the similarities to True Lies, the series can be regarded kindly as a sort of spiritual successor — or less kindly as a bit of a rip-off.
Arnie plays Luke Brunner, an ace CIA agent who's reached retirement age, 65, and completes one last mission to Antwerp to crush a diamond-smuggling ring.
Luke has been hiding his 40-year career as a spy from his ex-wife Tally (Fabiana Udenio), who he still loves 15 years after their divorce, and his daughter Emma (Monica Barbaro), who he idolises.
As far as they're concerned, Luke is a decent, hardworking man and a good provider who let his marriage slide by spending too much time away on business.
Frankly, the only thing more implausible than a CIA agent still working in the field at 65 is one played by a star who's actually 75.
God bless Arnie. We love him. He's always been fun to watch and in recent years he's shown himself to be a voice of reason and sanity on gun control.
Yet with the best will in the world, all the hair dye and all the nips and tucks Hollywood money can buy, this can't hide the fact that the man looks his age.
Ah, I hear you say, but what about Harrison Ford? He's 80 and he's playing Indiana Jones again? The difference is that Arnie, even when he was in his physical prime, was never the most mobile or agile of action stars. Who can forget his hilariously flat-footed Tango in True Lies?
He's a lot chunkier around the middle these days, which necessitates lots of tightly framed shots when he's cracking bad guys' heads. He can still throw a punch as convincingly as someone half his age, but it's painfully obvious from the first episode of FUBAR that he's basically fronting for a succession of stuntmen, who do all the heavy lifting.
FUBAR's twist is that Luke is not the only spy in the family. When he's pulled out of retirement and sent to Guyana to get hold of a WMD in a suitcase and extricate a fellow agent whose cover is about to be blown, he's gobsmacked to discover the operative in need of rescuing is none other than Emma.
She's equally gobsmacked by the sight of her father posing as a mercenary called Finn, who was apparently a mentor to Boro (Gabriel Luna), the bad guy whose outfit she's infiltrated.
The opening episode spends a lot of time on the two of them bickering about how they both feel betrayed by the other, while teaming up to nonchalantly wipe out various heavies.
As far back as Arnie's early hit Commando in 1985, it was obvious to all but the most sniffy, stuck-up film critics that he had a deft way with throwaway one-liners. But the writers here don't give him strong enough material to work with.
The mix of comedy and action is lumpy, the script not as sharp or funny as it could be, and it often gets bogged down in too much background exposition.
That said, I'd rather have Arnie doing a substandard cover version of one of his own greatest hits than someone else screwing it up, so an extra star for that alone.
FUBAR is streaming now on Netflix