'Even the casting director was saying, who is this girl in Ireland who's just landed this job in a Netflix series?': Dubliner Danielle Galligan on getting her big break
After her minor TV debut on Game of Thrones, actress Danielle Galligan has truly stepped into the spotlight with Netflix's fantasy epic Shadow and Bone. She talks about her surprise at landing the coveted role — and how the initial backlash at her casting as 'curvy' fan favourite Nina Zenik was ultimately a good thing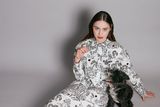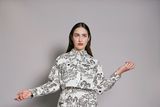 Life could have worked out very differently for Danielle Galligan. Instead of sitting on a Zoom call to talk about the new Netflix fantasy show that she features in, she could be sitting in an office working for the family business (the Galligan Beauty College, established by her grandmother Kay in 1976, and now run by her mum, Lorraine, and aunt Careena). Or maybe, instead of digging deep into the psyche of the various characters she brings to life, she would have delved into people's minds by pursuing her once-vague notion of a career in psychology. One thing's for sure: growing up with no other creatives to speak of in the family, she never saw acting as a possibility.
"My mum was a working mum, so I did a lot of extracurricular activities: ballet, jazz ballet, Irish dancing, loads of sport, and I played the piano," the bubbly Dubliner explains.
"There was always lots of bits and bobs, but I never had a love for any of it. I used to have to go to this stage school on Saturdays that I hated so much that I would cry," she adds, grinning as she cringes at the memory. "I was that child that had to hold the teacher's hand because I was like, 'I don't want to be here!'" She pauses, furrowing her brow. "I've never said all of that out loud — so when I think of that trajectory and where I am now... it's a journey."
Galligan may have taken the long way around to her big break, but she has certainly arrived with a bang. The 28-year-old is one of the stars of Shadow and Bone, the new Netflix fantasy series based on the series of Young Adult books by Leigh Bardugo. In a war-torn world filled with monsters and magic, where some humans dubbed "Grisha" have the ability to manipulate the elements, Galligan plays the role of Nina Zenik — a powerful "Heartrender" with the ability to damage someone's internal organs.
If you're thinking that Bardugo's "Grishaverse" is a long way from the Dublin suburb of Rathfarnham, you'd be correct — although since last November, Galligan has been living in London, where she apologetically says that she "has had pints. I don't wanna brag, but I've had Guinness, I'm sorry," she says with a sheepish grin. "It wasn't the best, but it was pretty good."
It soon becomes clear that the friendly, down-to-earth and bright Galligan is also a deep thinker — qualities that made her the ideal choice to play Nina, a wily, independent and much-loved fan favourite from the series. She credits her mum for instilling in her a sense of ambition, feminism and can-do attitude; she was raised by "a tribe of she-wolves", she jokes, who were "all out in force" with cocktails to watch the Netflix premiere of Shadow and Bone a few days before we speak. "I was an only child, so I grew up around a lot of adults and I had many 'mammies', which I still love dearly," she nods, smiling. "My mam still says when she's out with her friends, 'I'm here with all your mammies.'"
Galligan is a natural on screen, but it didn't start out that way. Leaving aside her false start at Saturday stage school, it wasn't until she took part in a school production of Oklahoma! at Loreto High School Beaufort that the acting bug truly took hold and she gained confidence in her ability. A spell at Ann Kavanagh's Young People's Theatre followed "and it was there that I really developed a love for it, and saw it as a skill and a craft", she says. "It was Ann Kavanagh who really pushed me to pursue it and made me believe that I could do it. On the other hand, she'd always say to all of us, 'Oh, don't be an actor. Be a doctor. Your mum would love you to be a doctor! You can be anything, don't be an actor,'" she laughs. "I don't know if that was reverse psychology, now that I think about it. If it was, it worked."
Although the fear of failure almost crippled her ambition, she eventually took the plunge and studied drama and theatre studies at Dublin's Trinity College after leaving school. "It was excruciating," she says bluntly, before laughing heartily. "It was kind of like pulling teeth. You sit in those seminars, and there's 13 people around a table and they're talking about theories, and about French and Fry and Freud. And I had never even seen a play, apart from all the plays that my nana took me to. All of a sudden, it was like, 'Ohhhh... so this is acting.' It was very much a rude awakening."
She went on to study at acting academy The Lir, and looks relieved when I tell her that I'm not going to ask her about its most famous alumnus, Paul Mescal (about whom she is quizzed in almost every interview, despite neither working with him nor sharing a class or a stage with him). She guffaws, slapping her thigh. "It's so funny how people hone in on that. I mean, I love Paul — I think he's the best lad and obviously he's an amazing actor. But I dunno... what?!"
While at The Lir, Galligan immersed herself in the world of theatre and co-founded the Chaos Factory theatre company. TV and film work was not necessarily an ambition in her early career, but it certainly looks like things are heading that way.
"I suppose I've had more opportunity recently with film and TV but, even last year, I spent the whole of 2020 trying to make plays on Zoom," she says, shrugging. "I love both film and theatre dearly and I hope one day I don't have to choose. They're similar, but they both demand different tools in your tool kit, I guess. I think stepping on a film set for day one and they say, 'OK, we're gonna punch in for a close-up,' is a certain kind of terror. And then stepping out on to a theatre stage where everyone's like this," she says, frowning as she folds her arms and rests her chin on her palm, "is another certain kind of terror. So I think you need to experience all the terror, all the time, basically."
Her first big TV role was in Game of Thrones in 2019 when she played Sarra Frey, one of Walder Frey's granddaughters, in a Season 8 episode. Given her minor role, she seems somewhat reluctant to acknowledge her part in the history-making series.
"Everyone keeps asking me about Game of Thrones and it's so interesting, because I almost don't see myself as being part of it. I still can't even get my head around the fact that it happened, to be honest," she smiles. "But I think, for some reason, Game of Thrones helped me through... I don't wanna say a 'dark time', to be dramatic, but I think certain characters find you at certain times in your life, and they really help you through things. Nina from Shadow and Bone is definitely one of those characters, too. And to be able to watch something — having fallen in love with the people and the story and the characters — and then to physically step on to the set and know that you're gonna work there? I can't get my head around it, it was madness. It was daunting and I didn't know what I was doing, so I was just trying to work on instinct. But the cast were lovely and it really was a well-oiled machine. It's just mad to be able to say it: that I was on Game of Thrones."
Far more significant is her role on Shadow and Bone, which was won via a pretty unorthodox audition process.
"I was in Dublin at the time and the audition came in via [casting hub] Spotlight. I think they cast a very wide net; well, they'd have to, to find me," she explains, smiling. "I remember reading the character description and thinking, 'Wow.' It just felt new — it felt very authentic and like something I hadn't had the opportunity to play before."
She threw her hat into the ring, sent in her tape, and promptly forgot all about it and went back to the theatre show that she was working on. Then she got word that producers Eric Heisserer and Lee Toland Krieger wanted to do a Skype call with her.
"We're very Zoom-literate now because of the pandemic, but this was 2019," she says, shaking her head at the memory. "I had never done a Skype; I didn't even have a Skype account. So it was very much my laptop on an ironing board balanced on three books, and me sitting on a piano stool trying to be like, 'Where's the good light...?'" I was just so starstruck with Eric and Lee, but there was something really nice about the way they approached the meeting; I felt very safe and very free to be myself. I felt what I thought of the character of Nina was very worthwhile to them and it was very much a lovely conversation. I thought that I mattered for that half an hour. And then I closed the laptop and I was just sitting there in my sitting room, with my pyjama bottoms on."
When she heard that she had landed the role, she was as surprised as anyone.
"Even the casting director, Suzanne Smith, was on the phone to my agent saying, 'Who is this girl in Ireland who's just landed this job in a Netflix series?' I was like, 'I don't know. I can't remember my own name anymore!'" she laughs. "And then, that was that; I was off to Budapest."
Taking on the role of such a big fan favourite from Bardugo's beloved Grishaverse was daunting at first — particularly when there was a minor online backlash among fans after Galligan was cast. In the books, Nina Zenik is described as being "curvy". She acknowledges the fact that every reader will have their own vision of what Nina looks like, but claims that having read the books "as a fan", she "just wanted to be the best Nina that I can be".
"I don't think that I'm here and I'm the definitive Nina," she adds, shrugging. "In fact, the fan art is kind of where I began. I remember that day when I saw all the Ninas that fans had created. I was like, 'Wow, she is loved.' So I kind of saw myself as doing the same thing [because] in a way, I feel like I'm definitely just one of the fans. Instead of drawing — because I can't draw — I just get to act her into existence. I don't want my Nina to take away from anyone else's Nina."
She says that the backlash was ultimately encouraging because she felt that it came from a good place. "Again, that's just testament to the importance of Leigh Bardugo's characters and the importance of Nina, and how important it is that we see characters like this in the media and that they are normalised: that women with curves, women who love food, can be the sexy girl that gets the guy — and that's not an anomaly. So I'm actually kind of glad that people were harsh about that, because we need to be harsh about that. I'm glad that that's the conversation that's being had, because I think it needs to be had."
She needn't have worried too much; her portrayal of the character has been roundly praised among Shadow and Bone fans, although she claims not to have read any reviews so far. The "fantasy adaptation" market is thriving right now, and Galligan would know: almost all of her TV roles to date, including a part in Superman spin-off Krypton, have been fantasy-based. Is she worried about being typecast?
"It's a good question," she admits, nodding. "I mean, that is the worry for every actor, but what a good complaint to have: 'I've done so much work that I worry about getting cast in only one type of role!' I think it's something that a lot of actors come up against," she adds, pointing to Matthew McConaughey's one-time label as "the rom-com heartthrob".
"I don't know why it keeps being fantasy and period with me, but I love both of those genres, so I'm happy and I love every role that I've done so far. But it has been something that's been on my mind; I am itching to do something set more recently. Something quite dark, maybe — I'd love to do a Swedish noir or something like that. But again, happy just to be working, to be honest."
She has what she describes as "complex feelings" about the concept of her potentially impending fame in the wake of Shadow and Bone, but it looks like she may not have a choice in the matter. "I think that fame and celebrity are two very different things, though — and celebrity is something that I don't f**k with," she says, biting her lip.
"There's something about fame, though, that comes hand in hand with having communicated successfully with your audience. I don't want to sound ungrateful here at all, but I don't really want to be famous at all. I just wanna be able to go and get my cup of tea with no makeup on and have no one care about it.
"Ultimately, whatever I do, I just want the audience to be happy, and to get some joy or escapism, or help them through whatever they're going through. And not in some 'saviour complex' way," she quickly adds. "But there's times when I've felt so isolated and so alone, and I've seen something and felt instantly connected to something bigger; that's what I want for people."
And as for what she wants for herself? She recently sat down with her housemates and they wrote down and read aloud their five-year plans to each other.
"It was very cute," she laughs. "Mine was pretty vague: I'd love to live in the States for a bit, so in five years ideally I'd love to be over there. I'd love to own a home; my nana's always bred a sense of owning your own property, so I hold that as a goal.
"After that? I'd love to be living with a partner, or just that my family are happy and healthy, and that I'm financially secure. Oh!" she exclaims, "and I'd love to have a dog."
And in terms of her work, she is equally sanguine and level-headed about what the future might hold.
"As long as I'm creatively satisfied, then I'm gonna be happy," she beams. "It's like that analogy of a sugar addiction: the more sugar you have, the more sugar you need. I feel that with creative satisfaction, the more I get, the more I want, so it's probably gonna get bigger and bigger until I eat... the world! But that's kind of it."
She shrugs, sighing happily. "Mainly a dog, though."
'Shadow and Bone' is streaming on Netflix now