The original Trip to Tipp: 1990 was the year of the first Féile - when the Irish summer would be altered forever
Debt was the catalyst for the first Féile which spawned more ambitious music events, writes John Meagher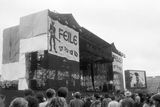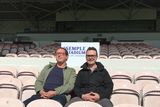 It is a year that continues to be seen as one of the most significant in recent Irish history. Mary Robinson was elected our first female president and Jack Charlton's Boys in Green went all the way to a World Cup quarter final in Italy.
1990 was also the year that Nelson Mandela was released from prison, Germany was reunified after the fall of the Berlin Wall and, away from the headlines, a computer nerd called Tim Berners-Lee was registering something called the World Wide Web.
And it was the year that changed everything when it came to live music, festivals and the business of entertaining ourselves. It was 1990 when Féile first got under way and the Irish summer would be altered forever.
Féile ushered in the idea of seeing multiple acts over the course of a weekend. It initiated the concept of the rite-of-passage festival, where you could let your hair down and forget your troubles for 48 or 72 hours. It created the notion of a destination event - one that you wanted to attend before you even knew who was on the line-up.
Féile sowed the seeds for what would become Witnness and Oxegen as well as Electric Picnic and Longitude. And the multitude of smaller, specialist music festivals that dominate the summer schedule today have at least some debt to pay Féile. Many - such as Body & Soul, Indiependence and Castlepalooza - have lasted far longer than the original Féile, but their spirit shares some of the DNA of the trailblazing Féile festivals.
There had been big outdoor rock and dance events before that first Féile in 1990, but they were one-day spectaculars and the associated pleasures and pains of camping were not part of the plan. There was Siamsa Cois Laoi in the old Páirc Uí Chaoimh, Cork, in the late 1970s and early 1980s, as well as various instalments of 2fm's Lark in the Park, including some fondly remembered ones held in Dublin's Blackrock Park in the mid-1980s. There had also been a series of huge gigs at Slane Castle, but that particular big day out would be on hiatus in the years between David Bowie's appearance in 1987 and Guns n' Roses' headline performance in 1992.
Féile was different - and for a generation, the words "Trip to Tipp" would be forever etched into their collective memories.
Its origins can be traced to an event that meant little anywhere but Tipperary.
In September 1989, the county won the All-Ireland hurling title for the first time in 18 years when they beat surprise finalists Antrim. Tipperary had been the pre-eminent force in the game, its people proud of the fact that it was in Hayes Hotel, in the heart of the town, that the GAA had been formed in 1884.
The long, lean years of the 1970s and 1980s hurt badly, especially as fierce rivals Kilkenny and Cork were chalking up titles. The homecoming celebrations were set for Semple Stadium, Thurles, and Joe Dolan was booked.
It was during the performance by the crooner from Mullingar that local TD Michael Lowry - then chairman of the Semple Stadium Management Committee - realised that the answer to the venue's debt was right in front of him. Why not hold other music-related events, but charge people to attend?
If the idea took off, the £1m debt incurred by redeveloping the ground for the 'Centenary hurling final' of 1984 could be paid off.
Lowry approached the country's two biggest promoters, Aiken Promotions and MCD, and it was the latter that expressed the most interest. The concept of the 'Trip to Tipp' was born and the first year it was held - the August bank holiday weekend, 1990 - there were 19 acts booked. Just four of them, including Meat Loaf, were from overseas.
Three-day tickets cost £29.50 and could only be purchased in a limited number of record shops or at the stadium itself on the Friday. Day tickets were available, and charged at £14.50. The days of online booking were quite a long way away.
Féile seemed to connect right from the start, even though some Thurles residents made it known that they were none too pleased by the invasion of thousands of young revellers, many of whom were downing cans of beer like the stuff was going out of fashion, and flaking out for booze-fuelled naps in their front gardens.
The town was used to summer weekends of drinking - Liberty Square has always been thronged with hurling fans on Munster Final Sundays - but this was bacchanalian excess on a whole new level. And there's a large selection of great Irish Independent photos to remind us - every available pavement and road space was occupied while some felt compelled to climb on top of signposts and telephone boxes.
Tony O'Brien, the Irish Independent's music critic at the time of the original run of Féiles, recalls the sight in Thurles during that very first instalment: "It really was like Sodom and Gomorrah when I walked up through the town and I'm sure some of the locals were horrified by it, but the atmosphere was good and people were enjoying themselves.
"The early Féiles were rites of passage for many," he adds. "They were rough and ready but they were great fun and they were affordable. Each year that went on was more professional than the year before, probably because people's expectations kept growing."
Féile succeeded in attracting some of the era's really big international names, like Inxs, Primal Scream and Iggy Pop, and was also a shop window for many of the leading Irish acts of the time. And Irish music really was in a strong place - while many of leading lights, such as the 4 of Us, hadn't followed U2 to international fame and fortune, they were beloved back home - and were enjoying a healthy existence on the local live circuit.
It was the festival that would truly propel The Saw Doctors into the public consciousness and The Stunning were so big that Bryan Adams, who had spent 16 consecutive weeks at the top of the British singles chart the previous summer, had to play second fiddle to the 'Brewing Up A Storm' boys in 1992.
Féile's first line-up was modest by today's standards, but it kept getting bigger and better with each passing year. And the ticket prices rose accordingly. There were some grumbles that £45 per weekend ticket was too steep in 1993, but there were far more acts -homegrown and otherwise - to pay.
After the fifth instalment of Féile, in 1994, the Semple Stadium debt was completely paid off and there was little appetite in Thurles to continue with the festival, especially as the weekend remained unpopular with many people in the community.
Mondello Park was considered as a possible replacement for the following year, but in the event the 1995 instalment took place in Páirc Uí Chaoimh. Its line-up was incredible - and remains one of the very best ever put together by an Irish promoter. The biggest bands of the era headlined - the Prodigy, Blur and Stone Roses - and there was plum support from the likes of Paul Weller, Moby and the Beautiful South. Way down the bill was The Verve, a band who would go on to headline in front of 80,000 at Slane Castle just three years later.
Despite the acclaim in '95, Féile was in its twilight years. In 1996, it moved to Dublin's Point Depot - a pale shadow of what it had been before - and a slimmed-down version was held in Semple Stadium one last time in 1997. It was a one-day event, and it was clear that its days were numbered.
But while Féile was being quietly put down, promoters MCD recognised that there was a huge market for a large-scale festival, especially now as the nascent Celtic Tiger was encouraging people to loosen purse strings.
Witnness, with a big Guinness sponsorship behind it, launched to a blaze of publicity in 2000 and it pulled in large crowds to Fairyhouse racecourse, before moving to Punchestown in its third year. It was rebranded Oxegen, due to a new sponsor, Heineken, in 2004 and would be a hardy annual until 2013 and a place where the children of the Féile generation got to know all about flagons of cider, muddy campsites and a music line-up that featured some of the biggest names of the day, including Beyoncé.
Electric Picnic kicked off in 2004 as a one-day 'boutique' festival, but is now firmly established as the country's biggest music weekend. Earlier this month, 55,000 attended the 14th instalment of the festival, featuring the planet's greatest rapper, Kendrick Lamar, and next year an extra 2,500 will be catered for thanks to a capacity increase.
If Féile arrived at a time when Ireland's live music scene was in a moribund state, the new-look Féile Classical comes in an era of plenty. A new festival, All Together Now, was held in a grand country pile in Co Waterford in early August and seems to cater for those who hanker for the older Electric Picnics, when it was less a rite of passage festival for all and more an experience for music aficionados looking for something different.
Féile Classical sold out the Saturday in just 90 seconds and only a small number of tickets are available for the Friday. It's clear that it appeals on a nostalgic level - thanks to the presence of old Féile stalwarts like Something Happens, The Stunning and An Emotional Fish - but also because it's offering something different, namely the opportunity to hear a generation of great Irish bands perform their wares with the accompaniment of the Irish Chamber Orchestra.
It's a chance for Féile-heads to return to Semple Stadium, relive memories from a very different time, catch up with old acquaintances and enjoy music that soundtracked their youth, albeit with strings (violins and cellos) attached.
John Meagher is the Irish Independent's music critic and will host sport and music discussions at Féile Classical's Tribal area on both days
Read more: