The incredible shrinking band: What's going on with U2?
A new album has divided opinion and now U2 - the ultimate stadium act - are downsizing to arenas. Have they lost their pulling power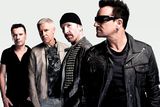 What's going on with U2? The band have just crawled free of the controversy over their 'freebie' album, Songs Of Innocence, and its opinion-dividing overnight appearance in the iTunes folders of 700 million people (a chunk of whom turned out not to want a giveaway U2 record, thank you very much). Now Bono and the Edge have let it slip that, when the group tour next year, they won't be taking in their traditional stadium stomping grounds. Instead, they are to step down to smaller venues, such as Dublin's 14,000 capacity 3Arena.
This is quite downsizing for an outfit who have always placed great store in being as big as possible. Granted, only an artist at Bono's level could describe a vast shed such as 3Arena as "intimate".
Nonetheless, compared with the cloud-scraping buttresses of Croke Park, where U2 pitched up for three nights during 2009's 360° tour, 3Arena and its ilk will make for spectacularly modest backdrops. Indeed, for many, the idea of experiencing U2 at close quarters may feel ridiculous, even surreal.
Why arenas and why now? Perhaps fear and uncertainty are at play. Reviews of 'Songs Of Innocence' have been generally underwhelming and, detached from the hype over its surprise release at an Apple press conference, the actual record has not caught the imagination of fans, let alone the general public. If not a bona fide flop, nobody is hailing the Apple launch a triumph, either.
Nothing if not astute, it could be U2 realise an undertaking comparable in scale to the 110-date, e800m-earning 360° tour risks falling flat. Smarter, by such logic, to play a string of sell-out arena gigs than return to stadiums, knowing you could be warbling to endless banks of empty seats.
Such a humiliation would be lapped up by the media, where Bono haters proliferate, and inflict long-term damage.
"A lot of U2 fans are happy we have new tunes," says Dave Griffith, who runs a popular U2 Walking Tour in Dublin. "However, anyone I've spoken to isn't overjoyed with the quality. Yes, there are great guitar bits and nuances. On the other hand, [Songs Of Innocence] certainly isn't the Rattle and Hum to Achtung Baby [reinvention] we expected - or that U2 require if they are to remain relevant."
Boredom might be a factor, too. After decades at rock's top tier, it isn't beyond the bounds of plausibility that U2 are fed up headlining faceless open-air venues (one yawning stadium looking much like any other).
It may be that they wish to nod toward their club roots by playing smaller, sweatier venues - spaces where it doesn't feel as if the people at the back are half a time zone away. This would be in keeping with the themes explored on Songs of Innocence, grounded as it is in the group's memories of growing up on the northside of Dublin.
In truth, their motivation for downsizing is likely somewhere in the middle. U2, you suspect, have no idea how stands their popularity at the moment. No doubt, they are painfully alive to the fact that Songs of Innocence isn't likely to become a new Joshua Tree or Achtung Baby - or even a new All That You Can't Leave Behind.
Already it appears destined to join the ranks of their middling works, those records not even their most ardent devotees can find it in their hearts to unabashedly love (see also October, Rattle and Hum, How To Dismantle An Atomic Bomb, No Line On The Horizon).
That isn't the entire story, though. The week, after Innocence was unveiled at Apple HQ, 26 U2 titles charted in the iTunes top 200, attesting to the band's continued grip on the public imagination.
The lesson is clear. Nobody wants to stand in Giants Stadium or Wembley listening to 'Invisible', the bleary single debuted at the 2014 Superbowl. Throw 'Sunday Bloody Sunday' and 'Pride Pride (In The Name of Love)' into the equation and the response will be very different.
Close observers of the group feel U2 have anticipated this moment for some time. They have long understood their popularity would eventually flag. In fact, it is whispered that they are quietly mystified they have managed to pack stadia for as long as they have.
"There were rumours back around the PopMart tour in 1997 that they were going to do smaller venues from then on, but they went onto bigger venues instead," says Dave Griffith.
"Going to smaller venues could mean a downsize in popularity as perceived by the band. They were probably trying to build a teen following with recent albums. Now they realise they are in danger of losing older fans. [Returning to arenas] could be a reaction to that."
If U2 are true to their pledge and swap stadia for 3Arena-type rooms, it would be part of an accelerating trend. Rock 'n roll, at U2's level at any rate, is recognised as being in crisis - some commentators fear that, five decades since the Beatles and the Rolling Stones crystallised many of the tropes of the genre, the form has run its course. Critically and commercially pop and dance music are in the ascendency; perhaps U2 have merely recognised the Zeitgeist has moved on. That, from here on out, their career will be a story of diminishing returns.
"There is a case for saying certain kinds of art form can only endure for so long," music writer and cultural commentator Simon Reynolds told me in 2012.
"Sonnets, as a poetic form - there was only a certain amount of time until nobody could do them any more. Maybe [rock] is the same."
To be clear, the apocalypse hasn't arrived quite yet. Music's highest earners in 2013 were Bon Jovi, as old school a rock affair as you will find. According to Billboard they earned $205m from a tour that included a Slane Castle stop-off. Not far behind was Bruce Springsteen, whose gigging income was $147m. But guitar wielders were otherwise thoroughly eclipsed, with the leaderboard of top grossing tours dominated by Taylor Swift, Beyonce and Rihanna.
Significantly, none of the rock bands figuring in the tally had an average age of less than 50. And though U2 fall bang in the middle of the late baby-boomer demographic, they have always been wary of nostalgia and would surely be aghast to be perceived as just another Rolling Stones-esque heritage act topping up their pensions.
Without question, stadium rock is no longer regarded as the pinnacle of live music. More and more, groups are opting for smaller venues - because the economics make better sense and, also, out of a feeling that going indoors fosters a closer connection between audience and performer.
Speaking to me just ahead of their date at the Aviva Stadium in 2012, Red Hot Chili Peppers frontman Antony Kiedis was upfront that, in his view, smaller was better. "We miss the small venues," he told me. "It is more intimate."
It should also be remembered that U2 strive to challenge themselves and would not be satisfied with a retread of the 360° tour. From the late 80s on, they have approached live performance as an art-form in itself. With 1992's Zoo TV the band looked ahead to the multi-media saturation of the 21st Century. On PopMart, in 1997, they sought to turn irony into a design statement via a lurid set that wedged tongue firmly in cheek. Five years ago, meanwhile, U2 pushed their aesthetic ambitions further yet, performing beneath a vast 'claw' that might have been dredged from the mad imagination of mid-20th century architect Gaudi. Where do you go from there?
"They are recalibrating their popularity," says Mick Kearns, who plays The Edge in tribute outfit The Joshua Tree.
"The 360° tour was massive in terms of revenue. They need a change. It might be easier for them to come up with some good concepts for indoor arenas. I am hoping for something new and innovative. I think a lot of their fans are."