Singer Pastiche: 'I know what it's like to feel like a piece of meat'
The electro-pop singer on miming to Britney Spears songs growing up, gender roles, the empowering art of drag and swapping Malahide for West London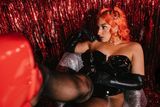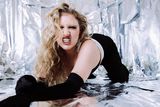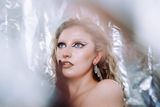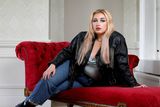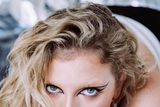 Two months ago at her new base in West London, Irish singer Pastiche went through a brief period of writer's block. She remembers being in a fog and thinking: 'It's over for me. This is the end.'
But it wasn't. Later that night, the 25 year old from Malahide found herself suddenly inspired. Thoughts of her favourite film, the 2009 cult horror classic Jennifer's Body (starring Megan Fox as a girl possessed by Satan) suddenly popped into her head. And with it, the lyrics of her brilliant new single, 'Appetite'.
"The song has a kind of a cannibalistic theme," she says by Zoom from her bedroom in Chiswick. "There's a line in the movie where someone says to Jennifer: 'You're killing people.' And she replies: 'No. I'm killing boys.' I loved that line so much.
"I thought: 'Okay, in this world and this society we live in, women are seen as prey in the food chain. I thought what if we flip this and have men as the prey. Let's see how men like it.
"With my lived experience as a woman, I know what it's like to feel like a piece of meat. Every woman has a story, whether it's a traumatic experience or a random dating thing. So, I wrote the song from that perspective and I'm really happy with it."
​The last time I spoke to Pastiche, when she was releasing her 'Freak Show Symphony' EP last year, she said: "If someone thinks I have a d**k and look like a drag queen, I'm doing something right."
Nor was she joking. She has the larger-than-life chutzpah of Dua Lipa, St Vincent, Rihanna, Katy Perry, Billie Eilish and the aforementioned drag queens.  And drag has been a big influence on her look.
"I've always been fascinated by that world. I love the attitude, and everything drags stands for. It stands for going against the norm. It stands for doing whatever the f**k you want.
"It's not necessarily a man dressing up as a woman. You have a lot of non-binary performers who dress in drag. You've a lot of drag kings who are women in drag. I think drag is whatever you want it to be, really. I'm not a drag queen obviously, but I draw inspiration from them.
"I look at their make-up and hair and see how they can transform from a guy working in a shop by day, to being centre-stage in The George that night looking fabulous.
"They give off this vibe of this regal-ness. They draw attention and they love it. I love it too.
"When I'm on the stage or out on the street, I dress like this – not because I want to blend in. I'm doing this on purpose to stand out. I don't work this hard on my music and my vocals and my songwriting to just look like everyone else.
"I constantly see myself being willingly pulled into this world of drag. It's just people who put on the make-up and the hair and the outfit – and then, bang, the persona is there. And it's like suddenly no one can touch them and no one can stop them.
"And that's how I feel," she says. "When I put on my make-up, do my hair, put on an outfit and get on stage to sing, I feel I'm a badass. There's a switch clicks in me.
"When I'm performing and giving something, it's always how I perceived myself to be. I mightn't have always looked like that – I mightn't have always been the girl with the make-up and the outfits and the songs on a big stage – but that's how I've always envisioned myself in my head. Even if other people didn't see that. But now I'm just outwardly expressing that."
​At the Mother event at Collins Barracks earlier this month, she certainly expressed something when she performed a ballsy, rocked-up version of the Britney Spears's song 'Toxic'.
She doesn't have the budget of her heroes, like Britney or Lady Gaga, so Pastiche's videos and her songs have more of a DIY feel to them.
The video for 'Appetite' was shot in her bedroom, adorned with strips of silver paper she bought for £10.
"Imagine what I could do if someone gave me half a million to make a video. But I did one for £10 with stuff from Morrisons."
That, in a way, is part of her magic. She hasn't yet had the rough edges knocked off by mainstream success.
The video for 'Disco Junkie' – one of the six electro-pop tracks on last year's 'Freak Show Symphony' – was filmed on a shoe-string in The George, Dublin's most famous gay bar.
In the same way that gender isn't binary, I don't believe that sexuality is binary
Addressing her appetites and her sexuality, she says: "I'm a queer woman. That's how I view myself. I don't feel tied to any other term," she says referring to 'lesbian' or 'gay'.
The only reason I ask about her sexuality is because the songs are undeniably sexual.
"Absolutely," she says. "I'm a very sexual person. So, in terms of sexuality I'm just so lucky to be living at a time we can identify however we like. In the same way that gender isn't binary, I don't believe that sexuality is binary.
"In school, I was attracted to boys. I wasn't openly queer in school, but to be honest I hadn't a clue about any of that stuff. I told my friends: 'I never said I'd never marry a woman or fall in love with a woman.' Because you can't tell the future. Who are you to put that constraint on yourself?"
Is Pastiche currently in love with a man or a woman?
"I'm currently happy."
​She grew up Jade Roche, with a sister Leah, four years her junior, just outside Malahide.
At the age of four, she enrolled at the Billy Barry Stage School and did her first show at the Gaiety almost straight away. She auditioned for the Late Late Show Toy Show and other pantos, but was "nearly always unsuccessful" – because she was, she says, "a bit weird as a kid. I wasn't a great Billy Barry kid."
She was seven when her parents split up.
Her father worked in a print business but also sang in a covers band. This gave her a love of the music of David Bowie, Elton John and Queen.
At the age of 11 she was singing along in her bedroom to S Club Seven and Steps, and miming to Britney Spears concert videos. Katy Perry's Teenage Dream Tour became her favourite movie of all time – and she would pretend to be Perry as she sang and danced the moves.
Three years later, while preparing for her Leaving Cert, she began to have anxiety attacks and went to see a therapist.
When she left school at 18, she enrolled at BIMM to study vocal performance. Her anxiety not only got worse, but she started to suffer from agoraphobia too.
Sometimes she'd walk out in the middle of lectures at BIMM, and run to the emotional safety of her bedroom at home, where she would write songs. She did her thesis in college on Madonna and was the runner-up in Hot Press magazine's Now We're Talking songwriting competition in 2019. The following year she graduated from BIMM.
In November 2020 she released her debut single, 'Chasing Down the Fame', which included the lyric: "I'm a daddy's girl with daddy's issues/Don't cry/Hold the issues."
"He thought it was hilarious," she says.
Six months ago, she moved to London and feels at home there.
"I feel I can be Pastiche in London," she says. "It's not like I don't feel I can be myself in Malahide – I'm sure I could – but I don't want to be myself in Malahide. When I'm at home in my mom's house I'd spend all my time in town with my friends.
"My mom thinks I'm great. But she also thinks I'm a bit of an oddball. I'm definitely the kooky one. I get a lot of those 'Is she still at the music?' comments."
She says Jade Roche suffers from agoraphobia and anxiety – but Pastiche does not.
"No. When I was at my most mentally unwell or unstable, the one thing I could wrap my head around was going on stage. Which sounds nuts. For someone who's agoraphobic and has anxiety saying: 'I'll jump on a stage.'
"I don't know what pill I need to take for that," she jokes, "but there's something going on there. I don't get nervous either, because I know I'm meant to be onstage. I know I'm meant to be singing. This is what I'm born to do. That's not me being cocky.
"Obviously I have butterflies, but I feel so at home onstage. Just before the show last week I couldn't find the dude with my microphone, but I was fine. That's when I come into my own."
​How does she reconcile that with the girl in BIMM who not so long ago was walking out of lectures and having anxiety attacks?
"I think that girl would be really proud of me right now. I think she wouldn't believe it. She'd think I was lying. I never thought I'd be bopping around London, playing cool gigs. That girl would have said: 'Fat chance of that happening.' I'm so proud of myself."
With good reason. She has worked hard on herself and her music, and things are starting to happen for the young Dubliner. She's playing an electronic music festival in Reykjavík in Iceland in November, and then a show in Hamburg. She's working on her next single and thinking about the future. After all, her maternal granny, Kay, is 93.
How does she see herself when she's that age?
"Hopefully glam as f**k!" she laughs – and, again, she isn't joking.
"I want to be one of those grannies who have the perm and the make-up and who are still wearing their little kitten heels. That's going to be me. It's not over until it's over."
​Pastiche's new single 'Appetite' is out now. She plays Rock Against Homelessness on May 26 at 3Olympia, Dublin. €27 at ticketmaster.ie