'It's a cute love song we wrote on my ukelele': Meghan Trainor and Harry Styles collaborate on new song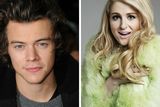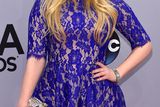 Harry Styles has laid down a track with Meghan Trainor.
The One Direction heartthrob can normally be seen alongside bandmates Niall Horan, Louis Tomlinson, Zayn Malik and Liam Payne, belting out songs to adoring fans.
However, it seems Harry has found time to collaborate with All About That Bass hitmaker Meghan.
"It's a duet. It's a beautiful song we wrote together on my ukulele. We even recorded a rough demo together with our vocals together. It's a cute acoustic love thing," Meghan beamed to British newspaper The Sun. "It's one of the first cool things I got to do with a pop star.
"A friend of mine said Harry was a fan and said he would love to write with me. He's an incredible writer, too. I was worried he'd just be a 20-year-old boy. So I walked in with a prepared verse and chorus. But he gave me very poetic, mature lyrics. I was like, 'Well, damn, Harry, you know what love is.'"
The track, called Someday Maybe, might not be available for fans to hear though, as Harry is committed to his One Direction duties.
And while they have made sweet music together, Meghan says romance was not on her mind when she worked with the British star.
"No, definitely not – we're good friends," she smiled. "But I adore all the One Direction boys. Every time I meet them I'm like, 'Hi, you're all perfect.'
"But they're One Direction. And I'm just a girl from Massachusetts. Plus, I can't date another pop star. They're all too busy."
The 21-year-old is on a career high after bursting onto the music scene in 2014. This year is set to be another big one for the star, especially as she's nominated for two Grammys at next month's award show.
Her catchy number-one track is all about not fitting into the skinny mould many women court nowadays, and Meghan says she never thought she'd make it as a singer with her body shape.
"I thought I'd never be an artist because I don't look like them. But I thought I could write songs for them, which is why I became a songwriter," she explained.