'It should be a cake walk' - Singer Roisin Murphy believes marriage equality referendum will be passed
The Wicklow singer reveals she was "embraced by gay culture" and believes Ireland is poised to vote yes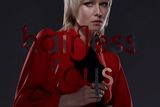 Singer Roísín Murphy believes the marriage equality referendum will be passed on May 22.
"It should be a cake walk," says the Arklow born pop star. "I've seen massive changes in Ireland myself. A friend of mine came out a few years ago. He was holding it all in for a very long time. Everyone in his family was so much more accepting than he ever thought, or believed, possible. It was a relief.
"There has been a massive shift in sociopolitics and religious outlooks in Ireland. Since I left Ireland, there has been huge changes in a relatively short period of time.
"Obviously, there can be some changes that are too extreme and too fast, and there can be collateral arising from such changes, but there is so much to be gained from a society that is constantly shifting and changing and being able to adapt and evolve. Irish people are absolutely great at it.
"The Church controlled so much in Ireland for so long. I'm not going to get into whether or not religion per se is a bad thing, but my point is the political aspect in Ireland was way out of kilter and it wasn't right.
"They (The Church) had huge political power. It's also amazing when you think of all the books, plays and works of art that were banned outright in Ireland."
Murphy left Arklow with her parents at the age of 12 to live in Manchester. She later moved to Sheffield and formed Moloko with Mark Brydon, who had huge international hits with Sing it Back and The Time is Now.
"The other thing that didn't jar with people or connect with them for a long time was that I was Irish, but making electronic music. People wondered, 'Can that be right?'
"This has been redressed by other artists in the last few years, but it was considered weird for me to be a Paddy and doing this sort of thing. Maybe I should have been doing backing vocals for the Hothouse Flowers, but unfortunately, that wasn't exciting enough for me.
"Once I got embraced by gay culture, I started to feel I was fitting in somewhere. I was understood by them in a way I hadn't predicted or courted."
Roísín Murphy plays the Electric Picnic this September and releases her third solo album Hairless Toys next week.