'I binge on early Skid Row clips on YouTube': Noel Bridgeman's daughter remembers her late father
A gig to mark the passing of drummer Noel Bridgeman during Covid is coming up. His daughter Audrey talks about her dad's legacy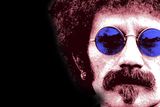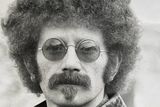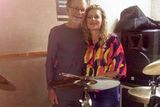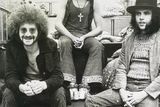 Noel Bridgeman is probably the greatest Irish drummer you've never heard of.
​A legend in his own right, the Skid Row drummer died, aged 74, on March 23, 2021. His daughter Audrey – who also plays drums and sings, and has an album Fire in Your Soul out next month – is full of emotion as she remembers the last weeks with him.
In February 2021, during the height of the pandemic, she and siblings Niamh, Eoghan and Adam had to be careful visiting their dad at the family home in Raheny, "because of the risk of infection".
"My last memory of Dad on that day was of him putting his gear away and organising it neatly on shelving in the music room," she says.
"My two-year-old nephew was looking at him doing this and was absolutely mesmerised. Dad was unaware that he was being watched. He was whistling away to himself.
In 1970 John Peel said Skid Row were "one of the best groups I've heard"
"Well, when he turned around and saw his grandson staring up at him, his eyes lit up and he was beaming. He loved the grandkids. He would get them to play percussion and sit around him while he strummed on the guitar and sang – usually 'Sea Cruise' or 'Bake a Cake'. They loved the singalongs.
"He loved listening to my daughter playing piano, but was interested in all the kids' hobbies and activities, making sure they got his undivided attention."
Another of Audrey's memories of that time is bringing Noel's electronic drumkit up to the house so he could play them – because he couldn't get out to the acoustic kit in the shed, where he'd usually practice. But he still wanted to play.
Not long after those last memorable days in February, he was transferred to Beaumont Hospital –and then soon after, as he was so ill, he was brought to St Francis Hospice in Raheny. He had all but lost the fight to an aggressive stomach cancer.
"The staff in the hospice were wonderful and made the experience comfortable and peaceful. We thanked the nurse after Dad had passed away, and she responded by saying that doing hospice work was the pinnacle of nursing for her – caring for the dying.
"It's very reassuring to know that there are amazing nurses and carers, who really value their purpose and role in the care of others."
During Audrey's last conversation with her father, he told her to finish her album.
"He said to keep singing, playing and writing songs, keep the music going. He said I'd have to work hard and 'be a light unto oneself' – but that hard work will pay off and the main thing is to 'stick with it'. 'Everything will work out,' he said."
Was he an emotional man? Did she ever see him cry?
"Yeah, he was emotional and sensitive. He was open and honest. He cried when my daughter was born – she's the eldest grandchild and was born on my parents' wedding anniversary. He also was really emotional at my sister's wedding. Family occasions made him emotional.
"He was emotional when talking about Skid Row and the early days sometimes. He wouldn't cry, but you could tell they were great times. He also reminisced about his time playing the American army bases in Germany with Colm Wilkinson. He had high regard for Colm and said that he had never changed – he was always the same friend that Dad had hung out with all those years ago."
'We were playing ridiculously well, but there was no money'
Born on April 28, 1947, Noel Bridgeman grew up on Linenhall Place off Dorset Street. Hot Press magazine editor Niall Stokes said he encapsulated with his life what John Lennon meant when he sang: "A working-class hero is something to be."
He played on 'The Spaghetti Western Theme from the Celts' on Enya's LP Amarantine in 2005. And 23 years earlier he had played with Enya on Clannad's 1982 album Fuaim.
In August 1967, Noel co-founded iconic Ireland's pre-eminent rock band Skid Row. They were Initially called Your Father's Moustache, and in September 1967, they played their first gig in a basement on Dublin's Lower Abbey Street.
Noel the drummer was barely 20 years of age, and he was joined by 17-year-old Crumlin lad Phil Lynott on vocals, Brush Shiels on bass and Ben Cheevers on guitar. When Cheevers left to become an electrician, 16-year-old Belfast boy Gary Moore joined on guitar.
Bridgeman left Skid Row in September 1968, returning to the band in March of 1969. Three months later Lynott quit to form Orphanage, which eventually became Thin Lizzy. Skid Row became a three-piece of Brush, Gary and Noel.
Noel quit again, joined Limerick's Granny's Intentions, playing on their album Honest Injun. But he rejoined Skid Row in 1970 and things started looking up for the band. They were signed to CBS Records and managed by Clifford Davis, who also looked after Fleetwood Mac.
That year, they were Fleetwood Mac's guests at their Dublin gig, and supported Canned Heat across Europe and America. At a gig in the Whiskey a Go Go in Los Angeles in 1971, after having met Bridgeman at the bar, Led Zeppelin's John Bonham briefly played drums with the band on 'Got My Mojo Working' and 'Slow Down'.
Skid Row also played on the same bill in Detroit as The Allman Brothers and local heroes The Stooges.
In August 1972, when Skid Row split up, he joined The Gentry and then The Plattermen.
A few years later there was yet another attempt at getting the band back together. It didn't amount to much. In 1976 they put out Alive and Kickin', an album of cover versions, featuring 'Me and Bobby McGee' and 'Hang on Sloopy'. That was pretty much the end of the Irish rock band that had once held so much promise
On his radio show in 1970 DJ John Peel said Skid Row were "one of the best groups I have heard anywhere".
"It was money that caused the break-up of Skid Row," Bridgeman later said. "We were playing ridiculously well, but there was no money."
'He said to keep singing, playing and writing songs, keep the music going'
He went on to record albums with the likes of Mary Black (on 1989's No Frontiers and on Speaking with the Angel in 1999), Christy Moore (drums, percussion and backing vocals on 1991's Smoke & Strong Whiskey). The Chieftains (Tears of Stone in 1999), Phil Coulter (Highland Cathedral in 2000), Steve Earle (the Transcendental Blues album in 2000), Van Morrison (Magic Time in 2005), and with The Waterboys.
Mike Scott of The Waterboys told me: "The first day Noel played with The Waterboys was at the old Windmill Lane Studio in 1986. We were making the Fisherman's Blues album. Until then all our music had been rabble-rousing, but Noel played with a quiet stillness, a gentle power that changed the way I played, too.
"He didn't need to do bombastic fills – though he could if he wanted – because he had other ways to punctuate a song, like a subtle slowdown on the way into a chorus to give it weight.
"Every groove he played was original. He never played anything you might hear another drummer do. It was all filtered through his own amazing sensitivity. He had a huge influence on my thinking and playing, and on all The Waterboys."
"He had great admiration for all the musicians he played with over the years," Audrey says. "His idea of success was playing with great musicians – and thankfully he was able to do that throughout his career."
She listens to her father's music every day without fail.
"I binge on early Skid Row clips on YouTube," she smiles. "There's great stuff from when they played on a German TV show. They were really playing their hearts out and doing some pioneering things for that time.
"Skid Row were very close to huge international success and had done shows/tours in Germany, England and America. The reviews were getting better and better – but it ended just as they were on the brink of major success. Nevertheless, Dad didn't look back too much, it was important to keep moving forward despite the disappointment.
"He had great memories. Like of that famous gig at the Whiskey in LA, where they were joined on stage by some of Led Zeppelin. Gary Moore has a story about that in his autobiography.
'The main thing is to stick with it and everything will work out'
"Gary went onto become a huge star – a real bluesman. Dad and Brush saw him when he was only 15 years old. He was only allowed to join the band so long as he was looked after – which he was. Skid Row was the launchpad and vehicle that brought Gary to prominence."
Audrey's favourite track of her father's is 'Across the Universe'.
"Dad singing it live at the Albert Hall in London, when he played with Mary Black," she says.
What goes through her head when she listens to it?
"I just think of the emotion in the way he sings it. I don't think it's something you can learn – you either have it and can convey it, or you don't. Like they say: 'If you don't live it, you can't give it.'
"I think Dad was able to sing that song with great emotion because he really loved and believed the lyrics.
"Dad was always playing music in the house," she adds. "He was into everything. All different genres. We'd spend hours listening to everything – from Art Blakey and the Jazz Messengers to John Lee Hooker, and Freddie King to Santana, Stevie Wonder, Willie Nelson... the list is endless.
"Shortly before he died he took his vinyl down from the attic and gave it to me..."
'Remembering Noel Bridgeman' is at the 3Olympia on May 4 and features The Waterboys' s1989 line-up, plus Mary Black, Colm CT Wilkinson, Brush Shiels, Rob Strong, Mary Coughlan and more. Audrey Bridgeman will compere the evening and all proceeds go to the St Francis Hospice, Raheny