Costelloe's daughter has designs on stardom on the opera stage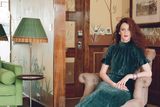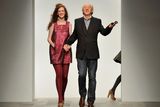 At over 6ft tall, Jessica Costelloe could have made it as a model. And with her love of drama, acting comes easy to this 29-year-old.
But it is her rich, toned mezzo soprano voice that marks her out as a talent to watch in the international opera world.
Dublin-born, London-based Jessica Costelloe will be back in her hometown on January 27 performing at the National Concert Hall, where she will be a guest soloist in the 20th anniversary celebrations of The Dublin Choral Foundation.
It will be an evening where the musical wheel comes full circle. As a young girl growing up in Monkstown, Co Dublin, Jessica used to sing with the Piccolo Lasso choir, one of the Foundation's two choirs, directed by Ite O'Donovan.
Cheering Jessica on in Dublin in January will be her proud parents, fashion designer father Paul Costelloe and his wife Anne who shared her love of classical music with her daughter.
Jessica has three older and three younger brothers.
She studied in New York after being awarded a place at the prestigious Juilliard School of Music, where she began her vocal studies under the tutelage of Marlena Malas.
It has been a busy year for the titian-haired beauty, who has earned critical acclaim for her "compelling stage presence", completing a season with Grange Park Opera, performing in 'Eugene Onegin' and with Bryn Terfel in 'Fiddler on the Roof' at the BBC Proms in July.
She has signed for global representation with Silverapples Media, run by Avril MacRory, formerly head of variety at RTÉ.
Avril describes Jessica as "an extraordinary operatic mezzo, with the most beautiful voice and astonishing dramatic stage presence.
"She is as accomplished an actress as she is a singer and that is a rare combination.
"We cannot wait to work with Jessica and to help develop this wonderful new talent in the world of opera and classical music."