Music... Ellis and Cave: a fruitful fusion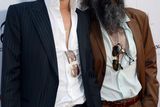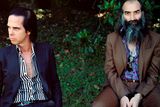 It was the autumn of 1993 when Warren Ellis first went into the studio with Nick Cave and his band, The Bad Seeds, to work on what would become the Let Love In album. He may have imagined it would be a one-off collaboration, but the experience was to change his life utterly. He became a member of the Bad Seeds, as well as its (now-defunct) spin-off group Grinderman, and has been working closely with Cave on other projects ever since. (When he's not working with Cave, he focuses on his instrumental band, Dirty Three: their comparative quietness of late might be explained by the fact that each of the three members lives on a different continent.)
Back in the mid-90s, both Ellis and Cave were doing their best to escape the clutches of heroin addiction, and both eventually succeeded to get clean, helping each other along the way. A cliché it may be, but the pair's redemption came through throwing themselves into music, working on their craft as though each life depended on it, which, in a way, it did.
Ellis spoke about their work ethic some years ago: "The day we finish mixing this, it's like, 'Right, do the next one,' "It's really addictive. The more you make, the more you want to make."
The man from Ballarat, near Cave's home town of Melbourne, has been as good as his word. Besides all those Bad Seeds and Grinderman albums (10 studio offerings in all), the two bring out a collaborative album - usually a film soundtrack - pretty much annually.
The latest produce from their work is the soundtrack to the Loin des Hommes (Far from Men) which is based on the Albert Camus short story, The Guest, and set in Algeria during the country's war of independence in the 1950s. Starring Viggo Mortensen, it played at the Jameson Dublin International Film Festival earlier this year and will receive a limited release in August.
By turns spare and ravishing, the pair have fashioned a quite stunning work that functions perfectly as an album in its own right. As before, it's Ellis' wonderfully expressive violin and Cave's plaintive piano that are the primary tools, but there's a huge range of instruments employed throughout.
Working on a French film made by rising French writer-director David Oelhoffen doesn't seem like such a leap when one bears in mind that Ellis has been immersed in French life and culture since the late 1990s. He's married to a French woman and the pair live with their two children in Paris.
The first soundtrack that Ellis and Cave worked on was not for a film, but instead an austere stage production of the 19th-century German play, Woyzeck, which was performed at the Barbican, London, in 2005.
That same year, they made their movie soundtrack debut with a score for the Australian outback 'western', The Proposition. Directed by John Hillcoat from Cave's own screenplay, the film was universally praised and Ellis and Cave's inventive and haunting music perfectly captured the eerie danger of the outback's wide open spaces.
Their relationship with Hillcoat - one of Australia's more acclaimed directors - has been a fruitful one. They also provided the starkly beautiful score for his reassuringly bleak adaptation of Cormac McCarthy's apocalyptic novel, The Road, and, more recently, they composed the soundtrack to his less-admired work, Lawless, a violent drama about bootleggers in Depression-era America.
But the pair's most outstanding soundtrack to date was for one of the most acclaimed westerns in recent decades, The Assassination of Jesse James by the Coward Robert Ford, which starred Brad Pitt as James and Casey Affleck as 'the coward'. With large swathes of the film free of dialogue, their impressionistic music was best used on the sumptuously photographed wide-screen landscapes. Some of the soundtrack even proved itself to be suitable for download culture and, for many, a gateway to the music of Ellis and Cave is to be found on the album's exquisite opening track, Rather Lovely Thing. The movie received two Oscar nominations - for supporting actor and cinematography - and really should have got a Best Original Score nod too.
"The choice to do this was based on the fact that the script read really beautifully," Ellis said some years later. "It felt like there was a lot of space in it. There's a lot of landscape in there, which seems to run through all the things we do. I mean the fact that the majority of films we've done have been either Westerns or Western-based is really an accident, that's just how it's happened."
Unlike Hollywood's big-name composers who get to focus on film 100pc, Ellis and Cave have had to fit in their soundtrack work into a schedule of touring, writing new Bad Seeds and Dirty Three music and, in the case, of Cave, penning surrealist novels (The Death of Bunny Munro) and tour diary books (the just published The Sick Bag Song).
"Quite often our windows are very small because we have a tour booked in or something, so we're not like composers who are on 24-hour call and just fit it in," Ellis has said. "Films run notoriously late, they're never on time. They promise you a cut in February, so we work to February and then they go 'we've got nothing'. With Jesse James we were told we'd get a cut in February, we turned up in the studio, we had 25 seconds of Brad Pitt with a gun saying, 'Does this work? Does this work?'
"So then we just sat down and made a whole bunch of music over five days, because for us the studio was booked, it was on our dime. Forty per cent of the themes that we made in that thing made it into the film. Some of the big themes were made without even seeing it."
Never willing to stay still, the pair's next project is the feature-length documentary, Prophet's Prey, which zeroes in controversial Mormon leader Warren Jeffs. Not content with simply providing a new score, Cave is also listed as the film's narrator.