Maija Sofia Makela: 'I'm not part of any scene. But I like it that way'
As Maija Sofia Makela was growing up near the shores of Lough Corrib, she craved city living. Now, after sampling life in London and Dublin and with a Choice Music Prize nomination under her belt, the singer-songerwriter is revelling once again in splendid isolation in west Cork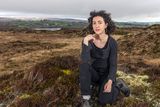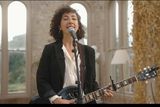 Maija Sofia Makela was among the last to know she had been nominated for the Choice Music Prize, the annual award to honour the best album made by an Irish artist.
On the day the nominations were announced early last year, the singer-songwriter from rural Co Galway had been with an acquaintance whiling away the hours in a Dublin coffee shop, oblivious.
"I was sitting with my friend in Simon's Place in the George's Street Arcade and my phone kept ringing. I was thinking, 'Why are so many people trying to call me?' And then I noticed that I had two missed calls from my label."
She called Joel Clayton, the manager of her record label, Trapped Animal. He was excited. "Have you not been online today?" she recalls him saying. "Check your email right now. I looked and it was, 'What!'" Makela had been blissfully unaware of the social media fuss. In truth, she assumed her debut album, Bath Time, wouldn't be remembered by the judges who choose the nominations.
"I do my own thing," she says, speaking from her temporary home in Ballydehob, west Cork, after moving there just a couple of weeks ago. "I'm not really part of any scene, as such. You can feel a bit cut off, but then I like it that way."
But the judges hadn't forgotten. Bath Time was released in November 2019 and marked the arrival of an arresting new talent. The hugely enthusiastic reviews — some of which pointed out similarities between Makela's songs and those of Kate Bush — were deserved. In the end, the Choice Prize went to Lankum for The Livelong Day, but Makela was more than content to get the recognition — and validation. "It made me feel like I might be doing something right," she says.
Right now, she is well on the way to making Bath Time's follow-up. After a stint living and working in Cobh's Sirius Arts Centre, the nomadic 25-year-old is piecing together the songs that will appear on a new album. "I wanted to live by the sea. I find it very inspiring. And now, I have a lot of time to work on the songs, to shape them into forms I'm happy with."
If Makela's work is benefiting from the splendid isolation, she says she enjoys opportunities to perform as part of a wider group of artists. She got that chance in recent weeks thanks to the National Concert Hall.
Gary Sheehan, the venue's head of programme planning, and Sinéad Gleeson, author of the acclaimed memoir Constellations, curated a female-centric performance, incorporating music, poetry and prose. Dubbed Notes from A Quiet Land II — the first instalment happened last year — it features appearances from Makela and Gleeson herself, as well as singers Ailbhe Reddy, Sorcha Richardson and Bobbi Arlo, poets Chiamaka Enyi-Amadi and Jessica Traynor and novelist Liz Nugent.
Filmed in the National Concert Hall, the performances will be aired tomorrow night on the venue's website and channels. "I loved the experience," Makela says, "having been apart from people for so long, it was lovely to get into a room with different people and to have an audience [of fellow artists]. We all had to take Covid tests before filming began."
Music was a big part of Maija Sofia Makela's upbringing. Her Scandinavian sounding name, incidentally, is derived from the Finnish side of her family. Her father was in a wedding band and was busy every weekend. Her mother was insistent that she learn to play an instrument and, from the age of nine, she studied violin. "We had no money growing up," she recalls, "but money was found for violin lessons." Later, she taught herself the guitar.
Makela's formative years were spent near Headford, Co Galway, and close to the shores of Lough Corrib. In her late teens, she craved moving to a big city. "I wanted to go somewhere that was the complete opposite of rural Ireland," she says. The day after completing her Leaving Cert, she went to London. She was keen to see something of the wider world before beginning her English degree at Trinity College Dublin.
When she returned to Ireland, she found that she wasn't ready for university. The lure of writing songs and performing them was too strong. She returned to London, subsisting in waitressing jobs and playing every open mic night she could. "I'd get the bus all around the city, to Camden and Angel — anywhere there was an opportunity to play," she says. "I was really shy so it brought me out of my comfort zone."
It wasn't a glamorous experience. "Some of the pubs were really grimy and, often, I'd be the only woman playing. But I learnt a lot and there is something special about taking the songs you've written and playing them for strangers."
Eventually, trying to make ends meet in London took its toll so she gave up her job in a café and moved back to Dublin. Trinity beckoned once more. This time she was ready. "There was so much reading and exposure to all sorts of wonderful writers." She found herself drawn to short story specialists Lorrie Moore, Ottessa Moshfegh and Nicole Flattery. The ability to weave a story in a concise form started to inform her own songwriting.
Trinity has proved to be a hothouse for Irish literary talent with Sally Rooney, Naoise Dolan and Megan Nolan having all been through its doors over the past decade. Makela has just finished the latter's debut novel, Acts of Desperation, and was enthralled by its depiction of a toxic relationship.
Without purposely intending to, she found herself drawn to stories of marginalised women. "It wasn't actually a conscious decision. I just think that all those things I was writing about were like my lived experience."
Her debut album, Bath Time, is packed with vignettes about the female experience, especially those 'othered' by society. "I've always been drawn to historical stories of real women who have been compromised or marginalised in some way," she says. "More than anything, what interests me are human stories and I guess that as I am a woman, they end up being female narratives."
An extraordinary song, 'The Wife of Michael Cleary', is based on the true-life story of Tipperary woman Bridget Cleary who, in 1895, was killed on suspicion of being a witch.
"Her husband, Michael, had started to believe that this beautiful, vivacious woman was a fairy changeling and he killed her," Makela says. "I first came across her story in 2017. I had moved back to London for the summer and I was reading a lot of strange stories about women on the internet. It wasn't so much about researching for songs, more that I was having this weird mental health thing and I was spending quite a lot of time alone and then I came across Bridget Cleary. I didn't even mean to write a song about her. I was playing guitar and this song sort of came out fully formed. I guess I felt very strongly about her story and it started to consume me — I read everything I could find about her.
"I think when I write songs, they always come out of an obsession. I get really interested in something — obsessed, really — and, then, suddenly there's a song."
Anyone keen to get a sense of Makela's distinct gifts should seek out her performance of 'The Wife of Michael Cleary' for RTÉ's Other Voices. Recorded in Kilruddery House, Co Wicklow, last year for the Courage strand of the long-running music series, her simple, unfussy delivery gets the spine shivering.
Bridget's tragic fate has, incidentally, also influenced the Tipperary songwriter Edel Meade — 'Song for Bridget Cleary' is a stand-out on her new album Brigids and Patricias.
"I think there's inspiration for songs all around us," Makela says, "but you never quite know what it will be until it takes hold and won't let go."
National Concert Hall Presents Notes from a Quiet Land Edition II tomorrow at 8pm. It is free to view on NCH.ie and on Culture Ireland's YouTube channel