King Crimson: how a new film captures Robert Fripp's eccentric reign
Before he spent lockdown playing requests online with his wife Toyah, Heroes guitarist Robert Fripp was captured on film in typically demanding form as leader of the long-reigning King Crimson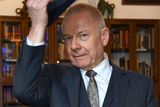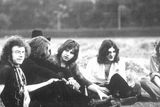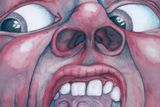 Rarely has a label been affixed so firmly to a band as prog rock to King Crimson. Yet progressive rock tells only a tiny part of the story. This is a band who have embraced countless genres, most of which didn't even exist when they released their extraordinary debut album in 1969.
Jazz, experimental rock, metal, math-rock, industrial: under their perfectionist leader Robert Fripp, the band have pushed boundaries like few others. They are still doing so, yet the prog rock tag continues to dog them.
Anyone doubting the sheer breadth of King Crimson's musical adventures need only watch Toby Amies' feature-length film In the Court of the Crimson King, which hits selected cinemas next week. It was filmed in 2018 and 2019, to mark the band's 50th anniversary. Amies — a former pretty boy MTV presenter turned top-rate documentary maker — was granted extraordinary access to Fripp and the large cast of players who comprised the band.
The film — which shares a name with the band's influential debut album — is a remarkable portrait of an artist whose exacting standards would make even the most dedicated musician look slipshod by comparison. As several of his fellow musicians wryly note, Fripp is not averse to giving anyone their marching orders if they don't share his vision or put in the hours of rehearsal needed to play at the highest level.
Fripp is as good as his word. He is now in his mid-70s, but practises every day. He estimates that he plays for 45 hours a week — not including concerts. When Amies innocently asks why he doesn't take the odd break, Fripp is incredulous — no serious athlete, he reasons, would fail to train ferociously.
It's a standard he expects of everyone in his orbit. The documentary shows each band member playing as though his life depends on it — and that's just in the sound-checks. One senses a nervous tension during the sessions. Nobody wants to put a foot wrong.
In its review of the film, the Guardian astutely describes it as a "rollicking workplace comedy, like The Office but with huge drum kits, grizzled roadies and rapturous fans". At its heart, it offers the viewer an unvarnished glimpse into the life of a band on the road. It's far from glamorous, although the devotion of obsessive King Crimson fans — middle-aged white blokes, mainly — must bring its own reward. Incongruously, one of the band's foremost admirers is a Norwegian nun who goes to see their concerts wearing a full habit. Their music, she insists, is next to godliness.
There are several moments that will make the viewer chuckle. Fripp comes across as a wonderfully eccentric sort, whose ambitious are never less than lofty, but there's also a peevish quality to him. Despite having invited Amies to make a film about the band and given him privileged access, he often seems irked to have cameras about. There's an especially funny scene in which he chides Amies for asking him certain questions, none of which are remotely inappropriate. In case the film-maker hasn't got the point, he adds that the line of questioning affected his performance the night before, before turning on his heels and walking back to his hotel room.
Nobody could watch the film and doubt that Fripp is a difficult man to be around, but it's also obvious that all his demands are purely about the music and the art of getting as close to perfection as possible.
It is not the passing of the years that has made Fripp grouchy. When he was in his early 20s, he managed to rub original bandmates up the wrong way. One of them, Ian McDonald, quit months after In the Court of the Crimson King was released. He would go on to become a founding member of Foreigner (although he had long departed that band by the time they were enjoying mass market success with middle-of-the-road fare like I Want to Know What Love Is.)
McDonald is one of a number of former members who are interviewed and he says he regrets the manner of his departure. Fripp, for his part, says he could have handled the situation better and there appears to be genuine sadness on both men's part that they allowed their creative union to sunder.
Another band might have called it a day after the split — several acts of the era released just one solitary album before creative differences intervened — but Fripp persevered with a floating cast of musicians, some staying for years, others months.
Greg Lake, King Crimson co-founder, lasted two albums. It's his vocals that adorn the band's most emblematic song, 21st Century Schizoid Man, the opening track on In the Court of The Crimson King. In 1969, it must have sounded as though it was beamed in from a future century — unfolding over seven minutes, this shape-shifting jazz-rock epic still sounds extraordinary. A whole new generation were exposed to it when Kanye West sampled it on Power, a standout track from his best album, My Beautiful Dark Twisted Fantasy.
During the tour to promote the album, King Crimson were supported by the psychedelic prog rock band, the Nice. Lake hit it off with the band's keyboardist, Keith Emerson, and together with drummer Carl Palmer they formed one of the 1970s' most revered art-rock bands, Emerson, Lake and Palmer.
More than 20 musicians have been members of King Crimson at one stage or another. One of the more recent stalwarts was multi-instrumentalist and percussionist Bill Rieflin. The American came to the attention of many when he became REM's session after the departure of Bill Berry. In the 50th anniversary tour, he is one of three percussionists — the remarkable stage set-up features a trio of full drum kits at the front of the stage with the rest of the band, including Fripp, on a dais behind.
Rieflin died of cancer in 2020, and the film is dedicated to him. Famed for his dry wit, he jokes with Amies about where the boundaries are when it comes to a fly-on-the-wall documentary, Later, he speaks frankly to the director about the physical pain he has endured for years and he calmly mentions that he has between one and three years left to live. His doctor tells him to do the things he always wanted to do in the time he has left. Playing with King Crimson is chief among them.
Like any great music documentary, this one will make you revisit the band's extensive back catalogue. So much of the emphasis is on their celebrated debut that later albums such as 1973's Larks' Tongues in Aspic and 1974's Red are just as essential.
As a 'guitarist's guitarist', it's little wonder he has been in such demand. Fripp has collaborated with a dizzying array of artists, including Blondie, Peter Gabriel, Brian Eno, Midge Ure and Talking Heads. His most famous collaboration, surely, was with David Bowie in mid-1970s Berlin. It's his masterful guitar that elevates Heroes, which remains one of the most beloved of all Bowie's songs.
Fripp has been married to actress Toyah Willcox since 1986. During the pandemic, the pair posted several short, humorous videos on YouTube. Toyah and Robert's Sunday Lunch, as they called them, offered covers of well-known songs. For a man who cuts such an austere figure when on the road with King Crimson, these little snippets into family life capture a much more relaxed, humorous musician, someone more than happy to let his guard down.
'In the Court of the Crimson King' will open at the Light House, Dublin, and the Pálás, Galway, on April 7