'I just said to Elton, "Do you fancy doing a track with us?"' — Yard Act frontman James Smith
Smith on recording with Elton John, hitting it off with Cillian Murphy, and why the British need to learn about their history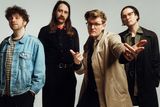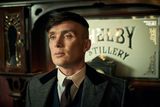 Yard Act have plenty of celebrity fans, but Cillian Murphy is among the more dedicated. The Cork actor has rhapsodised about the Yorkshire band for a couple of years and when the US magazine, Interview, got him to shoot the breeze with a fellow creative, he plumped for Yard Act's frontman James Smith. The mutual respect was apparent from the off.
It wasn't the first time Smith had crossed paths with Murphy, however. A few years before, in the days when he combined music with the business of extras acting — mainly on the soap opera Emmerdale — the singer found himself on the set of Peaky Blinders.
"I was a fan of the show, so I took a few days off work, to do it," he says, via video call from his home in Leeds. "It was at a foundry in Manchester and a car factory scene. I was playing one of the scabs trying to get in the back door while everyone was striking out front and Cillian [playing the ruthless Tommy Shelby] gave me an almighty shove and I fell on to the floor.
"When I found out he was a fan, I sent a little message across the airwaves about it." Murphy, unsurprisingly, had no memory of the encounter, but the two hit it off.
"Genuinely, without gushing, he is the most incredible actor and the fact that he likes the band is beautiful. I love the way he doesn't play the game — and I've got a lot of respect for that. If he reads this, 'Cheers Cillian, once again, for your support.'"
Yard Act hoovered up discerning music fans with the release last year of their debut album The Overload. The Fall and Pulp are likely to have been among the inspirations on a bracing album that's both intensely personal and political. Ruptured Britain is writ large here. It's the sort of album that, once heard, encourages the listener to tell all their friends about it.
Elton John also can't get enough of Yard Act. "He started mentioning us in interviews, saying we were one of his favourite new bands," Smith says. "We thought that would be the end of it. We thought it would be quite nice to have a few newspaper clippings with our name in small print in his list, but we did a cover of Tiny Dancer — maybe we were trying to court him a little — for an Apple show we were doing. A day after it came out, we got an email from our manager saying, 'Can I pass your number on to Elton? He wants to give you a call'. And we were like, 'Yeah!'
"When he called, it was an unknown number from Slough." He chuckles. The nondescript Berkshire town is where the original edition of The Office is set. "He was really supportive. He gave us some advice. He asked how we were coping with the tour. And he phoned me a few times after that. And then I just came out and said to him on the phone, 'Do you fancy doing a track with us?' He said, 'Absolutely'. And then it was a case of, 'Fuck, we'd better book a studio and let our manager figure it out!'" They decided to re-record one of their old songs.
On the appointed day, the band spent the morning recording the string section for an updated version of their song, 100% Endurance, and then in the afternoon, Elton arrived to sing on the track.
"He rocked up, sat down and sung with us and was really cool," Smith says. "He offered a support slot at Hyde Park, but we couldn't make it work. I was gutted."
2022 was quite a year for Yard Act. First, the album reached number two in the UK chart. "Before it came out, we were told it might go top 20, with a bit of luck. We never expected it to do as well as it did. When we got the midweeks [chart] and found out how well it was doing, we played something like 21 shows in three days."
The schedule was 'Beatles in Hamburg' intense and it almost made The Overload a chart-topper. "We could have been cool and pretended we didn't care but it would be fucking funny to say you'd a number one album, especially for that album!"
Then, later in the year, the album was nominated for the Mercury Music Prize, Britain's most coveted albums gong. They lost out to the rapper and actress Little Simz but, for Smith, simply being in the reckoning was a reward in itself. "I fully expected and wanted Little Simz to win," he says. "The nomination was massive, though — it was a signifier for us that we were worth something."
For James Smith, success has been slow in coming. Having grown up not far from Manchester — he's a Man United fan — he has made Leeds his home over the past 14 years. Most of that time was spent making music, solo and otherwise, that enjoyed practically no traction. Yard Act — whose members comprise guitarist Sam Shipstone, bassist Ryan Needham and drummer Jay Russell — seemed to hit the ground running from the off.
A characteristic of the quartet's songs is a distinct brand of humour. Their emblematic composition, Peanuts, is a case in point. "There's a general northern sense of humour in the songs," he says, "and something that I've adopted over my time here in Leeds is a self-deprecation, that seems to be very much a staple in West Yorkshire. I don't think anyone takes themselves too seriously [here]. I think [in song], it's important to play with the polarities of seriousness and silly. Sometimes, with the darkest, most painful things that you witness and experience, you still have to make a joke about them — even if just to cut the tension. Everyone loves the punchline landing at the right point — that's the thrill of it."
Smith believes it is next to impossible to be a songwriter in Britain today and not feel compelled to write about the country's fraught state of affairs since Brexit. When he chats to Review, home secretary Suella Braverman is on a whistle-stop tour of Rwanda - the Brtish government plans to send some asylum seekers there. The frontman says it is sometimes difficult not to despair when he thinks about how things are.
"The red tape," he says, wearily, "has been on this side of the border, not in fucking Europe. We got back from our EU tour and we had to sit in Folkestone [port in Kent] for about four hours while all these fellas in hi-viz, doing fuck all, stood around. We had to put our appointment in an iPad app and it expired every 15 minutes. No one knew what was going on. You weren't allowed to get out of your van and go to the toilet due to health and safety.
"This country," he adds, "is a joke. It's shit. The response to that is always, 'Well, why don't you leave?' But, you're attached to where you grew up, and there's a lot that I love about this place. But we're a very crushed people who have crushed a lot of other people. We're largely blind to it because we're not taught in school about the damage that this country has done." He pauses for breath — and laughs. "If you didn't laugh, you'd cry."
Next month, Yard Act embark on a European and UK tour that will take them into August and big festival dates at Reading and Leeds. There's a Dublin date at the end of April and Smith says he's especially looking forward to playing here after the band were unable to play the Body and Soul festival as planned last year.
"We got stuck in Prague after our flight was cancelled. The only time we've played Ireland was Whelan's last March — and that was amazing. This show has been a long time coming."
Don't be surprised if you see a well-known actor giving it loads near the front of the stage.
Yard Act play Vicar Street, Dublin, on April 26