'Some people thought I was from Galway after watching the film' - Aussie star James Frecheville mastered Irish language for role in Black 47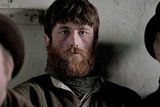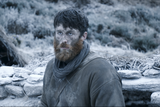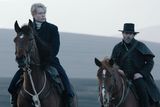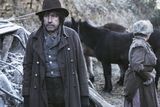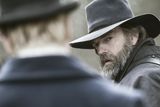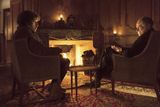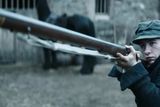 Some people have emerged from the theatre having watched Lance Daly's Black 47 wondering who is the young Irish actor who plays the protagonist Feeney, a Connemara man and native Irish speaker with a flaming red beard?
He is, in fact, Australian star James Frecheville and taking on the responsibility of playing an Irishman in the first ever film set against the backdrop of the Famine is not something he took lightly.
"I've been chasing challenge for a while," the 27-year-old star tells Independent.ie, "and you'll always have challenges to different degrees but there's a very big responsibility to get a character like this right, as a non-Irishman, given the nature of the maybe emotional channel that people sort of ardently follow through the film because it's about returning home, finding everything in ruin, and adapting to that."
Feeney is a young man who has returned to the west of Ireland in 1847 having fought for the British Army in Afghanistan to find Ireland in the grip of Famine and crippled under oppressive British rule - his mother has starved to death, his brother has been hanged, and his sister-in-law and nieces are starving and being driven from their home in the middle of winter.
It's an intense role in an intense revenge thriller, but Frecheville, who had his big break eight years ago in the also-intense Animal Kingdom, was on board from his first Skype meeting with the director.  He immediately set about growing his spectacular, naturally red beard (he has Irish and Scottish ancestry), learning how to ride a horse, and how to master a knife via YouTube videos, two months before he had even been formally offered the role.
"I was pretty well worn into it by the time we started shooting," he says.  "Which, looking back on it, is the only way to do it.  After I Skyped with Lance he said, 'I think you're the guy to do it' and I said 'great' and started growing my beard and, had I listened to my representatives saying, 'no, shave, you've got to go for this thing and keep your options open, play the field,' then the character wouldn't have been the same.  I really sort of fought for it to happen."
Co-star and fellow Aussie, Hugo Weaving, was also on board early on after he read the script while working on another film in Australia with Black 47 producer Macdara Kelleher.  While he was aware of the Famine, it was only when he began filming in Ireland that he realised the pressure Daly was under to accurately represent the era.
"It was pressure he was putting on himself to do the right thing by the history as well as make a film that was successful in its own right and marrying those two things is very hard," says Weaving.  "How do you tell a story about such a traumatic even tin Irish history which still reverberates today?  How do you do it justice and at the same time make a film that's not so dour and repellent in a way and that's what he was fighting for and I came to appreciate that pressure the more time I spent here."
How Daly, and writers PJ Dillon, Eugene O'Brien, and Pierce Ryan tackled it was by writing a revenge thriller set against the backdrop of the Famine.  Watching as an Irish person, there is a sense of retribution of sorts, played out through the fantasy of a film.
Weaving references Tarantino's Inglorious Basterds; "It was the first [film] where I thought this is a really fascinating take - you basically get the whole of the German Third Reich in a cinema and you shoot them all because that's what you wanted to do and that's what the filmmaker does and that releases something.
"You're revisiting history, but with a fantastic lens, and there's something cathartic about it and undoubtedly there's an element of that through this film.  How do you right that wrong?  You can't.  How do you right the wrong of the Rwandan genocide?  How do you right the wrong of the Irish genocide?  You can't.  But maybe you can in a way, maybe you can take something back through a genre, or through humour.
"There are ways in which we can retain our spirit and I think that's what Lance has done.  It's powerful.  The way Irish audiences will see this film will be very different from how other people will see it but I think there's something of the Irish experience which comes out for a non-Irish audience which might be informative to them as well."
Weaving, who counts The Matrix and Lord of the Rings franchises among his credits, has gravitated towards more Indie fare of late from Strangerland to The Dressmaker.  In Black 47 he plays the fierce Hannah, who is tasked with tracking down Feeney in exchange for avoiding jail  Much time is spent on horseback with characters played by Stephen Rea and Barry Keoghan as they journey across the west.  Filmed, mostly in Wicklow, through November, December and January, the shoot was cold.
"The weather was hard, it was arduous," he says.  "There were many challenges - that was just one of them.  It was cold but it was actually a relatively mild winter.  We were expecting it to be colder but also we were wrapped up, sitting on horses, and we had coats and layers.  The poor people playing the Famine victims, practically naked, standing out in a field all day - they were cold."
Frecheville adds that he "felt guilty" about that, and distributed chocolates among the children on set.  In keeping with his drive for authenticity, however he embraced the cold, and the wet, himself.
"During the soup kitchen scene they were sort of thinking about spritzing me with little spray bottles like I'd just come out of the Connemara rain, and I was like, 'No, no, no!' so I ended up getting some guys on a ladder to hose me down and then that became too arduous and I was just pouring water bottles over myself," he reveals.  "It was pretty frosty.  One day the horse got icicles on his face."
Black 47 is out now.