John Wick: Chapter 4 review – A breathtaking finale if this is to be the end of Keanu Reeves' beloved assassin
Keanu finds more ingenious ways to kill his enemies in what feels like his last hurrah as John Wick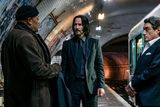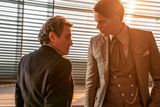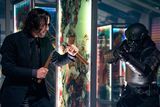 Keanu Reeves has carved out a nice little earner for himself in John Wick — a slick and amiably dunderheaded franchise which transforms streetfighting into ninja ballet.
The globetrotting assassin had found love and hung up his knuckle-dusters when his wife Helen died of cancer.
Before she did, she bought him a dog: when Russian mobsters shot it, he emerged from retirement to kill them, all who work for them, and anyone who ever said hello to them.
That was the first John Wick. In John Wick: Chapter 2, he was outlawed by the High Table of Assassins after killing another hitman on consecrated ground... or something.
And in Chapter 3, he became an international pariah, hunted from New York to north Africa by every high-kicking clown who owns a gun or can hold a knife — which turned out to be quite a lot of people.
If the body count in that film was prodigious, it was merely the amuse-bouche for John Wick: Chapter 4, an assassin's abattoir of sorts, which feels like it could be a finale.
John has survived hundreds of attempts on his life and is back in New York to seek revenge against his enemies on the High Table. While hiding out with the Bowery King (Laurence Fishburne), a disaffected former crime boss, Wick identifies 'The Elder' (George Georgiou) as the source of his woes, travels to Morocco and whacks him.
As you can imagine, this hacks off the folk on the High Table, one of whom, the Marquis de Gramont (Bill Skarsgård), now dedicates all his considerable resources to wiping Wick from the face of the planet.
Wick's old ally Winston Scott (Ian MacShane) is declared excommunicado by Gramont and his assassin refuge, the Continental Hotel, closed. (The late Lance Reddick appears poignantly, and briefly).
With Wick running out of friends, and bolt holes, he flies to Japan and seeks shelter at the Osaka Continental, run by his old pal Shimazu Koji (Hiroyuki Sanada).
But a gang of killers are hot on his tail, including another old comrade, Caine (Donnie Yen), who's been blackmailed into taking Wick down.
Good luck with that because although Wick might be knocking on, he's still a dab hand at kicking seven shades of guano out of massed assassins.
This simple, though dynamic, formula ought to be worn a bit thin at this stage, and after watching John Wick: Chapter 3 - Parabellum, I wondered if it wasn't time for Mr W to hand in his bulletproof suit.
Funny thing though — this fourth instalment might be the best Wick yet.
Though its two-hour, 40-minute run time sounds hard to justify, the film fairly barrels along, lit by fizzling fight sequences, dazzling in their complexity.
It's a bit less frantic than the last two instalments, however, opening sedately with a stylish reference to Lawrence Of Arabia, and slowing down at regular intervals to allow us catch our breath.
The aesthetic is dark and rain-soaked, channelling some of the grimmer manga, but the film is visually grounded by the use of evocative locations — New York, Osaka, Paris, Berlin.
How many asses does Keanu kick? At one point, he actually shoots someone up the drainpipe, which is not altogether Queensbury, but the funny thing about all this carnage is that it's mildly cartoonish, almost sanitised, and therefore undisturbing.
Heads do pop, but you hardly notice, and as for director Chad Stahelski's choreography, it is, at times, breathtaking.
Only so many ways to kill people, you might think, but Stahelski and Reeves find lots of new ones, particularly during a brilliant sequence set on the roundabout at the Arc de Triomphe.
Reeves doesn't say much in these films, which is all part of his character's opaque charm. Wick has a kind of ragged dignity, and Keanu works his way through the fight scenes with remarkable grace: bits of this film, in fact, are almost beautiful in a trashy sort of way.
All in all, John Wick: Chapter 4 is immensely enjoyable, a fitting finale if it is a finale, and Bill Skarsgård's Gramont has the hammy gravitas of a Bond villain.
Rating: Four stars (16, 169mins)