Get Back: The Rooftop Concert movie review: The Beatles go out on a high with final gig
Also reviewed this week: Here Before and The Real Charlie Chaplin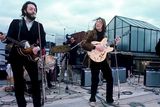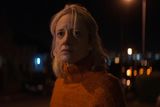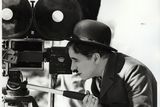 Get Back: The Rooftop Concert (12A, 65mins)
For those without the benefit of Disney+, Peter Jackson has kindly created this edited extract of his epic documentary framed around The Beatles' famous rooftop concert in 1969.
Much of the whinging about the full documentary, which was released in December, focused on its length: running almost eight hours, Get Back would test the patience of a saint, meandering as it does over long periods of smoking, passive-aggressive studio in-fighting and endless performances of the same songs.
If Get Back constituted an investment in time too vast for the casual viewer, The Rooftop Concert has the opposite problem. It's barely an hour long and, however good it may sound and look on the big screen, the inflation-conscious cinemagoer might start staring at their ticket and wondering if they've been had. As a theatrical experience, it ought not work: strangely enough, it does.
To give the entire shebang some context, Jackson culled his documentary from more than 60 hours of footage shot by Michael Lindsay-Hogg for his 1969 movie, Let It Be. The Beatles hated that film, with its implication they all loathed each other and that recording sessions were a penance.
Paul McCartney, Ringo Starr, Yoko Ono and Olivia Harrison cooperated fully with Jackson's documentary, which was initially supposed to be a stand-alone theatrical release, but ended up growing into something much larger.
It follows the band as they convene to record an as-yet unnamed new album (Let it Be) and discuss a possible concert comeback. And as those not totally convinced by The Beatles' unassailable pop pre-eminence have pointed out, long sections of Jackson's film involve inanity, hippie musings and navel-gazing. All of which is true, but watching the full eight-hour documentary felt a bit like fly-fishing: long periods of pleasant inactivity interspersed with flashes of tension, brilliance and insight.
After much wild speculation, the group abandoned plans for a proper live revival — Paul and John were keen, Ringo agnostic, George dead against, the quiet one having been profoundly traumatised by the hysterical mobs The Beatles played to on their final American tour.
As a compromise, the boys hit on the idea of strolling up on to the roof of Apple Corp's Saville Row headquarters and giving passers by a lunchtime to remember.
That they did, for precisely 42 minutes, until Metropolitan policemen stirred to action by outraged captains of industry demanded that the 'racket' be terminated. To call it a concert is a bit of a stretch, as they only played five songs in total, and performed three of those at least twice.
It was, in fact, an open air recording session, and several of the takes would end up on Let It Be: but that's not to say it wasn't also something special.
According to Lindsay-Hogg, the original film's elusive and tricksy director, The Beatles were still unsure about the idea of playing on the roof until minutes before they did so. Was it a good idea or some species of lunacy? No one could decide. Then John Lennon said, "f*** it — let's do it".
Their performance would, of course, acquire a retrospective poignancy: within nine months of the show, the band had split and their last album, the very excellent Abbey Road, was released, as it were, posthumously. But what you get in The Rooftop Concert is a fleeting sense of how good The Beatles were.
During songs like Get Back and I've Got A Feeling, Lennon and McCartney send a chill down the collective spine as they start harmonising perfectly, staring at each other with affection as they rekindle the magic sound that conquered the known world. They all seem slightly taken aback by how enjoyable the sensation of playing live remains, and McCartney in particular is imperious, leading the line and roaring through songs he had invented just days before.
Meanwhile, in the street below, Lindsay-Hogg had cleverly positioned vox-pop cameras to capture the reactions of passing punters. Most are overwhelmingly positive, and one feels like booing the well-heeled naysayers — Tory voters to a man, one assumes, Freemasons, golf club captains, chamber of commerce flunkies.
Back on the roof, as two rather apologetic-looking coppers hover, John, Paul, George and Ringo are flying, all their various grievances and grudges temporarily forgotten as they rediscover the feeling that brought them all together in the first place.
Rating: Four stars
Here Before (15A, 83mins)
Andrea Riseborough's trademark intensity has rarely been used to better effect than in Stacey Gregg's eerie and atmospheric debut feature. Riseborough is Laura, a Belfast wife and mother who seems close to her husband Brendan (Jonjo O'Neill) and endures her teenage son's mood swings with humour.
When a young couple, Chris and Marie (Martin McCann, Eileen O'Higgins) move in next door, Laura befriends their 10-year-old daughter Megan (Niamh Dornan), a watchful, precocious child with the nasty habit of materialising as if from nowhere.
When Megan starts talking about events in Laura's past the little girl could not possibly have any memory of, Laura slowly becomes convinced that Megan is the reincarnation of her own daughter, who died in a car crash.
This concept might sound a bit of a reach, but writer/director Gregg effortlessly pulls it off, using accumulated tension and long shots of the families' lonely housing estate to pull you into a story with no good outcome. And Riseborough anchors the piece brilliantly playing a woman carrying a sadness so intense it cannot be expressed.​​
Rating: Four stars
The Real Charlie Chaplin (12A, 114mins, IFI)
Arguably the biggest cinema star the world has ever seen, Charlie Chaplin was film's reigning comedy king for almost two decades, a writer, director and performer of rare talent.
He greatly expanded cinematic language in a burst of creativity that left all rivals flailing in his wake. Did any of this make him happy? Possibly not, according to this fascinating documentary from James Spinney and Peter Middleton.
And though much of Chaplin's biography is well known — the five marriages, the impoverished London childhood, his expulsion from the US on trumped-up political charges during the witchhunts — The Real Charlie Chaplin expands the narrative considerably through two precious audio resources: a cagey audio interview Chaplin gave to Life magazine in 1966, and the recollections of his childhood friend, Effie Wisdom.
"You're talkin' posh," Effie remembers telling Charlie when he returned to London in triumph: she knew where the bodies were buried, and nicely describes the experiences that made Chaplin such a uniquely haunted entertainer.
Rating: Four stars
​​​​​​​​