Cert: 18; Now showing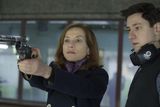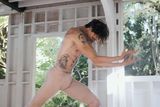 Dutch director Paul Verhoeven brought us Basic Instinct and Starship Troopers. His work has been both praised and ridiculed. At 78, in his first French language film, he delivers one of his best films, much of whose quality is down to its star, iconic French actress Isabelle Huppert. It's a difficult, morally complicated but entirely engaging film that works on both plot and character levels.
Michele (Huppert) is 49, very successful as the head of a video game company, divorced and mother of a grown son. The film opens with her being raped in her own home. Determined not to let this get in her way she carries on as normal. At a production meeting for the company's latest game she insists the developers make the game rape scene "more orgasmic" then pops out for an STI test. She does not inform the police of her assault, the reason for her reticence becoming apparent over the two hours of the film. As does Michele's character which like so many of the females Verhoeven has given us is one that seems to cross a line between feminism and misogyny.
Adapted by David Birke from Philip Djian's novel and directed by Verhoeven, there are lots of men telling this woman's story. She is surrounded by male stereotypes: aggressor, protector, womaniser, cuckold, and she eschews the emotionality that is traditionally considered a female response. Her anger flashes occasionally but mostly at other women and her life really is lived not proactively, but reacting to men. The tone of the film is interesting but potentially cold. That we care about Michele is why it works and entirely down to Huppert. It is complicated but it's also strangely enjoyable.
★★★★ Aine O'Connor
Also showing
Kong: Skull Island Cert: 12A; Now showing
With the world running light on tolerance and elegance these days, we do love to see raging hulks or irritable giant apes giving vent to our existential angst. It also - as Kong: Skull Island reminds us 84 years after Merian Cooper's archetypal simian romp - makes for a kick-ass creature-feature in which to set monster against monster in a bludgeoning battle royale.
So Legendary Pictures can stuff smaller, prettier characters like Brie Larson, Tom Hiddleston and Samuel L Jackson into this reboot all it likes - ultimately, it's all about the monkey, despite the sterling efforts of director Jordan Vogt-Roberts to lay down an intriguing premise.
It's 1973 and the Vietnam War has ended. John Goodman's government scientist brings a team including a tough photographer (Larson), a shady tracker (Hiddleston) and a load of soldiers (led by Jackson's lieutenant colonel) out to a mysterious island where monsters may dwell. A mountainous Kong introduces himself in chopper-mangling style but it soon turns out that he is not their biggest threat.
Creedence Clearwater Revival numbers and nods to Apocalypse Now relentlessly remind us in what decade this is taking place, and the dialogue becomes stilted and rather useless by the third act. Concentrate on the magical CGI rendering, the surprisingly lush and tasteful cinematography and a nicely dotty John C Reilly as a Pacific War castaway and you'll have a ball. ★★★ Hilary A White
Dancer Cert: Club; Selected cinemas
Some 20m online viewers have watched Sergei Polunin's dance interpretation of Hozier's Take Me To Church. What many of those may not have known is that the Ukrainian virtuoso is to ballet what the Wicklow songwriter is to blues-tinged pop music - its leading light.
Unlike Hozier, however, Polunin gained a reputation as something of a bad boy, a supernova talent whose off-stage antics began to warrant more headlines than his imperious performances. Over the course of this excellently composed documentary portrait by US filmmaker Steven Cantor, a case is built both for and against such single-minded ambition.
Polunin's drive and discipline are obvious in home-video clips of him training as a child. By 19, he had become the Royal Ballet's youngest ever principal and an international superstar adored both around the world and back home in his poverty-stricken Ukrainian hometown.
On the other hand, we see the physical toll (injuries, pill-popping before shows), the sacrifices made by his family (some of whom emigrated to put him through dance school), and his candid interview confessions about what led to his sudden breakdown and resignation.
You'd never imagine a doc about a ballet star opening with Black Sabbath and drug-taking but that's one of many ways Cantor side-steps convention.
Dancer is able to make you forget everything you think you know about the subject, which is surely the hallmark of a great documentary. See this. ★★★★ Hilary A White