Fast X review: Loud, toneless and more stupid than usual, not helped by a dreadful turn from Jason Momoa
Fast & The Furious films have always been dumb but Fast X goes above and beyond franchise requirements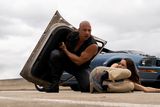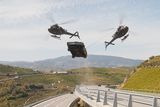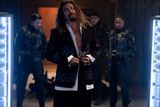 Food for thought folks — the Fast & Furious franchise has been going for 20 bloody years.
Fast X (12A, 141mins)
Bush Jr was in the White House, Tony Blair in Downing Street, Bertie Ahern still easing his way into the role of Taoiseach, the Twin Towers still standing when The Fast And The Furious was released.
Its simple formula — of wronged street racers avoiding the law at high speed — may not have evolved all that much in the intervening years, but the plots and auto stunts have become ever more preposterous.
This, we are assured, will be the penultimate instalment, with a grand finale in 2025, after which the noise will cease, as various characters putter off into aimless spin-offs.
In other words, it will end, but never end, as is the way of things these days.
The locus of all this nonsense has always been Dominic 'Dom' Toretto, reformed hoodlum and man of few words, played with a pout by Vin Diesel, the catatonic action star who does not so much act, as stand.
Around him has grown an extended family — Dom is all about 'family', he says the word 'family' a lot — including Letty (Michelle Rodriguez), harum-scarum road racer and now Mrs Toretto, Dom's sister Mia (Jordana Brewster), his brother Jakob (John Cena), old buddies Roman (Tyrese Gibson) and Tej (Ludacris), and master hacker Ramsey (Nathalie Emmanuel).
These days, Dom just wants to settle down, rest his weary limbs, be with his 'family' and so forth, but there's always an aggrieved party, collateral damage from some previous escapade now hellbent on revenge.
In this case, that would be Dante Reyes (Jason Momoa), son of Brazilian drug lord Hernan Reyes, who died horribly during a heist organised by Dom's gang way back inFast Five(2011).
If you can remember anything that happened in that film, you deserve a prize, but I do recall it being easily the best of the Fast & Furious films, and it's certainly better than this one.
Unhinged, badly dressed and carrying on like a Hawaiian frat boy, Dante does not merely want to kill Dom and co, he wants them to suffer.
And after a campaign of craziness is unleashed in Rome, Dom must join forces with enemies, including Deckard Shaw (Jason Statham) and even the dreaded Cipher (Charlize Theron) to challenge Dante's might.
These films have always been dumb but, at best, aware of their outrageousness, crassly entertaining, in on the joke.
This thing is loud and toneless, stupid above and beyond franchise requirements, not helped by a dreadful turn from Momoa, who aims for camp comedy and misses by a country mile.