Dungeons & Dragons: Honour Among Thieves review – Princess Bride meets Lord of the Rings in this delightful romp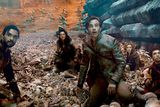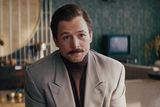 We review the biggest release of the week.
Dungeons & Dragons: Honour Among Thieves Four stars In cinemas; Cert 12A
This shouldn't work quite as well as it does. Chris Pine, occasional captain of the Starship Enterprise, is our handsome lead. Michelle Rodriguez, on loan from her Fast and Furious family, is his axe-wielding partner in crime.
It's been a while since either of these players scored a win outside their franchises. We are concerned, too, by the appearance of Bridgerton dreamboat Regé-Jean Page, whose limited range is becoming a bit of an issue.
It is, perhaps, Hugh Grant's presence that provides the first glimmer of hope. Grant made for a tasty villain in the glorious Paddington 2 and seems to be enjoying himself immensely in this playfully plotted fantasy caper. We might say the same for Pine and Rodriguez.
In fact, everyone here is in fine form, and Dungeons & Dragons: Honour Among Thieves is so extraordinarily fun that one could almost forgive it for passing the two-hour mark.
Pine's cocky bard, Edgin Darvis, explains everything from a prison cell. See, Edgin is a musical adventurer – a sarky, Pied Piper type, handy with his lute, less so with his fists.
Everything falls apart following the death of his wife, and it isn't until the mighty barbarian Holga Kilgore (Rodriguez) comes along that our devastated protagonist remembers he has a daughter, Kira, to look after.
With Holga's help, Edgin turns to a life of thievery, which works out alarmingly well for everyone involved (except maybe the people they are stealing from).
One day, Edgin learns of a relic that will help resurrect his late wife, and thus sets off to steal this impossible MacGuffin from some powerful people, bringing with him a rookie sorcerer (Justice Smith's Simon Aumar) and a slippery rogue, Forge Fitzwilliam (Hugh Grant), for assistance.
Let's just say things go sideways and that there may have been another red wizard involved (enter Daisy Head as Sofina). Forge and Simon make it out, but the others are captured and imprisoned. The years pass until, finally, Edgin and Holga escape.
Much has changed on the outside world. For a start, Forge has become the rich and mighty Lord of Neverwinter. Yep, he's one of the bad guys now, and he has also raised Kira (Chloe Coleman) as his own daughter while Edgin was away.
You can tell where this is going. To save the day – and reclaim what's rightfully theirs – our dynamic duo need to assemble another team of plucky anti-heroes.​
Simon the sorcerer re-enters the equation. Edgin somehow convinces a shapeshifting druid (Sophia Lillis's Doric) to sign up. Along the way they encounter a wise and fearless 'paladin' chap named Xenk Yendar (Page). Oh, and keep your eyes peeled for dragons.
A busy plot, but the directors Jonathan Goldstein and John Francis Daley (Game Night) handle it well. Indeed, this flows with all the elegance, energy and excitement of an old-school fantasy adventure flick.
One minute it looks to be in line with the wondrous, swashbuckling charm of The Princess Bride. The next, it tips its hat to Peter Jackson's The Lord of the Rings trilogy. It owes a significant debt to Marvel's original Avengers formula, before that saga succumbed to its own self-importance.
Here is a band of unlikely heroes. Here is the conniving baddie that double-crossed them. Watch as these spirited good guys employ wit, heart and magical weapons to defeat evil forces – that sort of thing.
Predictable stuff, but it works. That clever tagline, too ("No Experience Necessary"), applies to both story and audience. Some of us have yet to indulge in the billion-dollar table-top role-playing game from which this tremendously choreographed display takes its cue. That's OK. I wouldn't know my Warlocks from my Rogues, but that never hindered my enjoyment.
Pine is excellent as the alluring schemer who has little to offer his team but blind encouragement, half-baked plans and whimsical tunes. Rodriguez, Smith and Lillis have their fun battling ugly bruisers and nasty wizard types. Mr Page is perfectly cast as a beautiful, courageous warrior who rarely smiles and takes everything to heart – and Grant hams it up nicely as the oily menace of our tale.
Its finest attribute? A fabulous sense of humour. You need it when dealing with talking bird men and flying magic lads. Sign us up for the inevitable sequel.