Dungeons & Dragons: Honour Among Thieves movie review: Chris Pine's flair for comedy makes fantasy franchise revival pretty irresistible
Also reviewed this week: Tetris and The Night Of The 12th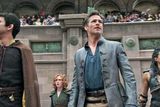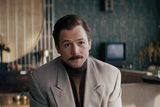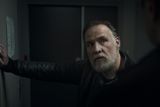 I first heard of Dungeons & Dragons in the 1980s, when it was the favoured board game of Tolkien fanatics and other maniacs, who would bore you to death with its mythic intricacies if you were stupid enough to let them.
Dungeons & Dragons: Honour Among Thieves (12A, 134mins)
In fact, it was a Lord Of The Rings knock-off, a role-playing game in which contestants assumed roles and imagined themselves in various heroic predicaments.
Since then, Dungeons & Dragons has become a formidable entertainment franchise, with books, cartoons, video games and — inevitably — movies.
The first of them starred Jeremy Irons as an evil wizard and was one of the worst films released in the year 2000, which is saying something.
Dodgy special effects were part of the problem, and would be made to seem clumsy and amateurish in comparison with Peter Jackson's all-conquering Lord Of The Rings trilogy. But an even bigger shortcoming was the po-faced portentousness of the Dungeons & Dragons films, two more of which went straight to DVD.
That chronic lack of humour has been cheerfully remedied in this series reboot, which has been simmering in production limbo for so many years, it ought to be a dog's dinner. Amazingly, it isn't.
Most of these fantasy sagas come front-loaded with lots of windy scene-setting and tribal nonsense, but not D&G: Honour Among Thieves, which doesn't bother to explain itself at all.
Instead, we're straight into it, plunged into a prison cell occupied by Edgin Davis (Chris Pine), a laconic thief, and his partner in crime Holga Kilgore (Michelle Rodriguez), a terse barbarian.
Edgin is a bard, who occasionally and regrettably strums his lyre and breaks into song: he was once a Harper, a spellcaster and man of honour, but following the tragic death of his wife, he took to thieving as he struggled to raise his young daughter, Kira (Chloe Coleman).
Holga, who dry wretches every time anyone suggests the possibility of romance between her and Edgin, helped raise Kira, but the pair were double-crossed by Forge Fitzwilliam (Hugh Grant), a former associate, who has since become powerful and taken Kira into his care.
Forge is now the Lord of Neverwinter, a dominant city state which he rules with the blustering panache of the Wizard of Oz. He's turned Kira against her father, so when Edgin and Holga escape from prison and sneak into Neverwinter, they find a damsel not too keen on being rescued.
They are helped by Doric (Sophia Lillis), a chippy druid, and Simon Aumar (Justice Smith), a young sorcerer struggling with a crisis of confidence. And they'll need it because Forge has fallen in with Sofina (Daisy Head), a dark wizard who's far more powerful than he realises.
If the scenario feels like a mishmash of half a dozen other films, Honour Among Thieves' tone is refreshingly playful and light — in fact, there have even been comparisons with the gold standard of fantasy movies, The Princess Bride. It's not as good as that, nothing like it, but Honour Among Thieves is pretty irresistible and a lot of fun to watch.
As he demonstrated in the Star Trek franchise, Pine has a natural flair for comedy. He's often miscast, but is very good here as the smooth talking but cowardly Edgin, whose ambitious plans rarely involve placing himself in harm's way.
Rodriguez's Holga is his foil, saying little but glaring at him eloquently every time he steps out of line.
As we mentioned, Edgin is not her type and she has a habit of falling in love with small, hobbit-like creatures, one of whom is played by a very famous special guest.
It's all good fun, never makes the mistake of taking itself too seriously, and Hugh Grant does a fine line in oily baddies.
A spin-off Paramount + TV series is in the works, but whether Honour Among Thieves gets a movie sequel or not depends on how it does at the box office.
It might deserve one, but I'm not sure enough punters will know what Dungeons & Dragons is.
Rating: Three stars
Tetris (Apple TV+, 117mins)
This entertaining caper is loosely based on the true story of the battle to license the video game Tetris, which became a runaway craze in the late 1980s.
A puzzle involving descending shapes, it was the brainchild of Alexey Pajitnov, a Russian software designer who created it for his own amusement. But he did so in an era of rapidly expanding gaming, and was soon the focus of a licensing war involving competing capitalists.
Taron Egerton is Henk Rogers, a Dutch-born software entrepreneur who flies to Soviet-era Moscow to try and license the game on behalf of Nintendo, only to find that someone else has got there first. Namely Mirrorsoft, the rapacious video-game publisher run by British media tycoon Robert Maxwell (Roger Allam) and his son Kevin (Anthony Boyle).
Maxwell junior emerges with little credit in this film, which starts out soberly enough before descending inexplicably into KGB pantomime villains and Lada car chases. Pretty enjoyable for the most part though, Egerton leads the line energetically, and Allam is satisfyingly odious as Maxwell, the mogul with feet of clay.
Rating: Three stars
The Night Of The 12th (15A, 115mins)
The conventions of the police procedural are nicely upended by this lean and disturbing French drama based on a real case.
In the early hours of a Grenoble morning, a young woman called Clara is walking home from her friend's house when she's confronted by an apparent stranger and murdered in horrific fashion.
First to the scene are the Police Judiciaire and a special unit commanded by the newly installed chief, Yohan (Bastien Bouillon), and his hot-tempered partner, Marceau (Bouli Lanners).
When they go to Clara's house to break the news to her parents, Yohan becomes distracted by photos of the girl's childhood on the wall.
This case will become deeply personal for him, and though he and Marceau have very different methods, they're united in their outrage about the casual misogyny they discover among Clara's male friends.
In American crime dramas, the obsessive cop always gets his man, but in the real world, things are rarely so simple: Dominik Moll's eerily quiet film focuses on the impact violent crime has on those who investigate it.
Rating: Five stars