Walt Disney asked to meet Eamon de Valera - to talk about leprechauns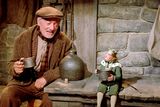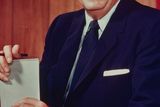 Walt Disney was keen to learn about 'leprechauns' and 'little people' from Eamon de Valera, a newly uncovered letter reveals.
A letter from the Irish Consulate in San Francisco to the Department of Foreign Affairs in 1946 suggests Disney hoped to discuss plans to produce a film about "Irish life and folklore" with the then-Taoiseach.
The meeting could have formed part of Disney's research for the 1959 film 'Darby O'Gill and the Little People', starring Sean Connery.
The letter, dated September 18, 1946, says that "Mr Walt Disney and a party of six, including himself, will sail from New York on November 14 on the SS Queen Elizabeth for Southampton, and will go directly from there to Dublin.
"The party intends to tour Ireland on a research mission, with the intention of making cartoon motion pictures dealing with Irish life and folklore."
The author says Mr Disney wanted to meet "parties such as the president of the Irish Tourist Association. Mr Disney would also like to meet An Taoiseach."
Before he departed for Ireland, Mr Disney, whose great-grandfather emigrated to the US from Kilkenny in 1834, also wrote to his sister Ruth outlining his plans.
"We are starting a picture on the Leprechauns or 'little people' as they are called in Ireland, so we plan to spend most of our time gathering background material and learning all we can about Irish folklore," he said.