Michael Fassbender and Domhnall Gleeson to play Irish gangsters in Kevin Barry's Night Boat to Tangier
Oscar nominee Ruth Negga is also reported to star in the adaptation of the bestseller.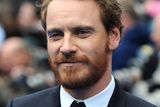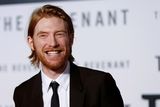 Michael Fassbender and Domhnall Gleeson are set to star as a pair of gangsters in a new film alongside Ruth Negga, according to reports.
The star-studded Irish casting was revealed by Deadline yesterday.
Adapted from Kevin Barry's 2019 bestseller, Night Boat to Tangier follows two career criminals on a trip to Spain where the drug smugglers take a trip down memory lane.
The author penned the script, described as "the best" that The Crown producer Andrew Eaton has had.
"Night Boat to Tangier is perfect for today's market. A whipsmart and pacy gangster movie with fantastic, memorable characters played by some of the best actors around & directed by one of the finest directors. We look forward to working with this wonderful team," Carl Clifton of Hyde Park studio told Deadline.
The pair of award-winning actors will reportedly play Maurice and Charlie, while Oscar nominee Negga takes on the role of Cynthia, the brains behind their schemes.
The New York Times bestseller is described as an "extraordinary journey back in time to excavate their shared history of violence, romance, mutual betrayals, and serial exiles".
"In the dark waiting room of the ferry terminal in the sketchy Spanish port of Algeciras, two aging Irishmen—Maurice Hearne and Charlie Redmond, long-time partners in the lucrative and dangerous enterprise of smuggling drugs—sit at night, none too patiently," the summary reads.
"The pair are trying to locate Maurice's estranged daughter, Dilly, whom they've heard is either arriving on a boat coming from Tangier or departing on one heading there."
Gleeson has recently been named as the star of a new thriller opposite Julianne Moore.
Apple Studio's Echo Valley is described as a "heart-pounding thriller" about how far a mother will go to protect her child.
Hollywood icon Julianne Moore was already confirmed in her leading role, alongside rising star Sydney Sweeney who delivered her break-out performance in teen drama series Euphoria.
It is produced by Gladiator and Blade Runner director Ridley Scott, aswell as Michale Pruss, Brad Ingelsby and Kevin Walsh.
His HBO miniseries White House Plumbers, following the behind-the-scenes of the Watergate scandal, is set to premiere next month.
Meanwhile, Kerry actor Fassbender has been spotted on the set of his new Irish film about Belfast rap trio Kneecap and has been named as a cast member in a series of other upcoming releases.
Fassbender's last feature film release was X-Men: Dark Phoenix in 2019.