'Love/Hate' and Sheridan big winners at Iftas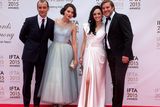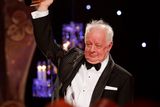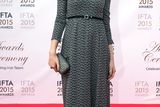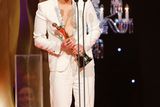 Legendary director Jim Sheridan was honoured at the annual Ifta Awards in Dublin's Mansion House.
Sheridan was acknowledged for his outstanding contribution to Irish film for his work including 'My Left Foot', 'In America', 'The Field' and, of course, rap artist 50 Cent's 2005 biopic 'Get Rich or Die Tryin'.
"This means a huge amount to me," Sheridan said. "Getting recognised in your home town is always special. But more important than getting this award is having so many members of my family here tonight to celebrate with me."
Asked if he thought the 2015 ceremony had run more smoothly than the much criticised 2014 show, Sheridan replied: "Well it couldn't have been any worse could it?"
Actress Sarah Greene picked up two awards for Best Supporting Actress Film and the Irish Film Board Rising Star gong. "This means so much," she said. "I think I'm going to give these to my mam."
The Cork actress will next appear in RTÉ 1916 drama 'Rebellion' alongside Brian Gleeson and Charlie Murphy – who picked up the Best Lead Actress Drama for her performance in gangland series 'Love/Hate'.
It was a triumphant night for Stuart Carolan and the 'Love/Hate' team, with the series picking up three awards including Best Script Drama and Best Drama.
Deirdre O'Kane was awarded Best Lead Actress Film for her portrayal of charity campaigner Christina Noble.
Oscar-nominated animation 'Song of the Sea', voiced by Brendan Gleeson and David Rawle, took home the top award of the night as it was named Best Film.
Patrick Bergin, Ciaran Hinds, Aidan Gillen, Peter Coonan and Tom Vaughan Lawlor all attended the awards ceremony.
Amy Huberman, who is finishing the second draft of her feature film 'Bolt', arrived with her brother Mark.
"I've been writing a lot and the second draft of the film has gone in ... It's been a learning curve because I haven't done it before."