'I couldn't have published this memoir if my mother was alive - it was too painful for her' - Irish man raised in mother and baby home
Gordon Lewis is producing a short film based on his memoir 'Secret Child' about his early life in Regina Coeli with his mother Cathleen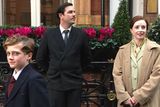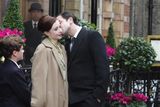 The subject of mother and baby homes is a hugely emotive one in Ireland given the horrendous litany of abuse experienced by many women who found themselves pregnant out of wedlock. Shunned, shamed and silenced by society many were parted from their babies and children through forced adoption or even death. Growing up in such an environment often took a physical and emotional toll on the children too, but Gordon Lewis feels he's one of the lucky ones, having been born to a single mother in 1950s Ireland, yet having what he describes as a 'wonderful' childhood in a home for mothers and their children on the northside of Dublin.
In his 2015 memoir, Secret Child, Gordon shared the story of his phenomenal mother Cathleen and his first nine years living at Regina Coeli. Unlike the laundries, the Regina Coeli hostel, founded by Frank Duff in 1930, was somewhere homeless women, including women who found themselves pregnant and unmarried, could live, and keep their babies.
For a small weekly contribution, which they earned working out in the community, they were housed in dormitories in the former military barracks, and free to raise their children themselves with the support of each other and the Legion of Mary nuns who ran the charity.
Cathleen's story is ultimately a love story, but one which had difficult beginnings.  She was 29 when she fell head over heels in love with 'Clark Gable lookalike' Bill Lewis, who was 45, while she was working as a hotel chambermaid in Dublin.  However, as he was Protestant and she Catholic their families did not approve, so they dated in secret for four years until Bill moved to London and Cathleen felt compelled to stay in Dublin to care for her ailing mother.
Their romance fizzled out as Bill's letters became less frequent, and in 1953 Cathleen fell pregnant after a brief affair with another man, from Cork, who she found out – too late - was already married with a family. By then Cathleen was 35 and, determined to keep her baby, she made her way to Regina Coeli to begin a double life.
"As you get older you start thinking about your parents in a different way because you often take them for granted in general terms and I thought my mother had an interesting story, even though we never spoke about her story," Gordon tells Independent.ie of his decision to write about their lives.
"We never talked about the Dublin past and the reason she didn't talk about it was all to do with how she had lived all that time in Regina Coeli in silence – she lived a double life.
"She didn't tell her family she had a child.  She didn't tell anybody she had a child.  On the surface she was a woman, now older, and simply not married.  The reality was she had a child but she didn't convey this to anybody.  I wanted to tell her story."
Cathleen's mother believed she lived alone in a rented room but she was in fact living at Regina Coeli and working to support herself and her son six and a half days a week.
Gordon spent the first nine years of his life there, raised among the other 'bastards' and 'unfortunates' as the children were known in the locality.  However, he remembers it as a happy time although he admits he was a 'terror'.
"I was smart, street smart, but I don't know anything else other than the grounds of Regina Coeli and the streets of Dublin," says Gordon, who admits he got into trouble with the Gardai on several occasions and was hauled back to the hostel to face his worried mother.
"I had not seen the inside of a house in my life, but having said that this was my home and there was a lot of love from within this community of 100 mothers with their children. They all had one thing in common – they were all single ladies.  My mother was an older lady.  She had me at 35 which at the time was quite old for a woman to have a child at that time.
"Second to that as a child growing up I didn't see anything wrong with open dormitories and rows of beds.  Some beds were for mothers with their children, some children had single beds themselves.  There was a big open fire in the room.  It was an old military barracks. But to me it was home."
While Gordon had a happy childhood, he feels the experience of a decade in Regina Coeli, harbouring her secret, was very painful for his mother.  She passed away in 1989 when she was 72.  Gordon says the book could never have been written when she was alive.
"The first thing she would say would be, 'you're not going to be publishing that' and I think she would really mean it," he says from his current home in London.
"Because if I was to publish it it would mean we would now have to talk about something we had never spoken about.  This book could never have been published when she was alive.  It would be too painful.  It was a painful experience for her."
Despite her circumstances, Cathleen fought for her rights and independence.  When Gordon's father refused to help out financially, she hired a solicitor to take him to court.
"She was independent enough to say, 'Look, if you don't want to be involved with the child, fine, but I'm taking you to court, because I need a settlement.'" says Gordon.
"He settled out of court.  It didn't mean we could move out of Regina Coeli but it meant my mother had a little bit of extra money to dress me and she made that money go as far as it could.  She still worked six and a half days a week.  It wasn't a pushover scenario.  She had to fight but she was very independent."
When Gordon was nine Cathleen and Bill rekindled their romance and Cathleen finally told her mother about her grandson  (when he met his grandmother for the first time it was the first time Gordon had ever been inside a regular house) and revealed that she was going to marry Bill who promised to give her and Gordon a new life as a family in London.
"Bill was a man who loved my mother deeply and took on a boy like me who looks like an angelic little kid but who happens to be a terror," laughs Gordon.  "It's a lovely story about two people wanting to be together, who should have been together, but religious bigotry was getting in the way."
Secret Child wraps when Gordon is 15 and leaving school.  He is currently editing a follow-up, which will be published at Christmas, and which picks up where the first left off, charting Gordon's move to London with Cathleen and Bill and his entrepreneurial pursuits as he built various businesses before embarking on a career in the music industry, producing videos for acts ranging from The Pretenders to Queen.
We need your consent to load this Social Media content. We use a number of different Social Media outlets to manage extra content that can set cookies on your device and collect data about your activity.
"I was very entrepreneurial.  I had that sort of streak in me that my mother had.  She was a very intelligent woman but times were different and she was a single woman so her opportunities were limited," he says, adding with a laugh, "I think if my mother was living now she'd be running a bloody FTSE top 100 company!  She was of that calibre."
Ahead of the second book's release, Gordon has produced a short proof of concept film Secret Child: The Bridge based on the first book, which is screening at film festivals across Ireland, the UK and Europe in the hope of being developed into a full length feature, or TV series.
Hugely talented Irish actress Fiona Glascott, mostly recently seen on the big screen in Brooklyn, plays his mother Cathleen while Northern Irish actor Aaron McCusker, who will next play Freddy Mercury's Irish lover Jim Hutton in the upcoming biopic Bohemian Rhapsody, plays the role of Bill.  Ten year old English actor Austin Taylor plays a young Gordon in the short.
We need your consent to load this Social Media content. We use a number of different Social Media outlets to manage extra content that can set cookies on your device and collect data about your activity.
In Ireland Secret Child: The Bridge will screen at festivals in Dublin, Cork, Galway and Belfast.  Reaction across Europe has been very positive.  This week it won Best Short for April at the Gold Movie Awards and at the Oniros Film Awards, so it's in the running for overall awards at both festivals in London in January and Aosta, Italy in August.  Cinematographer Darius Shu has also been nominated for Best Cinematography at the Oniros.
"I would love for it to become a full film or TV series," says Gordon.  "And for it to be filmed on location in Ireland, with O'Connell Bridge and all the landmarks.  An Irish co-production would be amazing."
Gordon would also love to hear from anyone who might remember him or his mother Cathleen from Regina Coeli, which was located on Morning Star Avenue on Dublin's Northside, and where they lived until 1962.
"My mother was known as Cathleen and 'Lady'.  I was known as Francis but I didn't like my name and changed it to Gordon," reveals Gordon.  "I would love to hear from anyone, any woman or child, who lived there and might remember us."
Anyone who wishes to make contact can do so via email on Gordon's website secretchild.com