Domhnall Gleeson set to star in new thriller opposite Julianne Moore
According to Deadline, Gleeson has been cast as a local criminal who enters the rural lives of a woman and her daughter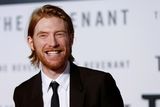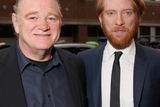 Domhnall Gleeson is reportedly set to star in an new thriller opposite Julianne Moore and Euphoria actress Sydney Sweeney.
According to Deadline, Gleeson has been cast as a local criminal who enters the rural lives of a woman and her daughter – who returns to her mother's house one night covered in someone else's blood.
Apple Studio's Echo Valley is described as a "heart-pounding thriller" about how far a mother will go to protect her child.
Hollywood icon Julianne Moore was already confirmed in her leading role, alongside rising star Sydney Sweeney who delivered her break-out performance in teen drama series Euphoria.
It is produced by Gladiator and Blade Runner director Ridley Scott, aswell as Michale Pruss, Brad Ingelsby and Kevin Walsh.
Mare of Eastown creator Inglelsby and Boston Strangler producer Pruss penned the script set in Southeastern Pennsylvania.
The news comes off the back of Gleeson's acclaimed performance alongside Steve Carrell in The Patient.
Opposite a psychologist played by Carrell, Gleeson takes on the role of a serial killer.
When recently asked by Deadline if he was prepared for people to tell him he makes an "excellent serial killer," he replied: "I feel so good about it."
He admitted his experience on Calvary was similar, though his preparation for The Patient was much deeper.
"On this, I got to do that kind of prep. I got to have this guy in my world every day to show all different sides of him," he said.
"He really made me laugh even though he was such an awful person, and he was trying. And so yeah, if people come up and say you're a good serial killer, as long as they're talking about the show, then I'm more than happy."
His HBO miniseries White House Plumbers, following the behind-the-scenes of the Watergate scandal, is set to premiere next month.
The Dubliner plays John Dean, the former White House Counsel for President Nixon from 1970 until April 1973.
He was in the running for a Golden Globe alongside his father earlier this year, when Brendan was nominated for his role in The Banshees of Inisheerin.
Speaking to E! on the red carpet, he said of his talented family: "It's a very supportive family and very artistic and my mum has got nothing to do with the industry but she's got incredible insight into everything.
"So yeah, the dinner table is a fun place to be, and yeah, we're all kind of open with each other about our work."