Brendan Gleeson's 'Calvary' proves a divine hit in US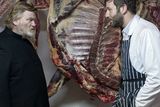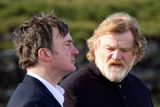 He's already had blockbuster success in America and now Brendan Gleeson's low-budget movie Calvary is being hailed a hit overseas.
The John Michael McDonagh film, in which 59-year-old Brendan plays a doomed Catholic priest, brought in €54,000 - an average of €13,000 from four cinemas - in the US last weekend, a major coup for an independent feature.
And it could stand to make much more, as it will be rolled out in an additional 35 cinemas over the coming weeks, as well as expanding to eight further markets.
Former school teacher Brendan, who stars opposite Aidan Gillen and Chris O'Dowd in the movie, found it difficult to detach himself from the complex character once the cameras stopped rolling.
"It was just hard, there are no two ways about it," he said of the part.
The famous father of actors Domhnall and Brian Gleeson admitted he found the shoot, which took place around Ireland, "relentless" and was exhausted after filming wrapped.
"It took me a couple of months to get back to a place ... it took me a while to get back to myself afterwards," he said.
Brendan is back on home soil to shoot his next movie - with the working title, Pursuit - which has kicked off in Galway.
The project is being directed by Paul Mercier, who has insisted he's keeping "everything under wraps" and is not releasing any behind-the-scenes stills.
The flick, a contemporary romance, received €375,000 in production funding in 2014.
Joining Brendan are co-stars Liam Cunningham and Ruth Bradley of Love/Hate fame.
hnews@herald.ie