Alec Baldwin resumes filming Rust today, 18 months after cinematographer Halyna Hutchins shot dead on set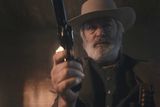 Production of the Western movie Rust will restart on Thursday in Montana, 18 months after actor Alec Baldwin fired a live round that killed cinematographer Halyna Hutchins during filming in New Mexico.
Baldwin will be back on set two weeks before the start of a court hearing in New Mexico to decide whether he should stand trial for a felony charge of involuntary manslaughter over Hutchins' death in October, 2021.
Filming will resume at Montana's Yellowstone Film Ranch set, according to Melina Spadone, a lawyer for Rust Movie Productions.
Baldwin in October settled a lawsuit with the cinematographer's husband, Matt Hutchins, under which filming would restart with the same principal actors and the same director, Joel Souza, who was wounded in the 2021 shooting. Under the deal, Hutchins became an executive producer on the movie.
The production company finalised a settlement last month with New Mexico workplace safety regulars over "serious" violations, agreeing to a $100,000 fine to resolve a scathing safety review that detailed unheeded complaints and misfires on set before Hutchins was shot and killed in October 2021.
Prosecutors in Santa Fe are pressing forward with involuntary manslaughter charges against actor Baldwin and a weapons supervisor Hannah Gutierrez-Reed. Baldwin and Gutierrez-Reed have pleaded not guilty.
Baldwin was pointing a pistol at Hutchins during a rehearsal when the gun when off, killing Hutchins and wounding director Joel Souza.
Baldwin has said the gun went off accidentally and that he did not pull the trigger. An FBI forensic report found the weapon could not have fired unless the trigger was pulled.
New Mexico Governor Michelle Lujan Grisham this month signed a new $360,000 allowance for prosecution of the case. Evidentiary hearings are scheduled in early May in state District Court to decide whether to proceed toward trial. Baldwin has indicated that he won't attend those hearings.
Santa Fe District Attorney Mary Carmack-Altwies says her office is pursuing justice in the death of Hutchins and wants to show that no one is above the law when it comes to firearms and public safety. She says the Ukrainian-born cinematographer's death was tragic and preventable.
Rust safety coordinator and assistant director David Halls pleaded no contest in March to a conviction for unsafe handling of a firearm and a suspended sentence of six months of probation.
Souza, the director, has said he will return to the Rust production to honour the legacy of Hutchins.
Parts of a documentary about Hutchins' life will be filmed simultaneously with Rust.