Air review: Ben Affleck and Matt Damon go in search of a slam dunk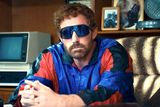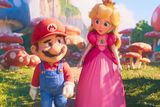 Air Four stars Now showing; Cert 15A
A two-hour drama about a US corporation enacting a plan to get even richer using carefully branded sneakers made with cheap overseas labour – welcome to the latest film directed by Ben Affleck.
Accurate though it may fundamentally be, pitching Air by its core components in this way makes it a hard sell. Is this really why we go to the cinema?
But one of the oldest truisms, whether it's film-making or journalism, is that there's no such thing as a boring story, only a badly written one.
Affleck knows this (perhaps from his time dressed in a Batman suit). A whole quarter century after he and best friend Matt Damon took home a Best Original Screenplay Oscar for Good Will Hunting, the pair are Tinseltown aristocrats who, save the occasional dud, generally have a decent nose for a project.
After ploughing separate furrows, they've started a production company called Artists Equity, which promises to give crews a cut of profits. A sure-fire hit would be needed for its maiden voyage, something to make a statement of intent.
Unlikely though it may seem, this saga about how Nike wooed basketball giant Michael Jordan to sign over his name to a runner is what they've gone with. With Amazon distributing and a $7m (€6.4m) Super Bowl spot to launch its trailer, who'd bet against Air?
Mid-1980s nostalgia, in all its garish, chest-beating splendour, is the engine room for Affleck's storytelling here. After a manic intro montage to the cocky riffing of Dire Straits 'Money for Nothing', we flash through images of Reagan, Knight Rider and Band Aid.
Nike, we learn, sits well beneath Converse and Adidas in the market. Sonny Vaccaro (a portly Damon) is the company's sports marketing strategist. He wants to leapfrog the competition with a big marquee signing from basketball's top rankings, something to rival Magic Johnson at Adidas.
Sonny dismisses the idea that Nike should stay within budget and court lower-hanging fruit. He wants the player everyone is talking about – Jordan. The problem, he is reminded by both colleague Rob Strasser (Jason Bateman) and head honcho and Buddha-quoting Nike founder Phil Knight (Affleck) is that not only are they constrained by a budget easily matched by their competitors, but Jordan has already said no.
Air manages to be about more than just the capitalist machine
Compounding the challenge, Jordan's sharp-tongued agent (Chris Messina) has warned Sonny not to try and reach Jordan through his parents. It falls on deaf ears, and Sonny decides to roll the dice and drive out to North Carolina to find Jordan's family home and plead his case. If he can get through to Jordan's mother Deloris (Viola Davis), he will have onside the most prominent influence in the meteoric young basketball star's life.
Even if Sonny manages to get in her ear, there's no guarantee it will translate into unit sales. Real livelihoods could be on the line if his gamble falls through.
Air's success is that it manages to be about more than just the capitalist machine. Not a lot more, but enough to make it feel like a rounded corporate drama with an Oscar-baiting heart somewhere amid the shouting and high fives.
Around halfway through, a theme emerges about a black woman having a say over how her son's identity and power will be used and acknowledged. It's perhaps a bit of a stretch given that Jordan was already a huge success able to command an eye-watering figure just to lend his surname to a sneaker.​
Thankfully, Affleck doesn't dawdle too long in righteousness. Air is most enjoyable when pitting the everyman quality of Sonny against Deloris's smarts as a kitchen-sink business negotiator. Jordan himself is only ever depicted from behind, like some voiceless, faceless trophy everyone is vying for. From this side of the Atlantic, where basketball stars aren't deified, the decision looks a little awkward.
Damon is trusty as the fiercely driven Sonny, while Affleck gets to indulge in the real-life Nike boss's idiosyncrasies. Davis – hand-picked by Jordan for the role, apparently – is unsurprisingly classy as the wise matriarch.
Raising the median likeability of the entire project is Bateman, who continues to fit in anywhere by doing exactly the same thing. Air's fine ensemble is completed by Chris Tucker and Matthew Maher, the latter adding an arch flavour as a crackpot designer.​
Also on release
The Super Mario Bros. Movie Two stars In cinemas; Cert PG
Who is this film for? I had hoped The Super Mario Bros. Movie might remember to keep millennials in mind. They're the ones who grew up with the video game from which this candy-coloured animated caper takes its cue. They are the target audience. Alas, this noisy yet unforgivably dull display appears to be aimed squarely at toddlers.
The haphazard set-up also requires patience. Plucky plumber siblings Mario (voiced by Chris Pratt) and Luigi (Charlie Day) discover a magic portal beneath their Brooklyn neighbourhood.
The important brother (Mario) ends up in the Mushroom Kingdom, which is just as well, because a muscular turtle tyrant (Jack Black's Bowser) is on his way and the terrified locals need a hero. Anya Taylor-Joy's Princess Peach will explain the rest.
Barmy stuff, and with a dash of charm, an exuberant voice cast and some decent jokes, it might have been a triumph. Alas, the Mario movie team missed a trick here, and this wonky, witless feature falls short in all three departments. Nice try with the random 1980s soundtrack, but it doesn't work. The Bob Hoskins version was better. You read that right. Chris Wasser
The Portable Door Two stars Sky Cinema; Cert 12A
Based on a novel by Tom Holt, director Jeffrey Walker's scruffy, misshapen fantasy imagines a world where suited magic types control the fates of millions. Well, at least I think that's what's happening in The Portable Door.
Walker's film spends some of its first half searching for a plot – and a great deal of its second wondering what to do with it. The finished product, then, is a bit of a head-scratcher.
Irish actor Patrick Gibson is Paul Carpenter, an unlucky Londoner who gleefully accepts an intern position at JW Wells & Co. Like Paul, we're not entirely sure what they do at this firm, but it involves magic, and our sweaty protagonist might have a few special powers of his own.
Eventually, Paul's superiors (Sam Neill, Christoph Waltz) call on these powers to help locate a mystic portal that will grant them instant access to anywhere in the world. Will Paul do what he's told, or will he and his intern pal Sophie (Sophie Wilde), rebel against their wicked wizard boss?
Lovely ideas – think Harry Potter meets The Adjustment Bureau – and our star performers make the most of them, but The Portable Door lacks focus, and ties itself up in one too many knots. Chris Wasser
In The Court of the Crimson King Four stars Selected cinemas; Cert 15A
The more swollen the musical pretensions, the riper a band is for self-parody. Few bands fit the bill quite like King Crimson, the prog-rock luminaries who are the subject of this 50th anniversary road movie that manages to be both poignant and hilarious, often in quick succession.
Director (and one-time MTV presenter) Toby Amies followed the band across three years and a string of big shows. Guitarist and bandleader Robert Fripp is the main point of focus, and for good reason. A notorious perfectionist who still practices for hours every single day, Fripp is the only perennial in the band's near-constant line-up changes. Dressed like a hotel concierge and speaking in calmly intense paragraphs, Fripp comes across as a benign dictator still chasing that elusive space where music transcends into something more.
Amies's portrait captures not only the dry humour of musicians who have seen it all, but also the crew (one weary roadie nearly steals the show) and the looney fans who are part of this cult act's broader circus. Needless to say, some delightfully Spinal Tap moments flower up. Hilary White