Mamie Gummer: 'Meryl's priority was being our mother - not being a celebrity'
OK, so she is the daughter of Meryl Streep - but Mamie Gummer is making her own waves in the acting world as the star of Amazon's most stylish new drama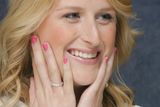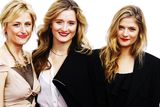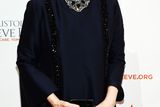 Mamie Gummer is bemoaning the pressure to renounce her Luddite ways and join the digital generation. "I can't do iCal," she confesses. "I've no idea how to work it. Everything is analogue with me. I still write things down in my little paper diary."
Her nearest and dearest, however, are attempting to force her hand. "In my family, because we are all over the place, there's now this pressure to sync all of our calendars, to input all our flight details into this master grid," she sighs.
"My mum is, by far, busier than any of us, so every day my phone buzzes with 22 new work events that have been added to her calendar. And then I think, "Ooh, I should probably schedule some more work things, too...'"
This is not to say that 33-year-old actress Mamie or her siblings are exactly slouches. Her brother, Henry Wolfe, 37, is a musician and a teacher in Los Angeles. Her younger sister, Grace, 30, is also an actress and can currently be seen alongside Christian Slater in the American TV show Mr Robot.
The youngest, Louisa, 25, has just enrolled in a graduate course at Yale. Their father, Don, is a highly respected sculptor. But comparing schedules en famille is always going to be a little skewed when your mother is Meryl Streep, the most lauded film actress of her generation.
It's a lunchtime during New York Fashion Week, and the traffic is gridlocked. Mamie (born Mary) arrives to meet me, apologetic for her slight lateness - she has come from a Carolina Herrera show, and is clad in an orange lace dress the designer sent her to wear for the occasion.
She is tall, slim and willowy, with blonde hair cut in a jaw-length bob. "I just got the highest compliment from my friend: that I was channelling Tilda Swinton with the hair," she beams.
There is a touch of the Tilda about her, but - from her facial features to her mannerisms and expressions - she's so like her mother, it's a little disconcerting at first.
We make our way through the restaurant of the NoMad hotel, a genteel spot near the old Garment District, into the library, where Mamie settles on a long, leather sofa. The surroundings could not be more apt to discuss her latest project: the new Amazon Prime Video series The Collection, directed by top Irish director Dearbhla Walsh.
Set in a fledgling fashion house in Paris, it's a multi-stranded tale of a start-up couture brand, family feuds and social unrest, as France and its fashion industry attempt to rebuild themselves after the World War II.
There's lots of sex, smoking and, as one would expect, style. Through the magic of television, however, the show was mainly shot not in Paris, but in a converted former car factory in Swansea, next to a sewage plant, in the dead of winter.
Mamie plays Helen Sabine, the American wife of a French couturier whose star is in the ascendant. "She's poised; there's a restraint, she chooses her words carefully," says Mamie. "That doesn't come naturally to me."
I beg to differ - Mamie is warm and chatty, but with poise and class to spare. We agree, however, that in the 1940s, clothes did much of the work for you. "Those undergarments!" she exclaims, straightening her spine. "They are so structural: keeping you up, and in, and tight, and together.
"Putting those costumes on really transformed everything. It was like zipping into character." Getting in and out of them was a lengthy business. "At first I would wonder, 'What does Helen do all day?' Then I realised: she gets dressed."
The show is not Mamie's first foray into fashion: last year, she and her sisters modelled for the clothing brand & Other Stories. It came about, she explains, because of their friendship with the designer of the collection, Clare Vivier.
"But we try to be autonomous, individual people, so we've kind of resisted that sort of packaging."
It transpires, however, that Louisa is now studying acting too, at Yale. 'Yeah, I can't wait to stage Three Sisters," laughs Mamie.
Does her father mind that none of them followed him into sculpting? "No, he doesn't - I wouldn't feel bad for him," she smiles. "My brother is more like my dad though, more solitary. He'll go into his studio and write music all day. I just like people too much."
Growing up, Mamie wrote long, serious plays, and forced her siblings to take part. "I was pretty precocious," she admits. "An extrovert and a little tyrannical." Following her mother - an Academy Award-winner for Kramer vs. Kramer, Sophie's Choice and The Iron Lady - into acting appealed from a young age.
"It looked to me that she just went and played make-believe. And I was like, 'Awesome - me too, please'.
"All I want to do is talk about people and their feelings and why they do the things that they do, and analyse that. And that's what we get to do as a job."
Her parents tried to give their children as ordinary an upbringing as possible. Aside from Mamie's appearance, as a baby, with her mother in 1986's Heartburn (credited as Natalie Stern to avoid press scrutiny), they kept acting purely amateur until the siblings graduated from college. "Postponing the inevitable," laughs Mamie.
Streep's fame was seriously downplayed at home, too. "Her priority was being our mother, not being a celebrity, and it certainly wasn't like we had Warren Beatty to the house every Thursday. One of the smartest things my parents did was to move to the country when we were small."
The family made its base in the small town of Salisbury, Connecticut, two and a half hours' drive from New York; though they spent five years in LA in the early 1990s.
"We were there during a pretty heavy time: the riots, the earthquake, the OJ trial... Right after that, we moved back east. I think [my parents] just had it with LA.
It's not difficult to understand why. "The film industry's influence can be overpowering, and Mom wanted us to know that being famous isn't the most important thing in life.
"I'm grateful that we grew up before things got so out of hand with the paparazzi and the selfie-taking and the obsession with celebrities and images.
"When we were young, people would come up and ask her to sign her name on a piece of paper, but it wasn't this full-scale invasion that can keep people from wanting to leave the house."
Early in her career, Mamie spent another year in LA. "Living as an actress in West Hollywood is not great for the soul," she frowns. "It's a lot of SoulCycle and kale. And there's a pressure that comes with that kind of unrelenting fair weather.
"You wake up and think, 'F***, it's sunny again? I've got to rise to the occasion again?' I really love London for the clouds. Clouds give you a licence to be a bit moody."
After graduating in theatre and communications from Northwestern University in Illinois, she made her off-Broadway debut in late 2005, alongside future Dexter star Michael C Hall, in the risque Mr Marmalade. Her Broadway debut - as Cecile, in a Tony-nominated production of Les Liaisons Dangereuses - followed in 2008.
"I didn't fully appreciate what I was getting into, partly because the [acting] industry didn't have any kind of place in our home," she says of these formative years in the business. "So it all came as a bit of a surprise, as it probably does for everyone."
Mamie subsequently appeared in the legal drama The Good Wife and the HBO mini-series John Adams. As an adult, she has twice shared the big screen with her mother: in the 2007 film adaption of Susan Minot's Evening and, last year, in Ricki and the Flash.
Though she has managed so far to navigate the actor's necessarily itinerant lifestyle, part of television's appeal is its more settled schedule. "Going to far-flung places for months on end can be destabilising, especially as you get older," she muses.
"You think, 'OK, I only have this window, especially if I want to have a family'. Those kinds of decisions are not as easily or flippantly made as they were when I was in my 20s."
In July 2011, at her parents' Connecticut home, Mamie married her Liaisons Dangereuses co-star Benjamin Walker. They separated less than two years later. Walker, 34, is now married again, to British actress and Skins star Kaya Scodelario, 10 years his junior, who is pregnant with their first child. Mamie is also in a new relationship, with a non-actor who works in the US State Department. I ask if we can name him. "Oh, no!" she cries, horrified.
A second marriage doesn't sound likely soon. "It's all such a circus, such a big pageant, all for show," she says, shaking her head. "And I get dressed up all the time, so it really doesn't hold much appeal for me."
Now, however, she's off to get dressed down - she must head home to film an audition for a role as a dishevelled redneck. That's going to require acting chops and a serious suspension of disbelief.