Irish actress and former Victoria's Secret model Caitriona Balfe: I'm so used to stripping off in front of 30 people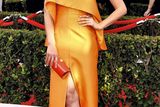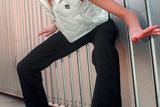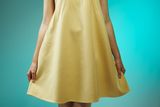 Irish star Caitriona Balfe said she has no qualms about getting naked on screen as she's used to stripping off during her modelling days.
The Monaghan native has made quite a name for herself after starring as Claire Randall in hugely popular Outlander, the time-travelling romance now in its second season.
Caitriona (35) is currently filming Money Monster alongside George Clooney and Julia Roberts in New York.
Discovered by the Ford Models agency as a teenager, Caitriona spent 10 years in the industry walking in shows for Marc Jacobs, Alexander McQueen and Victoria's Secret. And she said that although she always dreamed of becoming an actor, she credits the modelling industry with helping her to lose her inhibitions.
In Outlander, she plays a 1940s nurse transported to 18th Century Scotland, which features several raunchy scenes.
But Caitriona said that she was used to taking her clothes off for the runway shows and had no fear about getting in front of a camera for these scenes.
"You'll probably find most models are incredibly insecure about their bodies," she said.
"But maybe some of my background prepared me.
"I'm so used to stripping off in a room of 30 people, and I think the fact that I'm out of my 20s helps.
"I'm just much more sure of who I am."
Although Caitriona found great success on the runway, she said "modelling wasn't really my passion".
"The idea was always to be an actor," she said in an interview with the New York Post.
""I wasn't sure if it would ever happen. But I was stubborn. I didn't really have a plan B."
Caitriona was 30 before she began picking up small parts in movies, but the lead role in Outlander has seen her star power soar.
Although many fans would like to believe that Caitriona is dating her male co-star Sam Heughan, she dismissed suggestions about her love life.
"I'm kind of a private person," she said. "At this point we've all built such trust. Sometimes it gets funny when you're filming a sex scene, but it's always fine a few hours later."
The show hit the headlines when the second season premiere featured a controversial "punishment" scene in which Heughan's character, Jamie, beats Claire.
"I don't think any of us went into that scene lightly," she said. "I like what our writers did with it in that it's from Jamie's point of view. He's a man from 1743 and he feels he's doing his duty.
"We forget how far we've come as a gender."