I trained like Jason Bourne - Here's the self defence moves every woman should know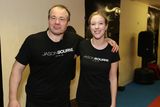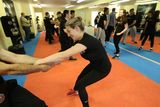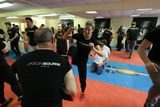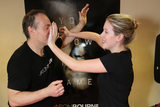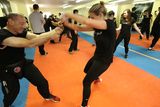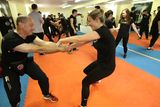 Training like a secret agent isn't easy.
Ahead of the release of Jason Bourne this week, I signed up to put myself through the same intensive training a CIA operative would (minus the weaponry).
I've never been in a fight in my life and as an only child, I didn't even have the childhood experience of hair-pulling or under-table kicking to boost my confidence in my physical prowess.
On arrival, I was assigned my own trainer to tutor me in combat training and trust me, they didn't go easy on me.
Close Quarter Combat Head Trainer Patrick Cumiskey brought the team through several self defence techniques used by United Nations personnel and even some military units.
So, how do you defend yourself if you're in a headlock? From a knife attack? How do you kick with enough force to give yourself time to run away? How do you release someone's arm while someone is grabbing you?
If someone grabs your wrist with both hands and you want them to release - simply clench the fist of the arm that is being grabbed, pull your other arm up (like you're throwing a baseball), grab your fist from above, pull with force and release.
It's one move that anyone of any age or level of fitness can do, and now I feel safer knowing I can get out of that situation.
If someone puts you in a headlock, imagine you're doing a normal swim stroke. Swing your outside arm to punch them in the groin, then use your inside arm to raise your hand onto their face, pull back their nose and stick your fingers in their eyes if necessary.
As for a knife attack, block the arm with the knife in it with your forearm while striking the neck with the side of your other hand. Wrap your arm over and around the shoulder of the arm that has the knife, restricting any movement. Continue to strike the neck with your other hand, raise the knee to the groin, push and run!
If you find yourself in a position where someone is fast approaching you from the front, raise your knee and push your leg out as if you're trying to burst through a door, kicking them in the lower stomach or groin.
Remember not to raise the leg too high or that could put you at risk of it being grabbed. Repeatedly push with force, placing your leg to the ground between kicks.
I surprised myself with strength I didn't know I had and showed that I can actually be tough when I need to be.
Although I felt terrible flipping over my partner and pushing him to the ground, the entire experience was surprisingly enjoyable.
Jason Bourne would be proud.
Jason Bourne hits Irish cinemas on Wednesday 27 July.
Watch the trailer, here: