'I do not take tonight for granted' - Leonardo DiCaprio finally wins his Oscar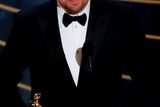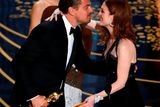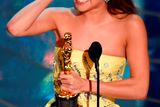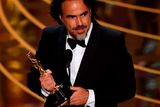 Leonardo DiCaprio earned a standing ovation after finally winning his first Oscar after six nominations.
The 41-year-old won for his portrayal in The Revenant and was met by fierce applause by the audience and his fellow nominees, including a beaming Michael Fassbender.
DiCaprio had previously been nominated five times but triumphed with his portrayal of real-life fur trapper Hugh Glass in Alejandro Gonzalez Inarritu's survival thriller, and he paid tribute to his collaborators as he stepped up onstage.
"Thank you all so very much...," Leonardo said. "To my brother in this endeavour, (co-star) Tom Hardy. Tom, your fierce talent onscreen can only be surpassed by your friendship offscreen.
"To Mr. Alejandro Inarritu, as the history of cinema unfolds, you have forged your way into history in these past two years; what an unbelievable talent you are..."
Leo also made a plea to tackle climate change.
"We need to support leaders around the world who do not speak for the big polluters, the big corporations, but all of humanity,the indigenous people of the world, the billions and billions of underprivileged people who will be most affected by this, for our children's children, for those people out there whose voices have been drowned out by the politics of greed," he said.
"I thank you all for this amazing award tonight.  Let us not take this planet for granted.  I do not take tonight for granted."
As expected, Brie Larson won Best Actress for Room. The American actress paid tribute to Irish director and screenwriter Lenny Abrahamson and Emma Donoghue, who were both nominated in their respective categories, as well as thanking her "partner through this", her nine-year-old co-star Jacob Tremblay.
Alejandro González Iñárritu (The Revenant) scooped Best Director for the second year in a row, a previously unheard of feat.  Last year he won for Birdman.
Best Picture went to Spotlight, which details the Boston Globe's 2002 expose on the child molestation scandal which rocked the city's Catholic church, and the film also won Best Original Screenplay.
"We made this film for all the journalists who have and continue to hold the powerful accountable," said director Tom McCarthy.
Mad Max took away six awards including Costume Design, Make-up and Hair, and Production Design.
A few surprises were thrown into the mix this year with Mark Rylance pipping Sylvester Stallone to the post for the Best Supporting Actor gong for his role in Bridge of Spies. Alicia Vikander, as expected, took home the award for Best Supporting Actor for The Danish Girl.
"Thank you so much for your support and belief in me. Eddie, thank you for being the best acting partner. I wouldn't be here if it wasn't for my dream team. Thank you for giving me the belief that anything can happen," she said.
Irish director Ben Cleary was also celebrating after his film Stutterer won Best Live Action Short.
Musical performances came from rocker Dave Grohl, who sang an acoustic cover of Paul McCartney's Blackbird during the annual In Memoriam segment, and Best Song nominees The Weeknd, Lady Gaga, and eventual winner Sam Smith, who was praised for Writing's on the Wall from James Bond movie Spectre.
Meanwhile, ceremony host Chris Rock addressed the Oscars' diversity issue head on, opening the show by quipping, "Well, I'm here at the Academy Awards, otherwise known as the White People's Choice Awards!" He continued to joke about the controversy throughout the show, where guest presenters included Russell Crowe, Ryan Gosling, Sofia Vergara, Charlize Theron, and Whoopi Goldberg.
The winners
Best Picture: Spotlight
Best Actor: Leonardo DiCaprio, The Revenant
Best Actress: Brie Larson, Room
Best Director: Alejandro González Iñárritu, The Revenant
Best Supporting Actress: Alicia Vikander, The Danish Girl
Best Supporting Actor: Bridge of Spies
Best Original Screenplay: Spotlight
Best Adapted Screenplay: The Big Short
Best Costume Design: Mad Max: Fury Road
Best Production Design: Mad Max: Fury Road
Best Animated Film: Inside Out
Best Animated Short Film: Bear Story
Best Original Song: Sam Smith, Writing's On The Wall
Best Visual Effects: Ex Machina
Best Cinematography: Emmanuel Lubezki, The Revenant
Best Makeup and Hairstyling: Mad Max: Fury Road
Best Costume Design: Jenny Beavan, Mad Max: Fury Road
Best Live Action Short Film: Stutterer
Best Foreign Language Film: Son of Saul
Best Original Film Score: Ennio Morricone, The Hateful Eight
Academy Honorary Awards: Spike Lee, Gena Rowlands
Jean Hersholt Humanitarian Award: Debbie Reynolds.