10 most talked about moments at the Oscars
It was a night of surprises.
1. Warren Beatty and Faye Dunaway announced the wrong winner for Best Picture
Jimmy Kimmel and Warren Beatty laugh after correcting the Best Picture Oscar from La La Land to Moonlight. REUTERS/Lucy Nicholson

 
Warren Beatty and Faye Dunaway accidentally read La La Land as the Best Picture winner instead of Moonlight. Host Jimmy Kimmel joked that he blamed Steve Harvey for the gaffe and the team received a standing ovation.
2. Jimmy Kimmel's opening monologue
The late night host made a splash at his first Oscars with a few digs at US President Donald Trump and his old mock rival Matt Damon.
"The country is divided right now, I've been been getting advice that I need to say something to unite us. Let me say something. I can't do that. There is only one Braveheart in this room and he's not going to do that either.
"I want to say thank you to President Trump. Remember last year when it seemed like the Oscars were racist? It's gone!
"It's been an incredible year for movies: black people saved NASA and white people saved jazz. That's what you call progress."
As for Damon, he mocked his controversial role in The Great Wall with one simple line, "Smooth move dumbass."
I want to say thank you to President Trump - remember last year when it seemed like the Oscars were racist?
3. Mahershala Ali's emotional Best Supporting Actor acceptance speech
89th Academy Awards - Oscars Awards Show - Best Supporting Actor winner Mahershala Ali. REUTERS/Lucy Nicholson

 
The 43-year-old actor scooped the gong for his role in Moonlight and announced his wife Amatus Sami-Karim gave birth to their first child Bari Najma just days earlier.
"Wow, I want to thank my teacher and my professors, they told me is that it's not about you, it's about the characters, you are in service to your character and your stories, I'm so blessed to have had this opportunity.
"My wife was in her third trimester doing awards seasons, we just had a daughter four days ago. I just want to thank her for being such a soldier through this process."
4. Sweets rained down from the ceiling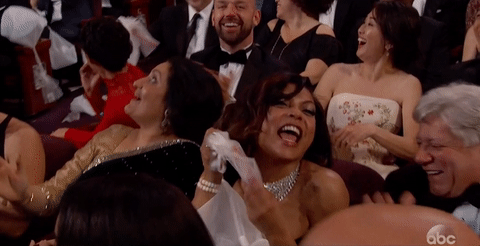 After Ellen DeGeneres' mid-ceremony pizza delivery, there's a certain expectation for convenience food at the Oscars these days.
"You can't really have movies without candy," Kimmel said.  "It's un-American. Yeah, popcorn is, too, but we don't have that."
Later, they followed up with cookies and donuts "literally falling from the sky".
5. Politically charged speeches
Hailee Steinfeld, left, and Gael Garcia Bernal present the award for best animated short film at the Oscars on Sunday, Feb. 26, 2017, at the Dolby Theatre in Los Angeles. (Photo by Chris Pizzello/Invision/AP)

 
It was always going to be a vocal night.
Actor Gael Garcia Bernal, from Mexico, spoke before presenting the award for Best Animated Short Film, saying: "As a Mexican, as a Latin American, as a migrant worker, as a human being, I am against any form of wall that wants to separate us."
Meanwhile, winning director of the Best Foreign Language Film Asghar Farhadi, from Iran, skipped the ceremony in protest of President Trump's travel ban.
"I'm sorry I'm not with you. My absence is out of respect for the people of my country and those of other six nations whom have been disrespected by the inhumane law that bans entry of immigrants to the U.S."
6. Viola Davis made history
Viola Davis accepts the award for Best Supporting Actress for her role in "Fences." REUTERS/Lucy Nicholson

 
Viola was the favourite to win the Best Supporting Actress statue for her compelling performance in Fences, but there wasn't a dry eye in the house after her emotional speech.
"I became an artist and thank God I did. Because we are the only profession that celebrates what it means to live a life," she began.
"And to Dan and Mae Alice Davis, who were and are the center of my universe, the people who taught me good or bad, how to fail, how to love, how to hold, how to lose. My parents,  I'm so thankful that God chose you to bring me into this world."
She became the first black actress to win an Emmy, Tony and Academy Award for acting.
7. They surprised tourists with a trip to the Oscars
A man kisses the hand of actor Nicole Kidman during a skit. REUTERS/Lucy Nicholson TPX IMAGES OF THE DAY

 
A group of tourists on a Hollywood celebrity tour bus were told they would be seeing a celebrity dress collection but were actually surprised with a walk-through at the Oscars.
Jennifer Aniston gave a pair of sunglasses and Denzel Washington played 'best man' for an engaged couple.
8. There was a special Oscars edition of Mean Tweets
Although the tweets were admittedly a little more tame than usual, it was an unexpected move to see nominees reading insults aloud, including, "Oh look at me, I'm Ryan Gosling, I have perfect bone structure and kind eyes. Go f*** yourself Ryan Gosling."
Not to mention Kimmel tweeting Trump with the hashtag #Merylsayshi.
9. The New York Times took aim at Trump with their new ad
The New York Times launched its new The Truth is Hard ad during the Oscars, with statements like: "The truth is our nation is more divided than ever. The truth is alternative facts are lies. The truth is a woman should dress like a woman."
It's their first tv ad in seven years.
10. Ruth Negga lost Best Actress
Actor Ruth Negga attends the 89th Annual Academy Awards at Hollywood & Highland Center on February 26, 2017 in Hollywood, California. (Photo by Frazer Harrison/Getty Images)

 
It was definitely one of our biggest moments of the night - Irish actress Ruth Negga lost out to favourite Emma Stone, but it's likely the first of many nominations.
Online Editors
Follow @IndoEnts