Michael Fassbender spotted on set of new Irish film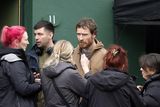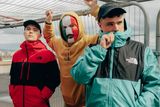 Paul Hyland and Margaret Roddy
Actor Michael Fassbender has been spotted on the set of a new Irish film for the first time in over a decade.
The Kerry native was a rising star in Hollywood, but he surprised fans by stepping back from acting and instead pursued a career in motorsport in recent years.
Fassbender recently starred in a documentary about his dual life as an actor and race-car driver.
Real-time footage in his new YouTube series - Michael Fassbender: Road to Le Mans – shows a dramatic crash involving the actor when a brush with another car smashes his front bonnet and bumper.
At the beginning of the first episode, it shows him looking every inch the film star in dark sunglasses as he pulls up in his Porsche during filming of new Netflix movie The Killer in Los Angeles.
He shot the film at the start of the year during his downtime from his new career as a driver for Porsche.
Fassbender's last feature film release was X-Men: Dark Phoenix in 2019, while his last Irish film was Lenny Abrahamson's 2014 dark-comedy Frank.
However, the actor was spotted on a film set in New Street, Dundalk today.
Belfast  hip-hop act Kneecap have been filming at the location in recent weeks and in the their native city.
The band put out a call on social media for fans to attend the filming of a concert scene at an undisclosed venue in Dundalk last month. Further concert scenes will be filmed in Belfast towards the end of March.
"We are filming a massive gig scene, and who better to be in the crowd than the fans that got us here," they stated
The trio, who sing in Irish, have previously said that the film will be the biggest Irish language film every made and will feature some big-name actors.
Written and directed by Rich Peppiatt, it was one of the winners of the 2021 Mother Tongues Awards, a development initiative for projects at treatment or script stage, in which the story dialogue is in a language other than English.
Last year the band, comprising MCs Móglaí Bap and Mo Chara, who hail from Belfast, and DJ Próvaí, from Derry, played Belfast'sFéile an Phobail, Sziget in Budapest, and Electric Picnic. They had just started a tour in the United States when the pandemic started. Their upcoming tour of England,Scotland and Wales is almost sold out and they will be appearing at a number of festivals this summer, including Marley Park, Body and Soul.
They recently released their debut album.